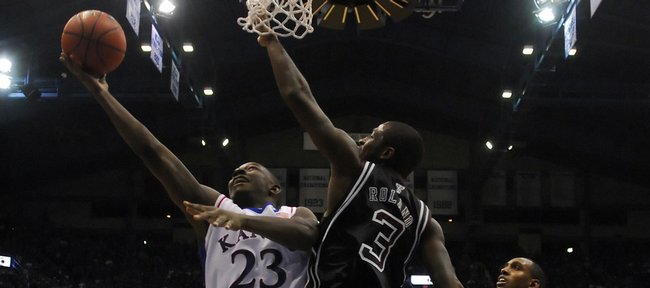 Mario Little's career-high 15-point scoring outburst against Texas A&M; may have given Kansas University's future basketball opponents something to think about.
"After that game, I probably would be on somebody's scouting report. I know I haven't been on anybody's scouting report (before Monday's 73-53 victory in Allen Fieldhouse)," Little said Thursday.
The 6-foot-5 transfer from Chipola (Fla.) College hit all six of his floor shots against the Aggies — three mid-range jumpers, two layups and one three-pointer. He also made two free throws in two tries.
Prior to that breakout performance, Little had scored 11 points in his first five games as a Jayhawk combined.
His emergence — all those points came in 14 minutes — might open things up offensively for his teammates.
"It probably relieves some pressure from our entire team that we have another piece we can put in there," KU coach Bill Self said. "If somebody is struggling, like with last year's team we can put somebody else in. It increases our depth a lot."
Little — who still feels soreness from the stress fracture in his lower left leg — has shown off his trademark mid-range game in two of six games. Little had eight points off 4-of-6 shooting against Kansas State.
"I believe he shoots it better than what I thought," Self said of Little's mid-range jumper. "He has a nice stroke, and it is soft. The strength of his game is still one, two bounces and get the shot off. He's a pretty good passer, too."
Little has been exhibiting a mid-range game since his days at Chicago's Washington High.
"It's a shot I know I can make, probably nine times out of 10," Little said of the high elevated jumper and the turnaround.
Did he copy his turnaround from his idol, Michael Jordan?
"Basically, yes," Little said. "I always watched Hakeem Olajuwon. He had a nice one, too."
Little's mid-range game helped him become the top-ranked juco player in the country last year.
"I call it his 'deadeye, darteye' from mid-range," Chipola College coach Greg Heiar said of the turnaround shot. "He elevates so high and fades, there's nothing you (defender) can do about it. He idolizes Jordan. It looks just like Jordan's."
Of course Little will elevate higher when his left leg is 100 percent healed.
"He could have played more minutes the other night," Self said. "The thing that has kept him from increasing minutes is his conditioning is not great right now. It's not bad. He can be a 20-minute guy real soon if he continues to play well."
Self is looking forward to watching Little's rare mid-range game in action the rest of this season and next.
"A lot of guys want to shoot the three or get all the way to the basket. He kind of has an old-school game," Self said. "There are a lot more three-point shooters than mid-range players now."
"It's just another weapon to use on offense," Little said.
KU will meet Iowa State at 1 p.m. Saturday at Hilton Coliseum in Ames, Iowa.
lMore on Wall: At Thursday's weekly news conference, KU coach Self was again asked about his brief conversation with top high school senior point guard prospect John Wall outside the winner's locker room at last week's Tournament of Champions in Springfield, Mo.
A reporter asked Self in general about college coaches engaging in a "bump" with recruits during periods where no contact is allowed.
"When you use the word 'bump' in generic terms, you think of doing something that is not right. A cordial greeting to me is not a bump," Self said.
"If somebody walks up to you, puts their hand out to shake your hand, I don't know if anybody I know would say, 'I can't talk to you,' and leave it totally at that. You may say, 'I hope you have a good day,''' added Self, who according to the Springfield, Mo., News-Leader told Wall "good game" in what amounted to about a 10-second exchange.
"Is that more than a cordial greeting? I would be guilty of this again — even though I'd have to watch myself — if that was wrong because I'd have a hard time if someone approached me and not at least greet them back, especially someone you have a relationship with. You are not allowed to carry on further.
"When I hear the term 'bump,' I think of a coach putting himself in a position to gain an advantage. Things can happen inadvertently that give the appearance something is going on. There's nothing going on with that. No kids are picking schools based on a 'bump,'" Self added.
Self said, "No coach should ever stand up here and minimize the NCAA rulebook. I will not do that."
Of the issue, he said: "This thing has gotten a little more play than a lot of situations have, or maybe more than it's deserved, because we had success last year and are a little more visible now," he said.
lRecruiting: Self on Wednesday made a recruiting trip to Hutchinson to scout Hutchinson CC shooting guard Darius Johnson-Odom.
"Kansas is one of the schools recruiting me right now. They just started showing interest in me recently," the 6-foot-2 Johnson-Odom told Rivals.com.
Johnson-Odom, who also is being recruited by Pittsburgh, Tennessee, Kentucky, Cincinnati, Western Kentucky, West Virginia and others, averages 22.5 points and 6.6 boards a game.
More like this story on KUsports.com