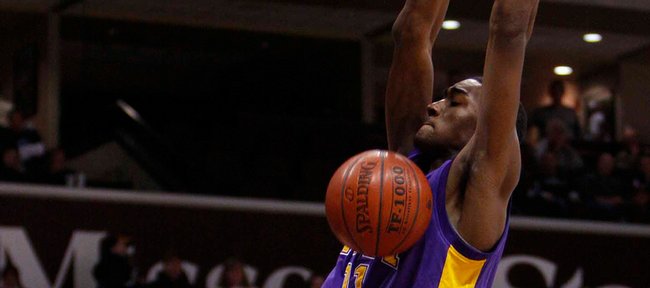 Springfield, Mo — A request to interview John Wall is granted on one condition.
"You're going to ask (him) about the game, right?" Word of God Christian Academy athletic director Kevin Washington said of the country's No. 1-ranked high school senior basketball player. "He won't be answering any questions about his recruitment."
While crazed college basketball fans scour the Internet each day for updates and coaches jockey for position, Wall tries to live the life of an ordinary teenage athlete.
The mystery behind his impending decision adds to the craziness that is Wall's world. It starts at 5:30 a.m. in the Word of God gymnasium in Raleigh, N.C., when the 6-foot-4 blue-chip point guard works on his game and ends most nights with coaches such as Bill Self, of Kansas University, and John Calipari, of Memphis, watching his games from the front row.
He travels to prestigious events, such as last weekend's Bass Pro Tournament of Champions, to play in front of crowds of more than 7,000 people, all waiting in anticipation of his next highlight-reel play.
Wall stands in the tunnel of the 10,000-seat JQH Arena as he waits for the game before his to end and watches as Kansas assistant Joe Dooley takes his courtside seat. A few minutes later, he notices a man to Dooley's right surrounded by autograph-seekers. It's Calipari, along with one of his assistants, Josh Pastner.
Wall's game begins and it takes all of five seconds for the crowd to see that comparisons to Chicago Bulls rookie point guard Derrick Rose are legit.
The opening tip goes to Wall, who streaks toward the basket, uses a spin move to evade the lone defender, leaps into the air and lays the ball in with his left hand. Soon after, the right-handed Wall drives the lane and throws down a one-handed dunk with his left hand.
"That's the key to my game," Wall said of his ability to drive to the hoop. "And you know, people try to say that I can't shoot, but I knock down mid-range shots all day. But my main goal is to get to the basket, and when I get to the basket, I don't mind passing to my open teammates."
Wall's quickness can be noticed after just a few trips down the floor in the game against Memphis' White Station High. Bursting by his defender, 5-foot-11 guard Joe Jackson, who is ranked No. 15 overall by Rivals in the class of 2010, Wall drives the lane before dishing off to a teammate for a thunder jam. Wall then sinks a wide-open three-pointer from the top of the key.
Averaging 17 points per game, Wall scores 24 on this night.
Calipari and Pastner leave in the third quarter. They had a home game at 7 p.m. the next night. Dooley stays well past 10 to see the entire game, despite having an afternoon game in Colorado the next day.
As Wall signs autographs after the game, Dooley stands close enough to make sure KU's top target sees that he was there.
The next night, Self flies straight from Colorado to see Wall score a game-high 41 points to lead his team to the title.
After the game, Wall opened up for a rare talk about his recruitment. He said he saw Self in the crowd the night before and Calipari in the front row on this night.
"They call me before they come and say, 'We're coming to the game tonight,'" Wall said. "I'm just happy to have them there, but I know that every time I step onto the court that I have to perform because I'm hoping to be at one of their schools next year."
Kansas and Memphis are two of the five schools Wall said are recruiting him. The others: Baylor, Duke and North Carolina State.
How does a senior in high school ignore the famous faces in the crowd and produce night after night?
"Every game before I step onto the court, my coach tells me, 'Go out there and play like the player you were two years ago, when you didn't have a name and you weren't getting looked at by all of these college coaches. Just go out there and perform,'" Wall said. "And that's what I try to do."
Teammates and coaches have been amazed at how well Wall has handled the pressure of being the most coveted high school basketball player in the country.
"He's a very humble kid," Word of God assistant coach Khris Williams said. "He wasn't one of these guys like an O.J. Mayo or a LeBron James, who were superstars from ninth grade. He just burst into the spotlight about a year-and-a-half ago and for that to happen, he's handled it all real well."
Already tops in his class, Wall wants more. Wall and a few teammates meet at 5:30 a.m. on days they don't have games to lift weights and put up hundreds of shots.
"It's not mandatory," teammate Dezmon Williams said of the morning workouts. "Whoever wants to come can come. The sky is the limit for him and he wants to be the best player that he can be. Everybody is comparing him to Derrick Rose, and he's just trying to figure out everything that Derrick Rose did and he's trying to do more. He wants to be better than everybody that he's being compared to."
While Wall is instructed not to talk about his recruitment, he's more than willing to address it when handlers aren't within earshot.
"It's kind of frustrating," Wall said. "I'm trying to focus on my game and work hard and get better and there's always people asking me where I'm going. I get asked like five to 10 times a day what school I'm going to. I just tell them that they are going to have to wait until April."
After signing autographs and shaking a few hands, Wall takes a seat in the bleachers with teammates to watch the next game.
As the next game begins, Wall shows in many ways he's no different from most his age. He sends a few text messages and takes a peek at the cheerleaders.
His decision can wait.
More like this story on KUsports.com