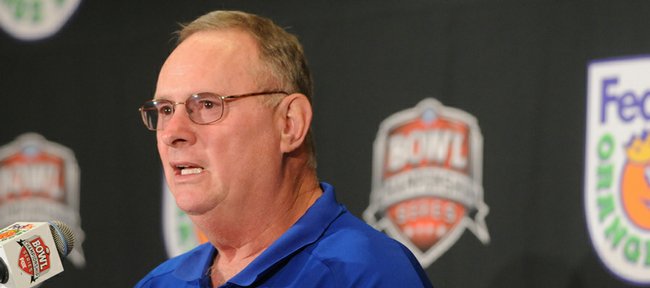 Oklahoma State football coach Mike Gundy announced the hiring of former Kansas University defensive coordinator Bill Young as the Cowboys' defensive coordinator on Tuesday.
Young, who held his position at KU from 2002-2007, spent last season as defensive coordinator for Miami (Fla.).
"We're extremely excited to have the opportunity to work with coach Gundy and his staff at Oklahoma State," Young said. "It means a lot to me to come back to OSU because I am a graduate, I played there and now we are back as part of the Cowboy family. My wife and I are very excited to get back to Stillwater and Oklahoma State."
Young was a Cowboy linebacker and defensive end from 1965-1967 and was an academic all-Big Eight selection as a player. After earning a bachelor's degree in education at OSU and a master's degree in secondary education at Central Oklahoma, he spent six years in the Oklahoma high school ranks at Carl Albert and Putnam City West.
Young's collegiate coaching stops have included OSU, where he coached the offensive and defensive lines from 1976 through 1978. He also spent a year at Iowa State before joining the staff at Tulsa, where he coached from 1980-84, serving as defensive coordinator from 1983-84.
Young spent three years coaching the defensive line at Arizona State before three straight stints as a defensive coordinator (Ohio State, Oklahoma and Southern California). After a season as the defensive line coach of the Detroit Lions, Young returned to college and spent 2002 through 2007 as the defensive coordinator at Kansas.
Young's final defensive unit at Kansas was No. 12 nationally in total defense and fourth in scoring defense.
Kansas will not face Oklahoma State next season. The Jayhawks won't face the Cowboys until the 2010 season in Lawrence.