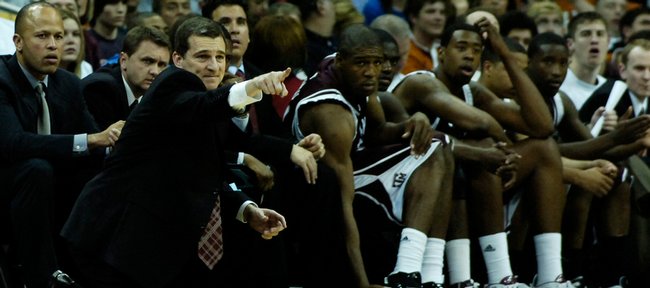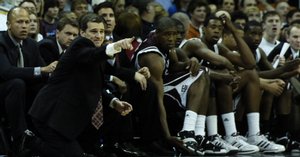 Mark Turgeon has been a Kansas University basketball fan for as long as he can remember.
"When I was a little kid, I'd drive to games with my dad. I couldn't wait to see the fieldhouse, the lights shining on it as we pulled up," recalled Turgeon, Texas A&M;'s second-year basketball coach who was born and raised in Topeka.
"It's such a special place. I love that place," added Turgeon, who fulfilled all his childhood dreams by earning a scholarship to KU and playing four glorious years for the Jayhawks in Allen Fieldhouse.
Tonight, the former KU point guard and staff member of Hall of Famers Larry Brown and Roy Williams returns to sit on the opposing bench in KU's tradition-rich building for the first time.
Tipoff for a Big Monday matchup between the Jayhawks (13-4, 2-0) and Turgeon's Texas A&M; Aggies (15-3, 1-2) is 8 p.m., with a live telecast on ESPN (Sunflower Broadband channels 33 and 233).
The fieldhouse has changed little since Turgeon's playing days from 1984 to '87.
"A few more banners ... a few more seats," the 43-year-old Turgeon said. "I have so many memories in there. All of them are good."
He was willing to share a few.
First, as a player:
"I had fun my freshman year. I got to start and play a lot (after leading Topeka Hayden to 41-1 record and state titles his junior and senior years)," he said.
"We'd been off the map a couple years, and it was fun for me to be a part of helping bring it back," added the 5-foot-11 Turgeon, who helped Brown's first KU team to a 22-10 record following a disappointing 13-16 mark in Ted Owens' final season (1982-83).
"I remember the Final Four year — we had such a good team in '86," Turgeon added of Brown's 35-4 squad that fell to Duke in the national semifinals in Dallas.
"Growing up a KU fan and being a part of the Final Four was beyond my wildest dreams. All the big games … when I played, it was the Oklahoma games, Missouri.
"My best memories are of my teammates: Danny (Manning), Calvin (Thompson), Ronnie (Kellogg), Ced (Hunter), Pipe (Chris Piper) ... all of them, what we went through, how much fun it was and the great fan support."
His top moment as an assistant coach?
"I'd have to say the Kentucky game when we got them, 150-95. We scored so many points," Turgeon said of a nonconference game in the 1989-90 season when he served as an assistant on Williams' Jayhawk coaching staff.
"It's always loud. That day was the loudest I've ever heard it in the fieldhouse. They (Wildcats) owned us for all those years. It was a game Kansas fans wanted to win so bad."
All about winning, floor general Turgeon was part of 108 victories and 33 losses. Coach Brown so liked him, he immediately added him to his staff in '87-88.
Turgeon's reward? Being a part of the magical 1987-88 national title run. He reached another Final Four as a Williams aide in 1990-91, when KU fell to Duke in the NCAA title game.
Since joining Jerry Green's Oregon staff (1991-92), Turgeon also has been head coach at Jacksonville (Ala.) State, Wichita State and now Texas A&M.;
For him, it all started in Lawrence, where he'll be leading the Aggies tonight.
"I've not thought about it," Turgeon said of possible emotions during pregame introductions. "At that time, I'm so nervous, focused. The most nerve-wracking time is right before the game. It is when you get the team ready to play.
"I'll say this ... nobody makes me feel more special than Kansas fans. Wherever I go, whether it's the Final Four when KU is in it or the Big 12 tournament, they make you feel so special."
Turgeon has coached against KU twice.
The Jayhawks downed his Aggies, 72-55, last March 8 in College Station, Texas, and again, 77-71, on March 15 in the Big 12 tournament in Kansas City, Mo.
"Last year was weird. When I walked out the first time and saw the red and blue, I said, 'Oh, man.' I didn't want to do it," Turgeon said of coaching against his alma mater.
"They whipped us pretty good. The Big 12 tournament was no problem at all. I don't think it will be this time," added Turgeon, now used to the feeling of trying to defeat KU.
"It's Kansas — defending national champions. We'll be fired up to play. I'll be fired up coaching against one of the best coaches and schools."
KU coach Bill Self, who worked as a KU graduate assistant in 1986, says he's looking forward to seeing Turgeon.
"Everybody loves Turg around here," Self said. "He was great for KU basketball in the time he was here. But I don't think that (Turgeon's return) will even come up in discussions with our guys (before game).
"I'll be very concerned about Turg, but not near as concerned about him as the guys he has on the court. They've got a good team, good athletes."
Among those good athletes are double-digit scorers Josh Carter, 13.4 ppg; Donald Sloan, 11.6; Bryan Davis, 10.6; and Chinemelu Elonu, 10.3.
Self knows full well Turgeon will be a big part of the storyline tonight. Back in 2003-04, the Oklahoma media made a huge deal out of former Oklahoma State player Self returning to coach against the Cowboys.
OSU clubbed his first KU team, 80-60.
"I tried to downplay it. It was a big deal to a lot of people. Obviously, I did such a great job motivating our guys that I had to call four timeouts by the first TV timeout," Self said.
"It's not a big deal for me, probably a bigger deal for Turg being the first time back in the building coaching somebody else."
One of Turgeon's former teammates — Mark Randall — wishes he could be at the game tonight.
He said Turgeon was one of the most likeable guys on the squad.
"I'm happy for Mark. He's done it the way it's supposed to be done, climbing the ranks," Randall said of Turgeon steadily moving up. "It's nice to see him blossom. He's paid his dues and has reaped the benefits.
"I'm glad he has a job in the Big 12. It's something he always wanted to do, coach in the Big 12."
Turgeon admits that is true.
"You know what? Everybody assumed I want to be head coach at Kansas. That's not really the case. I didn't want to ruin what I have with the KU fans," Turgeon said. "I want to coach at the highest level and have a chance to go to the Final Four and win the national championship. We can do it here.
"I like it here," added Turgeon, whose first Aggie team went 25-11 overall and 1-1 in the NCAAs. "They (administration) have invested a lot of money. We have a $26 million (practice) facility dedicated Saturday. We are in a place we have good enough players where we can make a run for the Big 12 championship and Final Four. My family (wife Ann, children William Harris, Leo and Ella) really likes it here. We still are a work in progress."
— Assistant sports editor Gary Bedore can be reached at 832-7186.
More like this story on KUsports.com