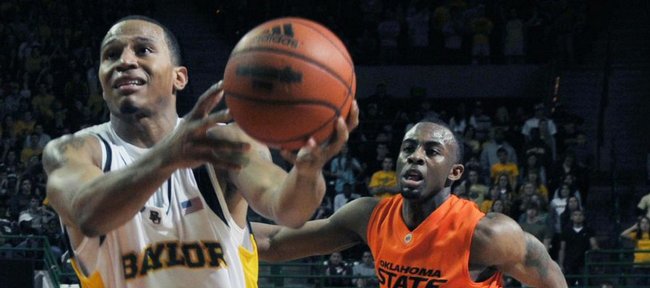 No. 21 Baylor 98, Oklahoma St. 92 (OT)
Waco, Texas — Coming back once wasn't good enough for Baylor. The Bears had to do it again, then still needed more time.
Tweety Carter hit two three-pointers to start overtime and finally put Baylor ahead to stay in a victory over Oklahoma State that was filled with wild swings.
"I don't know about you guys, but I am worn out," Baylor coach Scott Drew exclaimed.
Down by 17 points in the first half, Baylor recovered to go up by eight soon after halftime only to fall behind again by seven. The Bears (14-3, 2-1 Big 12) then needed a late 12-1 run just to be in position to force overtime.
Obi Muonelo led the Cowboys (12-4, 1-1) with 21 points.
Curtis Jerrells led the Bears with 31 points and 10 assists, but missed a chance to win the game in regulation when he made only one free throw with 2.5 seconds left.
Carter, who had three points while playing 32 minutes in regulation, broke the 82-all tie 12 seconds into overtime. He hit another three on the Bears' next possession.
No. 6 Oklahoma 69, Texas A&M; 63
College Station, Texas — Blake Griffin is certainly Oklahoma's best player, but he's far from the Sooners' only threat.
Austin Johnson had 19 points, and Griffin added 16 as Oklahoma held off a late rally by Texas A&M.;
No. 11 Texas 71, Texas Tech 49
Lubbock, Texas — Damion James scored 14 of his 18 points in the second half for Texas.
Gary Johnson and Justin Mason added 15 points each for the Longhorns (13-4 overall, 2-1 Big 12). Mason also added 10 rebounds.
Johnson carried Texas in the first half, and James and Mason picked up their play to lead the Longhorns in the second, with Mason scoring 12 points over the final 20 minutes.
Alan Voskuil scored 12 points for the Red Raiders (10-7, 0-2).
Missouri 77, Iowa State 46
Columbia Mo. — Freshman Marcus Denmon scored a personal-best 16 points and hit three straight three-pointers to help Missouri pull away from Iowa State. Denmon was 4-for-6 from three-point range and is 7-for-11 the last two games from long range for the Tigers (15-3, 2-1 Big 12), who won their 13th straight at home to tie the Mizzou Arena record.
Nebraska 73, Kansas St. 51
Lincoln, Neb. — Paul Velander came off the bench to match his career high with 20 points, and Nebraska broke open a close game late in the first half.