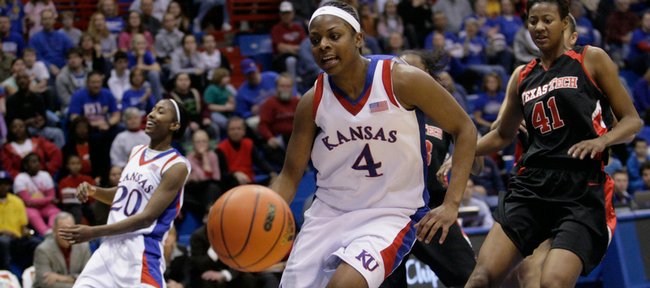 If there's one thing Bonnie Henrickson knows about her Kansas University women's basketball team, it's that she never knows.
Sometimes the Jayhawks show up — like in Wednesday's victory over Missouri.
Sometimes they don't — like in Saturday night's 57-49 swoon to Texas Tech in Allen Fieldhouse. And in last Saturday's stinker at Kansas State.
"It's nauseating," Henrickson said of her team's Jekyll-Hyde performances. "I don't know what else to say."
Don't be fooled by the Texas Tech final score. This one was never that close. The Red Raiders led by 19 with three minutes left, then started missing free throws and playing matador defense.
How bad were the Jayhawks?
They went in as the Big 12's best three-point shooting team and made just one of 13 from beyond the arc. They went is as the league's second-best field-goal shooting team and shot 28.1 percent (16 of 57).
Prior to that late surge, the Jayhawks were shooting in the 20 percent range. At halftime, KU trailed, 32-17, after making just five of 25 shots.
"The energy wasn't there," Danielle McCray said. "The same energy we had against Missouri we didn't have tonight. There just was nothing there."
McCray was the game's leading scorer with 22 points, but a dozen of those came in the last three minutes. Prior to that, she couldn't hit the campus from the top of the Campanile.
"Danielle right now has to get herself right," Henrickson said. "She's in the worst funk of her career."
McCray took two dozen shots Saturday night and had as many turnovers — seven — as field goals.
"I couldn't find any rhythm for nothing," McCray said. "It was just horrible."
McCray had plenty of company in the horrible-shooting category.
Nicollette Smith, the Big 12's most accurate three-point shooter, bricked five of her six shots from beyond the arc after nailing four of five against Missouri. Among LaChelda Jacobs' seven missed shots were two wide-open fast-break layups.
In addition, 6-foot-5 center Krysten Boogaard was virtually invisible. Boogaard logged 31 minutes and took only four shots.
Adding injury to insult, the Jayhawks lost Sade Morris, their second-leading scorer (12.8 ppg.) about 12 minutes after tipoff when she took an inadvertent elbow to the head. Wobbly-legged, Morris had to be helped off the floor and did not return to the bench.
Henrickson declined to divulge the nature of the injury, saying after the game that she hadn't heard from the doctor. However, it was apparent Morris had suffered some degree of concussion.
In theory, Kansas had the incentive against the Red Raiders because the Jayhawks hadn't knocked off Tech since 1999. Also, KU had its second-largest crowd of the season (4,846), in large part because 3,000 free tickets were distributed to youngsters attending a Mid-America Youth Basketball tournament this weekend at various Lawrence venues.
But the Jayhawks chalked up so many rocks that the throng rarely had an opportunity to cheer, much less sing the Rock Chalk Chant.
Kansas (12-4 overall, 1-2 Big 12) will travel to Nebraska on Wednesday.
— Sports writer Chuck Woodling can be reached at 832-6348.
More like this story on KUsports.com