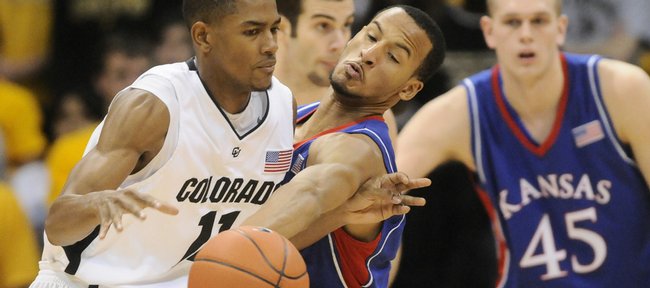 KU scoring
Collins 18, Aldrich 15 (6-for-6 shooting), Taylor 14 (6-for-7 shooting), Reed 11, Marcus Morris 10, Markieff Morris 3, Morningstar 2.
KU made 27 of 44 field goals (61.4 percent), 10 of 19 free throws (52.6 percent) and 9 of 17 threes (52.9 percent).
FINAL: KU defeats CU, 73-56
Taylor makes two nice plays in transition. On the first, he fakes a pass to Aldrich to deke a defender before putting in a short shot. The second time, he beats the defender to the baseline before putting in a running layup.
Taylor's racking up the points late, as he takes it strong to the basket for a runner with a foul.
KU finishes off Colorado to pick up its first road victory of the season. The guys celebrate with Darnell Jackson, who showed up to today's game.
KU 65/CU 50 — 3:01 left in game
Reed drains another three, and Aldrich gets a dunk when his man falls down inside.
KU's even getting the breaks now, as Markieff Morris jams his hand on a lob pass inside. The ball still deflects off the glass and goes in.
CU goes to a man defense, and Marcus Morris shows good awareness. He immediately notices the set inside and lobs the ball to Aldrich, who puts in a short shot off the glass.
KU 55/CU 39 — 7:46 left in game
Reed hits a three, then on the next possession, Collins throws a nice lob to Marcus Morris for an easy two. Just before CU's timeout, Collins turned to the KU fans and cupped his ear, asking them to make some noise. Out of the timeout, he clapped his hands in their direction.
Reed picks up a steal, then loops in a tough layup. Suddenly, the Jayhawks are up by 16.
Marcus Morris was having a great game until the last two possessions. He tried an ill-advised, behind-the-back pass on a fast break that was stolen, then lost the ball inside on the next possession. KU lost some momentum after those two miscues.
Another three from Reed. He's played a much better second half.
KU 45/CU 36 — 11:13 left in game
Wow. That might get the Jayhawks going. On a set play, Collins threw a lob play to Tyshawn Taylor (how many teams throw lobs to their guards?). The freshman went way, way up to tip it in while also drawing a foul. He hit the free throw as well.
Collins hits a deep three, and he's only one away from his career-high for treys in a game (five).
Morningstar hits a rainbow shot, and he's quietly having a productive game. That's two points, six rebounds and four assists for him.
KU 37/CU 32 — 15:50 left in game
Marcus Morris hits a long shot from the side. KU gets its first points 4:10 into the second half. After review, it's called a three instead of a two.
KU 34/CU 32 — 16:17 left in game
Two turnovers on entry passes for KU to start the second half. Self throws the papers in his hand to the floor.
KU has five turnovers in the first 2:51 of this half. The Jayhawks are lucky that the Buffs haven't taken advantage.
Higgins hits a three to beat the shot clock, and CU, once again, is only down two.
Kansas scoring
Collins 15 (4-for-8 shooting, 3-for-5 from three), Aldrich 8 (3-for-3 shooting), Marcus Morris 5 (2-for-2 shooting), Taylor 5, Markieff Morris 1.
KU made 11 of 21 shots (52.4 percent), 8 of 14 free throws (57.1 percent) and 4 of 10 threes (40 percent).
CU was 7-for-16 from the floor (43.8 percent), 12-for-14 from the free-throw line (85.7 percent) and 1-for-5 from three (20 percent).
KU had nine turnovers, while CU had 12. KU is out-rebounding CU, 14-10.
Halftime thoughts
• KU has to avoid fouling on the defensive end. The Jayhawks are bailing out the Buffs, who had just one offensive rebound all half (and that was a team rebound, meaning it went out-of-bounds off KU).
• I don't know if I've ever seen only 16 field-goal attempts in a half. That's an extremely low number.
• Nice half for Collins, who didn't force things and also was able to make three of his open treys.
• Marcus Morris had a solid first half as well with five points, a steal and two rebounds. On his fast-break bucket, he looked much more like a small forward or shooting guard than he did a power forward.
• Taylor played just seven minutes because of foul trouble. KU needed him as another three-point threat. He should be well-rested, so he could be a key in the final 20 minutes.
KU 34/CU 27 — Halftime
KU has to stop fouling Cory Higgins. He was second in the Big 12 in free-throw percentage coming in (84.1 percent), and he already has eight free throws. Predictably, he's 8-for-8.
The Jayhawks have started trapping in the half-court, and already they've forced a pair of jump balls.
Interesting stat of the day: At one point, KU had 11 rebounds. Morningstar had five of them.
Two more free throws for Higgins. He's 10-for-10 now.
KU takes a seven-point lead into the break.
KU 30/CU 23 — 3:59 left in 1st half
Collins breaks KU's scoring drought, hitting a tough 14-footer just before the shot clock expired.
On the next possession, Collins lobs a nice pass inside to Aldrich, who slams it home. Aldrich comes up with a ferocious block off the glass on the other end, and Collins gets fouled in transition, making both free throws.
KU's defense has created its offense lately, as Marcus Morris gets a steal and goes all the way to the other end, spinning to the basket before getting a two.
The Jayhawks force another CU turnover, and Aldrich puts in two free throws to give KU a four-point lead.
Collins hits a three (give the assist to Morningstar), and KU has an 11-0 run of its own.
CU 19/KU 17 — 7:37 left in 1st half
Some of Taylor's confidence looks to have spilled over from the K-State game, as he dribbles into some heavy traffic before putting in a floater off the glass.
The Buffs have picked up a couple steals off their 1-3-1 zone. I've been told CU coach Jeff Bzdelik had never implemented a 1-3-1 zone with any of his teams until this year.
KU's struggling on the offensive end against the zone. The Jayhawks have gone 2:38 without a point, and the Buffaloes have responded with a 7-0 run to take their first lead.
KU 15/CU 12 — 11:18 left in 1st half
The Jayhawks are shooting well, but they haven't been able to build a big lead.
KU made 5 of its first 6 shots but still only led, 15-12, after Aldrich's dunk inside.
Meanwhile, CU has gone 5-for-8 (63 percent) in the first 8:42.
KU 8/CU 6 — 15:49 left in 1st half
Colorado starts the game in a 2-3 zone. KU breaks it on the second possession, as the defense collapses on Aldrich inside, and a kickout to Taylor gets the Jayhawks an open three. The guard drains it.
On a fast break, Aldrich goes under the basket for a reverse lay-in. That's one of the most athletic moves I remember seeing from the big guy this year.
Marcus Morris has already made an impact, as he has a field goal and free throw in the first 4:11.
2:35 p.m.
Starting five: Sherron Collins, Cole Aldrich, Brady Morningstar, Mario Little, Tyshawn Taylor.
2:28 p.m.
Gotta be honest — there are more KU fans here than CU fans, and it's not really close. I'd say it's 60-65 percent Jayhawk fans, and that might be giving Buffalo fans the benefit of the doubt.
1:58 p.m. CST
Let's go through a preview of Colorado, which comes in with an 8-7 record.
If Colorado wins (or keeps it close), it will be because:
1. Cory Higgins. Doesn't it seem like Colorado always has one really good player (think Chauncey Billups, David Harrison, Richard Roby)? Higgins is that player this year. He's averaging 17.5 points (sixth in the Big 12), 6.3 rebounds (11th in the conference) and 1.9 steals (fifth in the conference). KU will need to be aware of where he is on the court at all times.
2. Good shooting. The Buffaloes run the Princeton-style, slow-it-down offense, and when they get shots, they make a lot of them. CU has made 54.5 percent of its two-point field-goal attempts this year, which ranks 21st in the country. The Buffs also are making 72.5 percent of their free throws, which is the second-best mark in the Big 12.
3. Altitude. There's just something to be said for being used to playing a mile above sea level. If the game is close late, remember that CU will most likely be the better-conditioned team.
If Colorado loses (or gets blown out), it will be because:
1. Poor defense. Buffs' opponents are making 49.4 percent of their two-point field goals, which is a high number. CU also averages blocks on only 5 percent of its possessions (ranking 316th out of 344 Division-I teams) and only steals the ball on 8.4 percent of its possessions (ranking 274th).
2. Lack of size inside. The Buffaloes' tallest starter is 6-foot-8, and their tallest player is 6-9. CU also is terrible on the offensive glass. Only 22.7 percent of the Buffs' rebounds are offensive rebounds — that's the third-worst percentage in the NCAA.
3. Home has been better, but not great. CU is 7-2 at home this season, but that includes a three-point loss to Montana State and a 16-point loss to TCU. The Buffaloes have won four straight games at the Coors Events Center, but the best victory was against Colorado State (170th in Kenpom rankings).
1:28 p.m. CST
The gates must have just opened, as there was a mad rush of fans to get the best general admission seats.
All of them — and I mean all of them — are KU fans.
I would say about 200 Jayhawk fans are already seated behind me on the baseline, and they won't be hard to spot, as two-thirds of them are wearing blue.
Lots of cameras are out now, as I'm guessing this is the one time all year many of the western Kansas KU fans get to see their team.
1:05 p.m. CST
Welcome back to the Newell Post Live, coming to you from Coors Events Center in Boulder, Colo., where the Kansas Jayhawks are getting set to take on the Colorado Buffaloes.
Quick, name KU's best victory this season.
You said Tennessee, right?
According to some computer rankings that's not the case. In fact, Ken Pomeroy's Ratings would tell you that the Tennessee victory isn't even the Jayhawks' second-best win this season.
Looking back, here are KU's top five victories this year, based on the opposing team's rankings in Ken Pomeroy's ratings:
1. Washington (25th in Kenpom rankings), W: 73-54
2. Kansas State (26), W: 87-71
3. Tennessee (34), W: 92-85
4. Temple (48), W: 71-59
5. Siena (75), W: 91-84
Remember also that the Washington victory was not a true home game either, as it was at the Sprint Center in Kansas City, Mo.
Washington, after losing to Kansas and Florida in the CBE Classic, has won 10 of its last 11 games and now sits at 12-4. Though not considered a resume victory at the time, the Huskies' victory could be valuable for the Jayhawks come March when NCAA Tournament bids/seedings are determined.
KU, meanwhile, is 19th in the Pomeroy rankings. Only two Big 12 teams are ranked higher than the Jayhawks (Missouri, 11th; Oklahoma, 15th).
In case you were wondering, Realtimerpi.com has a slightly less favorable view of this year's Jayhawks.
KU is 42nd in those ratings, behind Big 12 teams Oklahoma (7th), Oklahoma State* (17th) and Texas (22nd).
The Jayhawks' five best wins, according to the RPI, are as follows:
1. Tennessee (30th)
2. Siena (34th)
3. Temple (36th)
4. Washington (38th)
5. Albany* (99th)
* — These are both head-scratchers to me. Oklahoma State better than Texas? Albany better than Kansas State? I'm sure it will all get sorted out as we get deeper into conference play.
In the RPI, top-100 victories are considered "quality wins." KU having five quality wins already can only help its chances at making the Big Dance.
For comparison, No. 1 Pittsburgh, though undefeated, only has five quality wins to its credit so far.
More like this story on KUsports.com