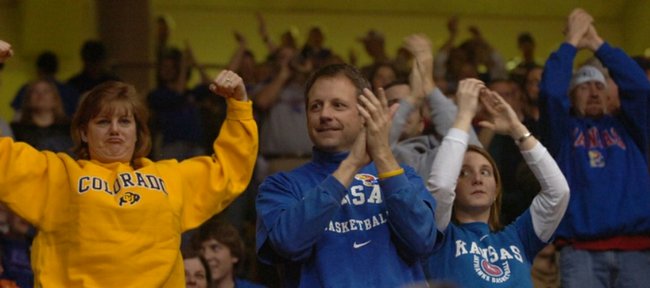 Boulder, Colo. — A proud Kansas University graduate, Mark Randall has been on the lookout for Buffaloes all week.
"I give Chauncey (Billups) a little ribbing about it," Randall, the director of the Denver Nuggets' community ambassador program, said of the Nuggets' point guard, who played at the University of Colorado.
"(Former Buff player) Jamahl Mosley is on our staff. I give him a hard time about it, too."
"It," of course, is the annual migration of Jayhawk fans to the flatirons for the KU-CU men's basketball game.
At least half of the seats in 11,064-seat Coors Events Center are likely to be occupied by fans wearing crimson and blue today, as has been the case the past couple of decades.
"CU faithful make light of it, but they know there will be a large Jayhawk contingent for this game," former KU power forward Randall said of the 2:30 p.m. matchup between KU (12-4 overall, 1-0 Big 12) and CU (8-7, 0-1).
"Everybody jokes about this being a home game for KU, which it pretty much is," Randall added.
Fan support has helped KU snare five straight victories and 16 of 17 in a building Boulder Daily Camera columnist Ryan Thorburn refers to as "Allen Fieldhouse West Annex."
"It's always been the case it's been a quote-unquote extra home game for KU," said Randall, who went 3-2 at Coors Center during his KU career (1986-91, which included a red-shirt year).
"It's so close to the border we get a lot of fans from Western Kansas. They never seem to disappoint. They come to the game every year."
Jayhawk fans showed in full force last year despite the fact they had to purchase single-game tickets to three games in order to land a ticket to the KU-CU game.
This year, the system remained in effect early on, but it didn't last. Fans now can purchase single-game tickets to today's game. Colorado just hiked the prices.
General-admission tickets, which normally cost $10, sell for $30 today. Lower-center-court tickets, which normally sell for $30, go for $50. Middle-center-court tickets, normally $20, cost $40. Corner tickets, normally $15, go for $35, and upper-bleachers areas, normally $15, go for $35.
"I think it's easily half KU fans," Randall said. "We get the whole north side. We get the northwest corner, the northeast corner and the east side. The west side is CU season-ticket holders."
Randall cautions that the mere presence of fans does not guarantee a KU victory.
The Buffs, who have played before an average of 3,532 spectators, are 7-2 at home this season.
"Never take it for granted when you come here. You have to deal with altitude," Randall said. "I remember coach (Roy) Williams always said the altitude was only in your head.
"Buddy, it's in your head, it's in your lungs. You have less oxygen," Randall said of playing at 5,280 feet.
"When I played for the Nuggets, after we returned from a road trip, it took a full day to assimilate back. It's chemical. It's biological. If you are a starter, it takes a full 10 minutes to catch your breath."
The fans usually help energize the visitors.
"We have a lot of fans there that support us, which we appreciate," KU sophomore Brady Morningstar said.
"We have a lot of fans up there, but it still feels like a road game," junior Sherron Collins noted. "We'll still be wearing white. The (CU) fans will be saying things to us. We have to take it seriously like a road game."
KU coach Bill Self, whose teams are 5-0 in Boulder, hopes for the usual turnout of Jayhawk supporters.
"We've always traveled well to Colorado. Hopefully the weather is nice and our fans in that area can get out there again this year," he said. "People call it a home court for us. It hasn't been a home court. Certainly it makes a better venue for us when we have that many people there."
On the court, the Jayhawks face a team stinging from Wednesday's 107-62 loss at Missouri.
Freshman guard Ryan Kelley scored 19 points, and junior guard Dwight Thorne II had 13 for Colorado, which committed a season-high 26 turnovers.
Sophomore guard Cory Higgins averages a team-leading 17.5 points for CU, which has also lost to Montana State, Stanford, TCU, Buffalo, Vermont and SMU.
CU — which has dropped 11 in a row overall to KU — has defeated Arkansas Pine-Bluff, Harvard, Lafayette, Colorado State, Prairie View A&M;, Louisiana-Monroe and Coppin State.
Thorne is the only other double-digit scorer at 11.9 ppg.
"They are young. He's starting to bring in his type of players here," Randall said of second-year coach Jeff Bzdelik.
"I bleed Kansas, but I, being a member of the Colorado community, pull for him to get something going," added Randall, who once worked as an assistant for former Nuggets' coach Bzdelik.
"He runs a special style, the Princeton style that he used at Air Force. He'll be all right. The thing for them (Buffs) is to get their facilities to the Big 12 level. Everybody is upgrading. The flatirons ... you don't get a much more beautiful setting than that. It's his second year. I think he'll get the job done."
Until Bzdelik does, the Buffs will have to deal with KU fans invading their home arena once a year.
"I know I always look forward to coming to the game," Randall said. "I think this is the 12th straight year. It's always fun in there."
More like this story on KUsports.com