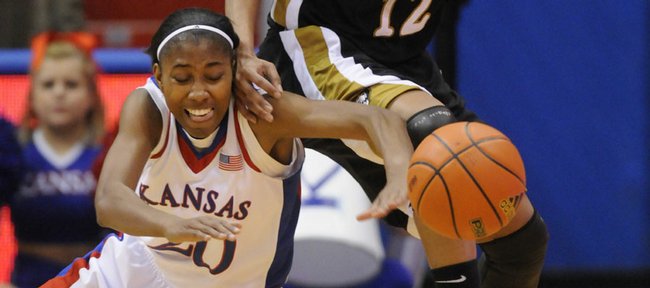 Still looking for its first women's basketball victory over Texas Tech in the 21st century, Kansas hopes to stop the Saturday night.
"We need everyone to come and bring five of their best friends," KU coach Bonnie Henrickson said, adding good-naturedly: "If you need a ride, call me."
Tipoff will be at 7 p.m. in Allen Fieldhouse. Sunflower Broadband channel 6 will carry a live telecast.
It's no secret the Jayhawks play better here than they do on the road. They're 9-0 on their home floor this season and 3-3 elsewhere. Typical were their last two games.
A week ago, Kansas opened the Big 12 Conference season with a 72-39 swoon at Kansas State. Four days later, the Jayhawks pulled a 180-degree turnaround by shooting nearly 60 percent in a 75-58 thumping of Missouri in Allen Fieldhouse.
It's early in the Big 12 race, of course, but KU's players are hoping the K-State game was the nadir of their season.
"We can't go bad game, good game, bad game, good game," said junior Sade Morris, who matched her career high with 20 points against Missouri. "That won't do us any good."
Instead, Morris said, the Jayhawks need "good game, good game, great game."
They may need that great game tonight against Tech, which hasn't lost to KU since the Jayhawks posted a 55-45 victory on Jan. 23, 1999, in Lawrence.
Texas Tech (10-5) opened its league season with a 65-62 triumph over a ranked Texas team in Lubbock, then went to No. 8-ranked Texas A&M; and bowed, 67-56, so the Raiders are also 1-1 in the Big 12, with the win coming at home and the loss on the road.
Tech tripped the Jayhawks, 66-61, last year in Lubbock as Jordan Murphree and Dominic Seals scored 17 and 16 points, respectively. Both players are back with Seals leading Tech in both scoring (14.0) and rebounding (8.1).
Kansas (12-3), meanwhile, has morphed from one of the Big 12's least effective three-point shooting teams to one of the country's best. The Jayhawks lead the league in three-point accuracy at 42 percent and rank second nationally in that category.
Sophomore Nicollette Smith leads the Big 12 in three-point percentage at a torrid .456.
More like this story on KUsports.com