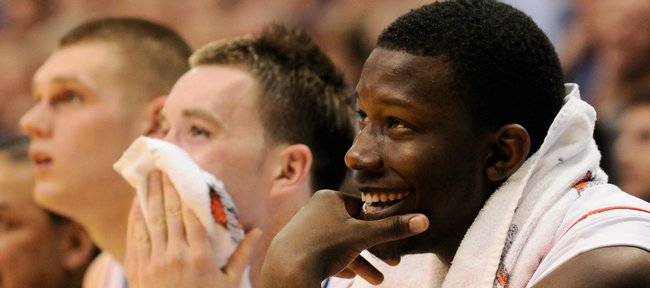 Kansas University junior Mario Little — who on Tuesday morning decided he was healthy enough to play second semester — started Tuesday night's game against Kansas State.
Considering Little played well in his first start at KU — and the man he replaced (Markieff Morris) had a productive night off the bench — it's possible the Jayhawks may open the same way on Saturday at Colorado.
"With Mario it was kind of rolling the dice because he hasn't been out there, but I think it turned out to be a good thing for us he did start because it kept Markieff from getting two fouls in the first four minutes," KU coach Bill Self said Thursday.
"When he (Morris) gets two fouls in the first four minutes and you have to rest Cole (Aldrich), you can't put 'Kieff in, so you are playing small," Self added. "I'm not saying we're going to go that way. I'll see how practice goes, but I'd anticipate it being similar."
The 6-foot-5, 210-pound Little scored eight points and grabbed three rebounds in 13 minutes in KU's 87-71 victory over the Wildcats. Morris had five points and five boards with four fouls in 23 minutes.
Morris, who had started the previous six games at power forward, said starting or relieving suited him fine.
"It doesn't really matter to me. If coach chooses not to start me I wouldn't be mad. I just have to help the team whenever I get in the game," the 6-foot-9 Morris said. "I didn't have too good a practice last week. I guess coach starts who he thinks plays well in practice."
Juco transfer Little also showed no emotion when asked about the matter.
"I don't know," he said, asked if he'd open the CU game. "I like to start. I (also) know it'll take time for me to get some reps for me to know what I'm doing."
KU (12-4) has used five starting lineups this season.
"Basically starting doesn't really matter to me. What matters is who finishes," said forward Marcus Morris, who has started six games. "If I don't start, I don't really care. I just want to play. I want to be on the team, contribute to the team."
Nor does it matter much to KU coach Self.
"I don't think it makes one bit of difference," said Self, who has used four regular starters in Tyshawn Taylor, Sherron Collins, Brady Morningstar and Cole Aldrich, the fifth slot the one up for grabs.
"If it affects guys' attitudes and they really think it's good for them to start, if that motivates them, then obviously there are some things they can do to get that back. If it deflates them, you probably are not going to win with them anyway," Self added.
Self is amused at the attention starting lineups have garnered in his six years at KU.
"This is one thing about being at Kansas ... that's news," he said of starting. "The Big 10 Player of the Year at Illinois, Frank Williams, I didn't start him five or six times. It was never talked about. (Media would ask), 'Why didn't you start him?' 'Didn't want to.' End of discussion," Self added. "Here it's news."
Junior Sherron Collins said KU's players don't discuss the issue.
"Our locker room is great. Everybody's attitude is great, having fun. We don't talk about it," he said. "I guess for some of the young guys, if things don't go their way, it motivates them to play harder. I was never one to care about it last year."
That's when KU had Mario Chalmers and Russell Robinson on board.
What about this year?
"Right now I would care," Collins added with a laugh, aware that when healthy, he's now a fixture his junior year.
lWhat a relief: Little said he remains relieved he decided to play, and not red-shirt, this season.
"I feel more natural. Once I told coach, it was over after that," he said.
He said he's stepped it up at practice.
"I've been doing way more than I had been doing," said Little, who has been slowed by a stress fracture in his lower left leg. "The pain is not something I can't bear."
lRoad warriors: KU, 0-2 in true road games and 1-2 at K.C.'s Sprint Center, will play three of its next four games outside of Allen Fieldhouse: 2:30 p.m., Saturday at Colorado, Monday at home versus Texas A&M; Jan. 24 at Iowa State; Jan. 28 at Nebraska.
"Three weeks from now we'll say the next stretch is most crucial and after that the next stretch is most crucial. (But) this is a crucial stretch, no question," Self said. "We need to learn to win away from home."
lRecruiting: Self was in Springfield, Mo., on Thursday night recruiting John Wall, a 6-foot-4 senior guard from Word of God Christian Academy in Raleigh, N.C. Wall is considering KU, Baylor, Duke, Memphis, North Carolina State, Miami and Oregon.
More like this story on KUsports.com