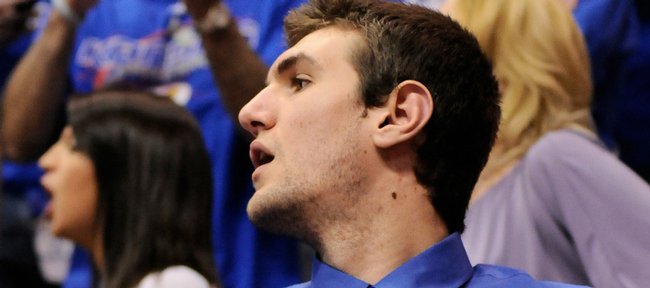 All eyes, except those of Kansas State University's basketball players and coaches, were glued to the Allen Fieldhouse videoboard prior to the introduction of Kansas University's starting five Tuesday night.
The highlight reel featuring some of the best players and coaches in KU history had the attention of KU's current players, including transfer Jeff Withey.
"It gave me goosebumps watching it," said Withey, KU's 7-foot freshman center from the University of Arizona.
He arrived on campus Monday, ran through drills at KU's shootaround Tuesday afternoon, and wore a shirt, tie and slacks to the Jayhawks' 87-71 victory over Kansas State.
"All the noise, all the tradition. I'm really excited," Withey said, adding of the fieldhouse atmosphere, "It's the best I've seen."
KU's fans made the 225-pounder out of San Diego's Horizon High feel comfortable as he walked onto James Naismith Court through the northwest tunnel.
"A lot of fans welcomed me, chanted my name and stuff," Withey said. "That felt good, really good. I had goosebumps the entire game. I just can't wait to be out there and be able to play."
It'll be a long time before Withey — he averaged 20.8 points, 13 rebounds, seven blocks and four assists per game his senior year at Horizon — enters a game for the Jayhawks.
He'll be eligible to play in mid-December — at the conclusion of first semester of the 2009-10 season.
"Playing against Cole (Aldrich) can help me out," Withey said of the Jayhawks' 6-11 sophomore pivot. "He's one of the best players in all of college basketball.
"Hopefully I can help him get better, too."
Withey — he decided to leave U of A following the October resignation of coach Lute Olson — chose KU over Texas, Gonzaga, Cincinnati, Indiana, San Diego and San Diego State.
He seriously considered remaining in his hometown to play ball for one of the San Diego universities.
"I looked into it," he said, "but nothing beats the tradition here. It was hard leaving San Diego — it's a pretty nice place; sometimes I take it for granted — but I like everything about Kansas."
Including ... "the coaches and players. They are a great group of guys," Withey said. "Seeing the way Cole has gotten so much better. The (Morris) twins are getting better every game. Coach Manning (Danny, big-man coach) is one of the best coaches out there. I talked to my family, and we thought it was the best place for me to get better and hopefully get in the NBA."
KU coach Bill Self sees great upside in Withey.
"Jeff will be a big asset to us," Self said. "You can physically see he is very tall, very long, a good shot blocker. He's also a guy who can run and has a great touch. He also physically needs to put on weight," added Self, who said Withey easily will put on 20 pounds by the time he's eligible to play.
Withey — he said he'd like to be 240 pounds next season — said he likes to "drop step, dunk the ball, block shots and rebound." Withey will be doing it at practice instead of games for months to come.
He's looking forward to the challenge of living somewhere besides the West for the first time in his life.
"I like change. I like adventure. This is another step in life," Withey said.
Notes
Aldrich thinking only about KU: Cole Aldrich last month told the Journal-World he was "not going to worry about" talk of entering the 2009 NBA Draft until after his sophomore season.
He repeated that position this week to his hometown paper, the St. Paul Pioneer Press.
"I've talked to some of my teammates from last year that are there (NBA)," Aldrich said of Jayhawks Darnell Jackson, Darrell Arthur, Brandon Rush and Mario Chalmers. "They just said, 'The less you worry about it, the better off you are because you just have a passion for the game.'
"It (going pro) all depends on a lot of things. I want what's best for my family and me. We're going to sit down with coach and my parents and determine if I think I'm ready for it. If not, I have absolutely no problem coming back," the Bloomington, Minn., native added.
Aldrich's dad told the St. Paul paper what he'd told the J-W earlier, that agents have been in contact with the elder Aldrich.
"We've probably had a half-dozen agents call the house. It's a lot like the college recruiting aspect. We talk to Cole about it, but one of the reasons he's so mature is that we leave the decisions up to him," Walter Aldrich said.
Cole was asked by the Pioneer Press if he would have stayed home if current UM coach Tubby Smith had been on board instead of Dan Monson, who was fired in 2006.
"That definitely could have been a possibility," Aldrich said. "But things kind of didn't fall into the right place with that. And I'm having an absolute blast here in Kansas."
Mario's minutes: KU coach Bill Self says junior Mario Little is free to play as many minutes as the coach desires.
Little (stress fracture, left leg) played eight minutes the first half, five the second of Tuesday's victory over KSU.
"There's no minute count," Self said. "We wanted to have some bigger guys in there (second half) to rebound."
Of Little's eight-point, three-rebound, 13-minute effort against K-State, Self said: "I thought he did fine. He didn't rebound the ball like I think he can. He's not a 4-man. He's a 3 playing a 4, and he's not very big. He made some big shots, and I thought he looked a lot more comfortable tonight."
More like this story on KUsports.com