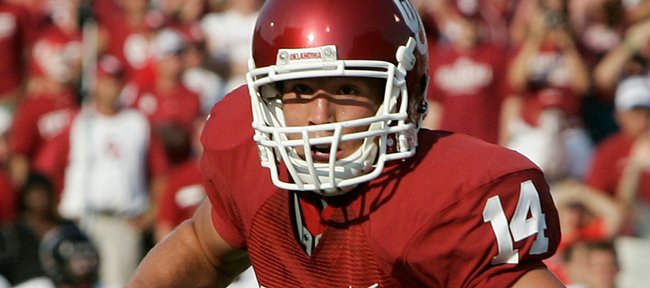 Heisman Trophy winner Sam Bradford wasn't ready to give up the life of a college quarterback — not without a national championship.
The third-year sophomore quarterback will return to Oklahoma next season, passing on a chance to be a high NFL Draft pick.
"I've dreamed about playing at Oklahoma since I was little, and my three years here have been probably three of the best years of my life, and I really feel that there's no need to cut this experience short," Bradford said Wednesday at a news conference.
"I'm really looking forward to coming back and competing for a fourth straight Big 12 championship and another opportunity at a national championship."
His return also means another shot at a Heisman Trophy. Archie Griffin of Ohio State is the only player to win two Heismans. Florida quarterback Tim Tebow, the 2007 winner, finished third behind Bradford in the Heisman voting this season.
For the first time, the top three vote-getters for the Heisman Trophy will return to college football. Tebow announced his intentions Sunday, and Texas quarterback Colt McCoy said he'd be back for his senior season long before the Longhorns won the Fiesta Bowl.
Bradford led the nation with 50 touchdown passes and a quarterback rating of 180.8. He likely would have been one of the first quarterbacks taken in April's draft.
Instead, Bradford will take another run at a national championship with Oklahoma. The record-breaking quarterback led the Sooners to the BCS championship game this season, but they lost 24-14 to Florida.
"Obviously it's frustrating to end with a loss, and I want to come back and finish my career the right way: on a win," Bradford said. "I would say it had a little bit of an influence on my decision, but I really tried to keep that out of my mind because that could have limited myself to making the best decision for me."
Bradford also let it slip that tight end Jermaine Gresham and offensive lineman Trent Williams also decided not to enter the draft early. Defensive tackle Gerald McCoy also has said he'll be back for another season with the Sooners.
Sooners coach Bob Stoops, who took the podium after Bradford, went as far as saying all of the Sooners' third-year players will be back next season.
"All the guys who are thinking about leaving, they're classmates of mine," Bradford said. "We came in together. We've kind of gone through everything together. We did talk to each other and let each other know how we were feeling."
Asked what he liked about college football, Bradford answered: "Everything."
"You come out here and get to play in front of 85,000 people every day. This state is a football state. Everyone knows about Oklahoma football. I've grown up watching it," Bradford said. "Just having this experience and being able to live my dream."
Stoops said Wednesday was a more important day than signing day for the Sooners, bringing back so many players who'll play a key role next season. Oklahoma already loses four starters on the offensive line and three receivers from the nation's top-scoring offense. Losing Bradford, Gresham and Williams would have been devastating.
The returning trio represent quite a turnaround from last season, when linebacker Curtis Lofton, receiver Malcolm Kelly and cornerback Reggie Smith all left after their junior season. Only Lofton was a first-round pick.
"Not one of them went where they were projected on TV or what everyone talked about," Stoops said. "They went where their draft projection (from the NFL) was. None of them were ahead of their draft projection, but the TV all had them above their draft projection."
Gresham and Williams each issued statements through Oklahoma's athletic department looking forward to next season and addressing their hopes to complete or at least make progress toward their college degrees.
"I think they're sending a great message to a lot of other young people in the value of that last year or going as far as you can in your college career," Stoops said.
Each of the others will also play key roles in Bradford's success next year. Gresham caught 14 touchdown passes, including two in the BCS title game, to rank second on the team, and Williams could be the one protecting Bradford's blind side.
"I always feel, 'Why not have your cake and eat it, too?' Why not have all you want here, and still he's only going to get bigger and stronger in everything that he does," Stoops said.
"I think he only can improve his position a year from now."
More like this story on KUsports.com