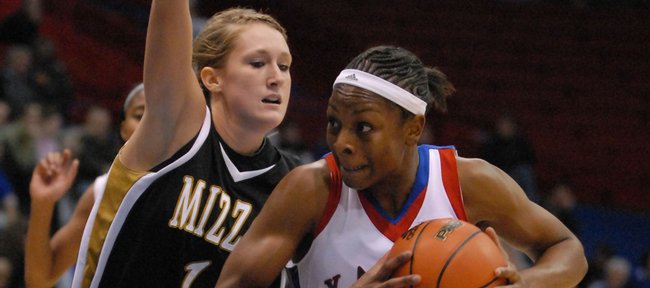 Audio clips
2009 KU-MU women Jan. 14
That bus droning out of Manhattan on Saturday night took only about 90 minutes to reach Lawrence.
Unless you were most of the passengers — members of Kansas University's women's basketball team.
"It felt like an eternity," sophomore Nicollette Smith said. "I couldn't sleep, either, and that made it even longer."
Echoed junior Sade Morris: "It was the longest bus ride ever. It was horrible."
But it's history now. The Jayhawks' deflating 72-39 loss to Kansas State that night was wiped out with a 75-58 thumping of Missouri on Wednesday night in Allen Fieldhouse.
Morris and Smith were the ringleaders of the bounce-back with 36 points between them. Morris matched her career high with 20, while Smith counted a season-high 16.
Yet Morris and Smith supplied more than points. They had also provided purpose during Monday's practice session.
"They were fussin' at everybody," KU coach Bonnie Henrickson said. "We were 10 minutes into practice, and Nic and 'De let them have it."
Smith and Morris were mad, and weren't going to take it anymore.
"It was our first practice back," Smith said, "and we were horrible. We had talked about playing better after K-State, and we kept messing up."
Added Morris: "It wasn't any different than Saturday, so we screamed at the top of our lungs to do it right."
Do it right is what the Jayhawks did Wednesday. They shot a sizzling 58 percent (22 of 38), made 24 of 29 free throws, outrebounded the Tigers, 38-28, and held Missouri to 29.5 percent shooting (18 of 61).
"This was exactly the way we want to play," Morris said.
For the first 13 minutes, neither team had any breathing room. At that stage, both teams had 21 points. Then the Jayhawks, fueled by three Morris baskets, went on a 9-0 run and Mizzou never challenged again.
Notably, the Jayhawks continued their deadly three-point shooting. With Smith drilling four of five shots — three in the first four minutes — from beyond the arc, KU made 7-of-11 overall.
Kansas went in ranked No. 2 nationally in three-point field goal percentage at 40.8 percent and boosted that number to 42 percent.
Meanwhile, Smith's three-point accuracy climbed from 42.3 percent to 45.6 percent, best in the Big 12 Conference.
"Tonight I was just feeling it," said the 6-foot-2 native of Tulsa, Okla. "The three-pointer is my thing."
Curiously, though, Smith is shooting just 38 percent from inside the arc.
"I guess I'm too close to the rim when I'm inside," she said with a smile.
About the only thing the Jayhawks didn't do well was protect the ball. KU was charged with 20 turnovers. Torrid shooting made up for that deficiency, however.
After the humbling at Kansas State, Henrickson said she didn't dwell on it. In fact, she said she and her staff haven't mentioned it since they walked out of Bramlage Coliseum.
"I didn't beat them up with it," she said. "It's a long season, and you can't carry that in your bag with you."
And so it was Missouri that had to make a long bus road back to Columbia, Mo., in the wake of a poor performance.
"Nothing would drop for us," MU coach Cindy Stein said, "and you have to give Kansas credit for that. It's just so disappointing. Our kids were fired up."
Particularly woeful for MU (9-6 overall, 0-2 Big 12) was leading-scorer Jessra Johnson who missed 14 of 16 shots and scored only six points, eight fewer than her average.
Kansas (12-3, 1-1) received 12 points and seven rebounds from Danielle McCray, and Krysten Boogaard just missed a double-double, finishing with nine points and 11 boards.
Next for the Jayhawks will be Texas Tech at 7 p.m. Saturday in Allen Fieldhouse.
More like this story on KUsports.com