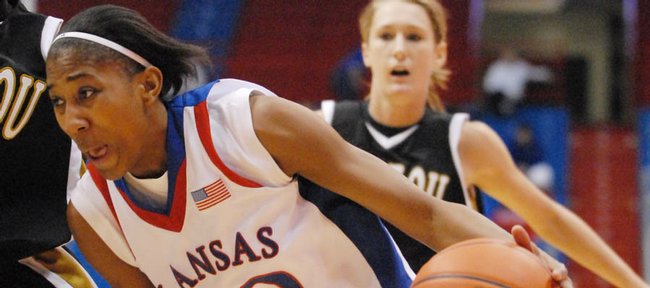 Audio clips
2009 KU-MU women Jan. 14
Kansas scoring
Sade Morris 20 (6-for-9 shooting), Nicollette Smith 16 (6-for-7 shooting, 4-for-5 threes), Danielle McCray 12, Krysten Boogaard 9, LaChelda Jacobs 7, Kelly Kohn 7, Porscha Weddington 4.
KU was 22-for-38 from the floor (54.5 percent), 7-for-11 from three (63.6 percent) and 24-for-29 from the free-throw line (82.8 percent).
MU made 18 of 61 shots (29.5 percent), 4 of 15 from three-point range (26.7 percent) and 18 of 25 from the free-throw line (72 percent).
KU out-rebounded MU, 38-28. The Jayhawks had 20 turnovers to the Tigers' 11.
FINAL: KU defeats MU, 75-58
Though she came in as MU's leading scorer, Jessra Johnson hasn't played like a bigwig tonight. The forward has just six points on 2-for-16 shooting.
KU has done a good job of keeping its focus in the second half. The Jayhawks built their lead and never let the Tigers get back into the game.
Jacobs puts in two free throws. That gives her seven points (with 2-for-2 shooting from the floor) in the second half.
A minute later, the Jayhawks come away with their first Big 12 victory, winning by 17.
KU women 64/MU 51 — 3:39 left in game
I might have spoke too soon about the Tigers. After a free throw, steal and three-pointer, KU's lead is down to 13.
KU women 64/MU 47 — 3:58 left in game
Smith is KU's MVP tonight. With the shot clock running down, she hoisted up a fallaway second just before the buzzer, swishing her fourth trey in five tries.
McCray gets an easy two after making a cut to the basket. Nice look inside by Boogaard.
A wishing well and 1,000 pennies might not be enough for MU to overcome a 17-point deficit this late.
KU women 59/MU 45 — 6:32 left in game
Kohn shows some nice anticipation, sticking an arm out to deflect a pass before getting fouled on the other end. She makes both free throws. The junior has given KU some solid minutes tonight.
Jacobs uses a nasty crossover to get past Hollins. The defender slips as if she's just stepped on a banana peel, and Jacobs finishes with an easy layup.
There are three good numbers for KU juxtaposed on the stat monitor next to me: 57 (KU's field-goal percentage), 60 (KU's three-point percentage) and 76 (KU's free-throw percentage).
KU women 52/MU 38 — 11:56 left in game
Jacobs finally gets her first points, making a quick move to the baseline before putting in a layup. KU is 5-for-5 this half and 17-for-27 (63 percent) overall.
McCray is left open, and she drains a three. That makes 6-for-6. MU needs to get up closer to McCray on the defensive end.
Following a dribble drive from Jacobs, Smith gets a wide-open look at a three. She misses it, ending her perfect shooting night.
KU women 43/MU 34 — 15:51 left in game
Ask and you shall receive. Smith shoots her fourth field goal just 47 seconds into the second half, making a layup. She's now 4-for-4 from the floor.
Kelly Kohn gives KU some instant offense off the bench, putting in a three from the side before pumping her fist in the air.
Smith puts in a runner off the glass. Five-for-five.
Kansas scoring
Sade Morris 12 (6-for-8 shooting), Nicollette Smith 9 (3-for-3 three-pointers), Krysten Boogaard 7, Danielle McCray 4, Porscha Weddington 4.
KU made 12 of its 22 shots (55 percent) from the field, 3 of 4 three-pointers (75 percent) and 9 of 12 free throws (75 percent).
MU was 11-for-27 from the floor (41 percent), 2-for-5 from three (40 percent) and 5-for-8 from the free-throw line (63 percent).
KU is out-rebounding MU, 19-10. The Jayhawks have 10 turnovers to the Tigers' five.
Some thoughts:
• KU started to play some pretty good half-court defense midway through the first half. The Tigers had just three field goals in the final 10 1/2 minutes, and that's a credit to the Jayhawks defense.
• If I were Henrickson, I would be frustrated that Smith only shot three times in the first half. After making her first three three-pointers, Smith did not even get a shot up in the final 15:53. When a shooter is hot, you've got a find a way to get her the basketball.
• KU needs better production from LaChelda Jacobs in the second half. The junior point guard scored no points with an assist and turnover in five minutes. KU needs her quickness on both ends of the floor, both today and also for the rest of the season.
KU women 36/MU 29 — Halftime
Morris gives KU a boost going into halftime, as in 6 seconds, she goes from baseline to baseline before banking in a tough shot over two defenders. KU takes a seven-point lead into the break.
KU women 30/MU 23 — 3:34 left in 1st half
KU fails to get the ball into Boogaard, who had a much smaller player on her in the post. KU coach Bonnie Henrickson yells out her frustration.
"That's a mismatch," she says. She's right, too.
Sade Morris drives to the lane before stopping on a dime and putting in a short jumper. She and LaChelda Jacobs are the two Jayhawks that are best at creating offense for themselves.
Boogaard has to get tougher. She's getting pushed around inside and she's losing rebounds because of it. Even the KU fans behind me are taking notice, urging her to play stronger.
Morris again drives baseline, coming to a jump-stop before rolling in a layup. That's a 9-0 run for KU.
Hollins gets a short jumper to stop MU's drought, but KU has opened up a seven-point lead.
KU women 21/MU 18 — 7:42 left in 1st half
Danielle McCray hits a 14-footer from the side. She doesn't miss many open mid-range jumpers.
KU's half-court offense has been stale so far. Boogaard has looked a step slow against ShaKara Jones and some of the other quicker MU forwards.
Another shot from the elbow by McCray. KU's lead is up to three.
KU women 15/MU 14 — 11:55 left in 1st half
Krysten Boogaard puts in a nice left-handed shot in the lane, but she looks winded. Porscha Weddington checks in for her at the dead ball.
KU has five turnovers already. Not a good sign early for the Jayhawks, as turnovers have been a problem for them all year.
KU women 11/MU 9 — 14:54 left in 1st half
Missouri has pressed the Jayhawks from the outset. Ivana Catic has struggled some with the pressure, as she's getting double-teamed just as she crosses midcourt.
Nicolette Smith has carried KU's offense so far. The sophomore has hit three treys — all from the same spot on the floor — to score nine of the Jayhawks' first 11 points.
6:40 p.m.
Welcome back to the Newell Post Live, coming to you from Allen Fieldhouse where the Kansas women's basketball team is getting set to take on Missouri.
Here are a few notes before tipoff:
• KU has made 40.8 percent of its three-pointers this year. That ranks first in the Big 12 and second in the NCAA. The Jayhawks have 82 threes this season, which is almost twice the number of their opponents (42).
• The Jayhawks' 46.6-percent field-goal percentage ranks eighth in the nation.
• KU junior Danielle McCray has scored in double figures in 12 of her last 14 games. McCray is averaging 18.1 points per game.
• MU started the season 2-4 before rattling off eight straight victories. The Tigers lost their last game, a 62-56 setback against Texas A&M.;
• MU coach Cindy Stein is in her 11th season at MU. She came to the Tigers after coaching at Emporia State.
• Six-foot-one forward Jessra Johnson leads MU in scoring with 13.9 points per game. Five-foot-11 guard Alyssa Hollins is right behind Johnson, averaging 13.6 points per game.
• KU is 18-12 all-time against MU in games played in Lawrence.