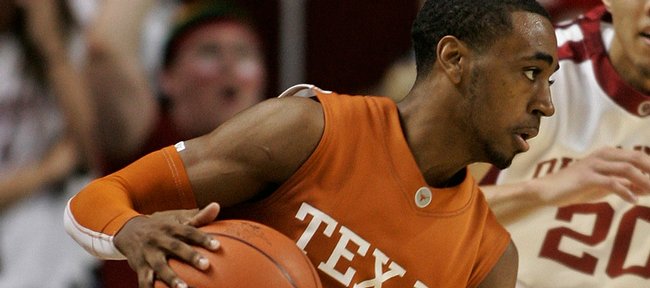 Reader poll
Oklahoma

46%

96 votes

Texas

3%

8 votes

Baylor

0%

2 votes

Kansas

48%

99 votes

Other

0%

1 vote
206 total votes.
The Big 12 is a young conference this season in men's basketball. Of the 344 Division I schools, not a single Big 12 team ranks in the top 50 in experience level. But there's still expectations of deep NCAA Tournament runs for a few of the conference's finest. Here's a preview of the Big 12 hoops season to get you amped for the crux of conference play:
The Elite
Oklahoma (16-1 overall, 2-0 Big 12)
Big 12 favorite: Oklahoma proved Monday night that if any team wants to win the Big 12, it will have to take down the Sooners first. After convincingly defeating No. 11 Texas, 78-63, on Monday, No. 6 Oklahoma is in the driver's seat to win its first Big 12 Tournament since 2003.
Star power — Blake Griffin: The sophomore is probably the most dominating post presence in the nation. Griffin will be a national player of the year finalist and a lottery pick in the 2009 NBA Draft. He leads the country with 13.8 rebounds per game. In Oklahoma's 17 games, Griffin (22.4 points per game) has posted a double-double in 14 of them. Griffin has a fellow star-in-the-making in guard Willie Warren, who has displayed range and a natural ability to get to the rim. Warren's 15.9 points per game suggest the freshman hasn't taken a long time to adapt to the college game.
NCAA Tournament look-ahead: This Griffin-Warren combo is a scary 1-2 punch in Norman. The Sooners haven't reached the Elite 8 since 2003, and expectations could be for them to reach that status in 2009 since Griffin will likely leave for the NBA after the season.
Texas (12-4, 1-1)
Not far behind: If Oklahoma's the favorite to win the Big 12, Texas isn't far behind, despite its poor outing Monday night. The season's still young and Texas returns a slew of starters from last year's team that reached the Elite 8. It can also be argued that the Longhorns had the Big 12's toughest non-conference schedule, with games against four ranked opponents (No. 8 Notre Dame, No. 12 UCLA, No. 15 Villanova, No. 19 Michigan State). Texas went 2-2 against the ranked teams.
Star power — A.J. Abrams: One of the deadliest three-point shooters in the conference (cases can also be made for Texas Tech's Alan Voskuil and Baylor's LaceDarius Dunn). Abrams has been leading the way with 17.8 points per game for Texas, but he needs more consistent help. When physical teams like Michigan State focus much of their defensive attention on Abrams like the Spartans did when they held him to only eight points on Dec. 20, Texas needs experienced guys like Damion James, Connor Atchley and Justin Mason to step up more consistently. On the plus side, sophomore Gary Johnson has displayed a great deal of maturity of late, averaging 15 points in his last six games.
NCAA Tournament look-ahead: Texas has reached the Elite 8 in two of the last three seasons. This year, expectations should be no different.
Baylor (13-2, 1-0)
New territory: The Bears aren't exactly what you call a basketball juggernaut historically (five total NCAA Tournament appearances), but coach Scott Drew has turned around the program since he arrived in 2003. The Bears made their first NCAA Tournament appearance in 20 years last year and Baylor's suddenly on the national radar, ranked at No. 21.
Star power — No one: However, that's the beauty of this team, which has five players who average double-digit scoring numbers. The Bears continue to rely on stellar perimeter play (Curtis Jerrells, Dunn, Henry Dugat and Tweedy Carter). The sophomore Dunn, who ranks in the top 20 nationally in three-pointers made per game (3.2), has emerged as one of the better young players in the conference.
NCAA Tournament look-ahead: It's time for Baylor to make some history. The Bears haven't been past the first round of the NCAA Tournament since (...wait for it...) 1950. It's time for that to change in 2009.
Middle of the pack
Kansas (12-4, 1-0)
Briefly: Sherron Collins is one of the best scorers in the conference, while Cole Aldrich is one of the best rebounders and the undisputed best shot blocker in the conference. But they need help. This is no secret. Perhaps as the conference season progresses, a few of the Jayhawk freshmen, with more experience, will help Collins and Aldrich scare teams in March.
NCAA Tournament look-ahead: KU has owned the Big 12 Tournament lately, winning the last three, but it will be difficult to make it four this year with such inexperience. The Jayhawks should make it 20 consecutive NCAA Tournament appearances this year (second-longest active streak behind Arizona's 24 straight appearances), but it'd be asking a lot for a deep run from KU.
Missouri (13-3, 0-1)
Briefly: The Tigers stormed to a 13-2 start, but two factors have recently brought Missouri back to reality:
1. An uninspiring 56-51 loss to Nebraska to open conference play last weekend. Leo Lyons and DeMarre Carroll combined for only 19 points. Missouri won't win a lot of games that way.
2. Lyons being suspended indefinitely on Monday for multiple traffic violations. He'll definitely miss today's game against Colorado, and coach Mike Anderson said he was unsure how many more games Lyons would sit out. Not the best way for MU to start the conference season, with its second-leading scorer (14.6) and rebounder (6.2) in street clothes.
NCAA Tournament look-ahead: Missouri hasn't cracked the Tournament field since 2003 and has been a mediocre Big 12 team at best the last few years. The Tigers look better this year than they have in the previous six years, and could flirt with a Tournament berth in 2009. Lyons needs to get his act together first, though.
Oklahoma State (12-3, 1-0)
Briefly: Is Oklahoma State really the best scoring offense in the Big 12? So far, the Cowboys' 85 points per game lead the conference. Sophomore James Anderson is quickly becoming the No. 1 option on offense with 17.8 points per game. Byron Eaton (13 points, 5.9 assists per game) is still there and always seems to turn it on toward the end of the season. The Cowboys have five players who are averaging double-digit scoring numbers. Oklahoma State began the conference season with a 72-61 home victory over Texas A&M; last weekend.
NCAA Tournament look-ahead: The Cowboys haven't been to the Big Dance since 2005. In Eaton's senior year, it'd be a good time to get back this season.
Texas A&M; (14-2, 0-1)
Briefly: Is A&M; good? It's tough to tell. The Aggies' 14-2 record might suggest progress, but they haven't faced a ranked opponent all season. A&M; has defeated Arizona, Alabama and LSU, but in its first conference game, the Aggies fell to Oklahoma State. And what's the story with Josh Carter, the 6-7 senior guard/forward, who has a reputation of being a three-point sharp shooter? He went 0-7 from the field against the Cowboys. Oops. Carter must be more consistent if A&M; wants any shot of finishing fourth or higher in the conference.
NCAA Tournament look-ahead: The Aggies have made the Tournament the last three seasons. Before that, they hadn't made it since 1987. Bubble team sounds about right for now until they prove they can be more consistent.
The rest
Nebraska (11-3, 1-0)
Briefly: Is Nebraska's defense for real? It held Missouri 32 points below its scoring average last weekend in the 56-51 victory. The Huskers are second in the nation in scoring defense at 55.5 points given up per game. Should be interesting to see how this translates to conference play.
Kansas State (11-5, 0-2)
Briefly: Point guard Jacob Pullen (14.3 points per game) is learning what it's like to be the leader of a team a year removed from superstars Michael Beasley and Bill Walker playing in Manhattan.
Iowa State (11-5, 0-1)
Briefly: Sophomore Craig Brackins is the Big 12's second-leading scorer at the moment with 18.4 points per game. He's getting little to no help, though.
Texas Tech (10-6, 0-1)
Briefly: The senior Voskuil is a torrid 45 percent from three-point line, and he still averages close to seven attempts from beyond the arc per game. It's tough to take the Red Raiders seriously, however, with back-to-back losses to Lamar and UTEP earlier in December.
Colorado (8-6, 0-0)
Briefly: It's even tougher to take the Buffaloes seriously after back-to-back-to-back losses to Buffalo, Vermont and SMU. It may be a long conference season for Colorado.
More like this story on KUsports.com