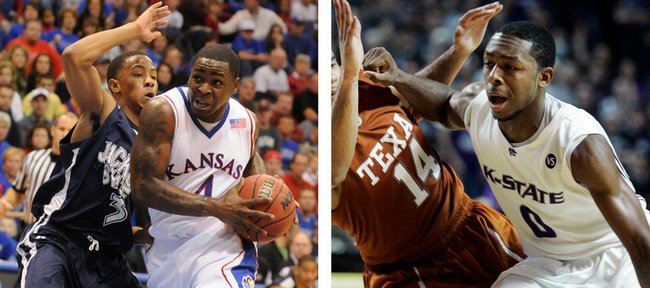 The leading scorers at both Kansas University and Kansas State were born and raised — and developed their games — on the mean streets of Chicago.
"I don't take it personal, but I just don't like to lose to anybody from Chicago," said gritty KU junior point guard Sherron Collins.
He enters today's 7 p.m., home game against K-State sophomore floor general/fellow Windy City native Jacob Pullen with an 18.1 scoring, 5.2 assist average compared to Pullen's 14.3 scoring, 3.8 assist mark.
A year ago, as one of KU's first players off the bench, the 5-foot-11, 200-pound Collins split a pair of games against 6-foot, 200-pound KSU sixth man Pullen.
The two never squared off against each other in high school — when Collins and Pullen starred at West side schools Crane High and Proviso East respectively.
"We are hard nosed, tough, we're not going to back down," Collins said in describing Chicago-bred point guards. "He (Pullen) is another tough Chicago kid. I never got to play against him in high school, but you always know good players. When they are in Chicago ... you know who they are."
Pullen exploded for 20 points off 4-of-9 shooting and 10-of-10 free throwing and dished four assists in KSU's 84-75 victory over KU last Jan. 30 at Bramlage Coliseum in Manhattan. Collins countered with 12 points off 5-of-11 shooting with two assists.
In KU's 84-74 victory on March 1 in Lawrence, Collins scored 18 points off 7-of-12 shooting with four assists and four steals. Pullen struggled to three points off 1-of-4 shooting with two assists and three turnovers.
"Pullen wore us out there," KU coach Bill Self said of the game that snapped KU's 24-game win streak in the Little Apple.
Collins had as fine a performance in the revenge game in Lawrence.
"He's just a little bowling ball. Sherron is strong, physical and has good ballhandling skills and can shoot the ball well when he gets into a rhythm," Pullen said. "Going against him is always tough. You've got to guard him, but the key is to make him guard also."
Pullen, who like Collins has earned a starting job this season, acknowledged the Chicago bragging rights that are at stake.
"Me and Sherron both being from the West side of Chicago, my friends know his friends, my family know his family and stuff like that," Pullen said. "Whoever has the better game and whoever's team wins, that's bragging rights back home. They'll be calling his friends and stuff and saying, 'Jake won' and just stuff like that. It really makes the game a lot more competitive. We just hope that this year we can go 2-0 against KU, hopefully get one at their house and hopefully get the win at our house, too."
KU coach Bill Self said it's no coincidence both teams' point guards hail from Chicago. It's an area known for top talent at the lead guard position, none better than former Indiana University and NBA great Isiah Thomas.
"They've had so many wings, guards in Chicago and most are tough as nails," Self said. "The first who comes to mind is Isiah. The thing they always say about Isiah is he is the toughest guy everybody played against. I think that way of our Chicago point guard as well. K-State obviously has a Chicago flavor in its backcourt. Most of them are street tough kids."
Collins and Pullen enter tonight's game as the game's marquee players. It's quite a different story from a year ago when KSU had Michael Beasley and Bill Walker and the Jayhawks had the likes of NBA players Darrell Arthur, Brandon Rush, Mario Chalmers and Darnell Jackson.
"Yeah," KU center Cole Aldrich said, asked if he was happy Beasley had moved on to the pros after one season. He exploded for 39 points versus KU in Allen Fieldhouse and 25 at Bramlage Coliseum. "I tried guarding him last year at their place," Aldrich added, shaking his head.
"They are still good," Aldrich added of the Wildcats, whose losses have come to Kentucky, Iowa, Oregon and Oklahoma. KSU has wins over Florida A&M;, SE Missouri State, Emporia State, Cleveland State, Oakland, Southern Mississippi, Gardner-Webb, Centenary, Wagner, Idaho State and Chicago State.
"They lost Beasley and Walker. That doesn't mean anything. They have hard-nosed guys that go out and give it all every time they step on the court. It's going to be even more elevated because they are playing us. It's a huge game for both sides because it's for bragging rights on both sides of the state," added Aldrich, who is a buddy of KSU senior Darren Kent, who like Aldrich hails from Minnesota.
KSU is equally complimentary of KU.
There's no Beasley-like trash talking going on before the first rivalry game this season. On the contrary, the 'Cats have been praising KU's tradition-rich fieldhouse in interviews this week.
"I try to tell all the newcomers that it's something you'll never be able to explain, you only can step in there and see it," Pullen said of Allen. "Other places are tough, but they are nothing like Allen Fieldhouse. Having to go there at the beginning of the Big 12 is a real good wakeup call. We can show people that we can win games if we can get a win there," Pullen added.
"It doesn't get any easier," Kent said after last Saturday's 61-53 home loss to Oklahoma. "Kansas is a great team. They're very versatile. They have an inside and outside game.
"Going to Allen Fieldhouse is always tough. It's a crazy environment there, so we need to stay focused on the task at hand and keep preparing like we have just like every game this season."
While KU's Self welcomes the homecourt advantage, he cautions KU must be at its best to hold off the Wildcats.
"Frank (Martin, second year coach) has them playing as hard as anybody in the country, not just our league," Self said. "They will come in here and play hard and play well."
More like this story on KUsports.com