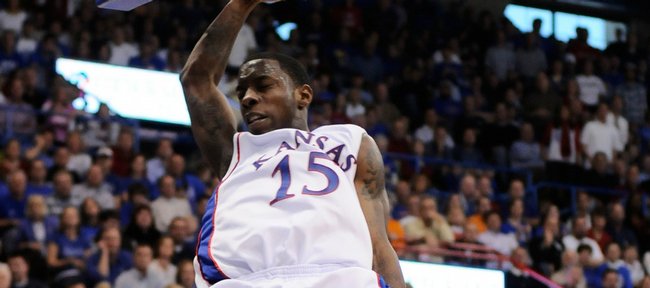 Bill Self's "think about the next play" command isn't easily learned by emotional young athletes just out of high school.
Some young college basketball players are too consumed with making excuses for why they messed up the last play. They are too busy flapping their jaws about the referee, etc., to concentrate on the next play.
Others spend too much energy blaming themselves to focus fully on the next play. That disappointment feeds on itself. Tyshawn Taylor, Kansas University's excitable, eager-to-please freshman out of Jersey City, N.J., falls in the latter category. Nobody wants to succeed more than the talented Taylor, but consistency has eluded him.
"I'm not sure exactly what it is," said Taylor, averaging 9.5 points per game. "I'm giving as much effort as I was before. It just hasn't been going my way lately. I mean, I'm sure I'll be fine. I'm going to keep working hard."
He talks at a rapid pace, and sometimes he's in too much of a hurry on the court. He has improved on his early-season tendency to barrel into defenders waiting for him near the hoop, but his outside shot and defensive focus come and go.
"Coach tells me a lot, 'When kids get recruited, they say they want to go to a place they can play right away.' And that's something I made my decision on," Taylor said. "I'm playing a lot of minutes for someone just coming from high school and just jumping in. It's different, and it's a lot tougher."
Taylor isn't too proud to acknowledge he's feeling the pressure of all the responsibility that comes with immediate playing time.
"I have to play good," said Taylor, who scored two points against Michigan State in his worst performance of the season. "I have to play good. I kind of beat myself up about it a little bit. I want to perform well, and I get down on myself for not playing well. Coach tells me to think about the next play, keep my head up, don't dwell on it, think about the next play, think about the next play."
It doesn't come naturally.
"I'm trying," he said of adapting Self's mantra. "I'm trying. I've just always been the type when I do something wrong, I kind of get down on myself, and coach doesn't want me to do that at all. I'm sure I'll be all right."
Taylor has the quickness and length to develop into an elite defender, but he doesn't have it down yet.
Asked at which end he has been playing better of late, Taylor said, "Right now, I'm not doing either one so good. But coach wants me to play defense a lot better. That's what he's been getting on me a lot about, just guarding."
Sherron Collins predicted Taylor will return to his productive ways, "before Tuesday. I talk to him like my little brother. We have one of the closest relationships on the team. I'll keep my young fella positive. That's my job. I think he's pressing a little. He wants it so bad. Tyshawn, he can make plays. He's ahead of where everybody thought he would be. Nobody thought he would be this good early. When he doesn't make a play that he can make, he gets down on himself. He just needs to let it roll off his back."
And Collins needs some of the pressure relieved from carrying too much of the load on his back. Taylor has the talent and desire to do it.
More like this story on KUsports.com