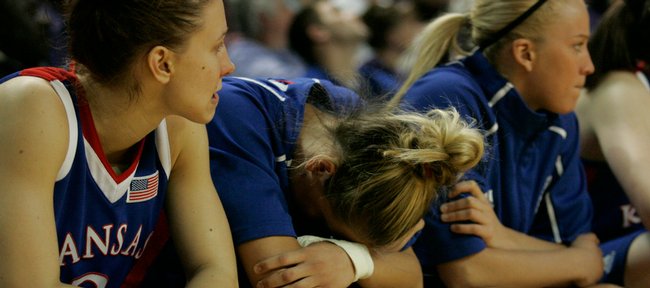 Manhattan — As far as Kansas University women's basketball coach Bonnie Henrickson was concerned, there wasn't too much to say Saturday night after her team's matchup with rival Kansas State.
Not after her team, carrying an 11-2 record and a good dose of confidence into Bramlage Coliseum, had been thoroughly dismantled, 72-39, by the 20th-ranked Wildcats. Not after watching 40 minutes of basketball that, she openly admitted, made her sick to her stomach.
"I'll tell you like I told the kids," Henrickson said in the moments after the game. "If you got nothing nice to say, don't say anything. My mom taught me that a long time ago."
That her team lost in Manhattan wasn't necessarily what turned the stomach of the Kansas coach — despite closing the gap on the Wildcats over the course of the past two seasons, the Jayhawks still entered the game as underdogs.
It was the way KU lost that proved most unsettling.
By the 10-minute mark of the first half, there wasn't much question about which team had shown up to play.
Taking advantage of 11 first-half Kansas turnovers, the Wildcats closed the first half on a 15-4 run that put KU in a 39-21 hole going into intermission. They then put together an equally demoralizing 15-4 run midway through the second half to move the game into blowout territory.
K-State senior guard Shalee Lehning, having already set the Big 12 record for triple-doubles in a career with four, flirted with another Saturday, scoring 14 points, dishing out 10 assists and grabbing six rebounds to lead the Wildcats.
On multiple occasions, defensive breakdowns on the part of Kansas allowed Lehning to penetrate and either get to the basket or kick the ball to the perimeter, where K-State was 5-of-12 from three-point range.
"They're just the type of team that the one time you screw up that switch, they're going to hit the three; the one time you don't read the screen right, they're going to hit that three," Kansas forward Nicollette Smith said. "That's what killed us, because whenever we made those small mistakes, they killed us every time."
Even the Jayhawks' strong points fell by the wayside Saturday.
One game after scoring her 1,000th career point in a 20-point victory over Fairfield, junior guard/forward Danielle McCray had her worst performance of the season, going just 2-of-12 from the field and finishing with a season-low seven points.
And despite entering the game shooting a Big 12-best 42-percent from three-point range, the Jayhawks struggled to a 1-for-7 performance from beyond the arc against the Wildcats, a setback McCray credited mostly to her team's lack of execution.
"It was more ourselves rather than their defense," said McCray. "We just didn't have that offensive presence."
Now, the question is whether the Jayhawks — set to take on rival Missouri on Wednesday at Allen Fieldhouse — can bounce back from such a demoralizing defeat.
On the surface, the Jayhawks are still an 11-3 team with all of its preseason goals still intact. But Saturday's loss no doubt had an unpleasant psychological effect, one that Henrickson said her team can't allow to fester.
"We've got to learn from it and let it go," the coach said somberly. "Not, 'It's OK' let it go. But not let it eat at you and suck the life out of you."
More like this story on KUsports.com