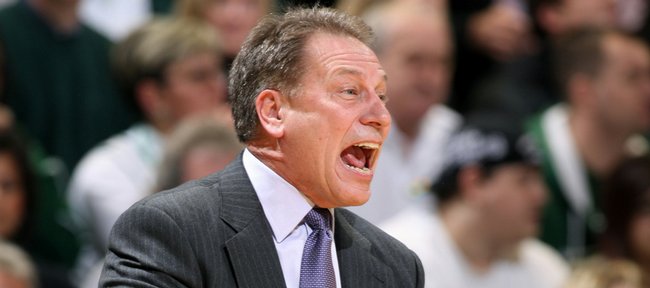 East Lansing, Mich. — Teams that venture into Michigan State's Breslin Center not only have to contend with the traditionally tough Spartans.
They must also try to overcome MSU's raucous student section — which wraps around more than three-fourths of the 14,759-seat arena's bottom tier.
"It's known as the 'Izzone,''' KU sophomore center Cole Aldrich said.
Growing up in Bloomington, Minn. — the middle of Big Ten Country — he knows all about the 4,000-person body of students who have supported Tom Izzo's Spartans the past 14 years.
"The Izzone fans will be crazy," Aldrich assured of today's noon battle between KU and No. 8 MSU.
"One kid I played high school ball with told me he's one of the biggest fans there. Their fans will get on you. They'll say anything. We've got to get out and play," Aldrich added.
The Izzone has been a major factor in the Spartans' 26-game homecourt win streak, according to Lansing State Journal writer Joe Rexrode. He noticed a serene atmosphere in Tuesday's 67-58 victory over Ohio State — played with many Izzone regulars out of town on holiday break.
The students are expected back today.
"It's like two different places with and without students. Without students, it's like an NBA arena, folks watching the action and applauding when appropriate," Rexrode wrote in a blog. "With students, it's constant screaming — 10-2 runs that turn into 20-4 runs — and the occasional spittle spray on the back of my neck (on press row)."
The Spartans are 260-37 in Breslin — a building that opened in 1989. MSU is 163-13 there the past 12 seasons. The last home loss was to No. 4 Ohio State on Feb. 3, 2007.
"It's a great home court just like we have a great home court. Arizona was a great home court when we were out there," KU coach Bill Self said. His Jayhawks have dropped their only true road game of the season — 84-67 to Arizona — on Dec. 23 in Tucson, Ariz.
"This will be one of the best home courts we play all year. It arguably could be the best. It'll be jumping."
Self went 1-1 at Breslin in his three seasons as coach at the University of Illinois.
"We had a weird schedule," he said, noting the Big Ten rivals didn't play in East Lansing one season. "It's a fun place to play. You need to be focused and tough.
"Ohio State controlled the tempo (Tuesday in Breslin). Next thing you know, it's a 12-0 run and lights out. We have to play tough and poised."
As a coach, Self is more concerned about the Spartans' talent than the fans who sit in the stands.
And MSU, which has won eight straight games — the squad's losses are to Maryland, 80-62, on Nov. 27 in the Old Spice Classic in Florida, and North Carolina, 98-63, on Dec. 3 in Detroit — is loaded with talent and experience.
Junior forward Raymar Morgan (6-8, 225), who leads the squad in scoring (15.2 ppg) and rebounding (7.0), has made a league-leading 60.2 percent of his shots.
Sophomore point guard Kalin Lucas (6-0, 180), a second-team Sporting News Preseason All-American, averages 13.3 points a game and has a whopping 84 assists against just 17 turnovers.
Senior center Goran Suton, who missed MSU's first six games following knee surgery, averages 9.6 points and 6.8 boards. The 6-10, 245-pounder scored 18 points in the Spartans' 67-63 victory over Texas in Houston.
There are other standouts — like senior stopper Travis Walton (6-2, 190), who held Texas' A.J. Abrams to eight points off 3-of-10 shooting; freshman forward Delvon Roe (6-8, 225) who has battled back from two knee surgeries in the last 12 months; and sophomore guard Chris Allen (6-3, 205), who has made 28 of 72 threes and averages 10.6 points off the bench.
"Michigan State is good," Aldrich said, adding, "They are going to pressure the ball on defense, get out and run. They will rebound. It's going to be a tough game out there. I know how Big Ten teams play. They play strong, tough."
KU point guard Sherron Collins, who hails from Chicago, had the same take.
"They take care of the ball. They run with the best of them. They are one of the best teams in the country in transition," he said. "I think the game against Siena (Tuesday's 91-84 win) helped us. Siena's guards can push the ball as well. Coach Self warned us we need to be tough. Hopefully this will help prepare us for conference play."
The Jayhawks, who open Big 12 play Tuesday at home versus Kansas State, are only thinking about the Spartans today.
"They are a team that could make a run at it, obviously, and make the Final Four," Self said. "They are great at the guard spot, as versatile as can be on the wing and have guys who can anchor it inside. They create problems because they are so fast.
"It should be fun for our guys. It's an opportunity to see where we are at before the start of conference play."
And an opportunity to quiet the 'Izzone.'
"The only way to do that," junior Mario Little said, "is to come out there and handle our business, to play well."
More like this story on KUsports.com