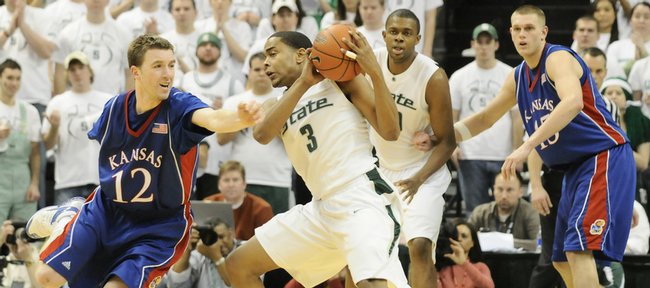 Kansas scoring
Sherron Collins 25, Cole Aldrich 14, Tyrel Reed 10, Brady Morningstar 5, Markieff Morris 4, Marcus Morris 2, Tyshawn Taylor 2.
KU was 20-for-50 from the floor (40 percent), 5-for-20 from three (25 percent) and 17-for-28 from the free-throw line (60.7 percent).
The Jayhawks were outrebounded, 42-31.
MSU was 22 of 56 from the field (39 percent), 5 of 13 from three (39 percent) and 26-for-35 from the free-throw line (74.3 percent).
FINAL: Strong 1st half pushes Michigan State to 75-62 victory
KU had a chance to make things really interesting, as in transition, Collins had a wide-open three that he left short. He had to take the shot — KU needed the three points at that juncture to get within striking distance. On the other end, Chris Allen put in an NBA three to push the Spartans' lead back up to 12.
The final minutes drag to a crawl. KU can't get the deficit under 10 the rest of the way, and MSU wins, 75-62.
MSU 61/KU 52 — 3:27 left in game
Reed hits a pair of threes, and suddenly KU is only trailing by 13. Self calls a timeout to set up the press.
After an MSU turnover, Collins gets fouled on a drive and hits two free throws.
Collins follows with a steal, dishing off to Reed for an easy two. KU has whittled the MSU lead under 10.
MSU 60/KU 42 — 6:27 left in game
KU is not just one step slow on defense today — it's two or three steps slow.
In transition, Roe gets an easy basket inside when he beats the Jayhawks down the floor. Full timeout KU.
MSU 58/KU 40 —7:39 left in game
Little fouls out with 10:48 remaining. He played only seven minutes.
Self and Collins, unnecessarily, are complaining about whistles. Collins was hammered going up for a shot — a blow that even drew blood — but that's not what put the Jayhawks down 18 points. A two-man crew can't catch everything. An upset Collins showed his scratch to both officials while Self screamed in the background. I don't know what good that was supposed to do.
Markieff fouls out on a double-foul call. He was an innocent bystander there, but like Collins and Self did a few minutes earlier, he complained to officials before he left the court. He played 13 minutes.
I'm surprised Hightower has any breath left after all these whistles. With a two-man crew, both teams are in the double-bonus with 9 minutes left.
MSU 49/KU 33 —11:55 left in game
KU has a couple bad defensive possessions, but follows with two good offensive possessions. Morningstar hits a three from the side, and Collins uses an NBA spin move before putting in a two high off the glass.
The Jayhawks are showing better energy this half, but the Spartans have hit some long-range twos to keep their lead safely in the teens.
MSU 41/KU 27 — 15:46 left in game
Collins has shown up with some better focus in the second half. After hitting a three, he's been more aggressive, taking the ball hard to the rim while also making sure to not turn it over. He's scored seven straight points to give the Jayhawks a 7-0 run.
Suton stops the run with a jumper, but KU has cut into the MSU lead.
Kansas scoring
Cole Aldrich 9, Collins 5, Tyshawn Taylor 2, Markieff Morris 2. That's it.
KU was 8-for-22 in the first half (36 percent), while MSU was 13-for-32. KU made 1 of 5 three-point attempts. MSU was 4-for-8 from three.
MSU ended the first half with nine offensive rebounds.
Don't know if I've ever said this (or ever will again), but KU might be lucky to just be down 19.
A side note from this ugly game: The MSU student section has been great. They jump and scream nearly every possession and also hound officials enough to influence calls.
I can't say the same for the alumni, though.
I'm sitting up higher, and while the students are going nuts, the older folks are silent.
It's such a weird sight — it's like a rock concert close to floor and an opera 10 rows up and higher.
MSU 37/KU 18 — Halftime
KU has zero energy out there. Offensively, there isn't much ball movement. Defensively, the Jayhawks are laboring through screens, switching slowly, not showing any anticipation in hopes of getting a steal.
KU has 12 turnovers, and team leader Collins has six of them. KU is 1 of 5 from the free-throw line and is getting out-rebounded 20-14. The Jayhawks only scored 18 first-half points.
Honestly, I can't remember a much uglier first half for KU.
MSU 29/KU 16 — 4:08 left in 1st half
It sure is a long time, but the Izzone booed that last call through the entire three-plus minute timeout.
We've seen this before: MSU scores on a dunk, Collins follows by trying to go one-on-one on the other end. He loses the basketball and is lucky to get a hand on it for a jump ball. No composure shown there.
Matt Kleinmann checks in, and three seconds later picks up a foul on an illegal screen.
Aldrich finally gets a field goal for KU, putting in a tough turnaround at the 5:51 mark. The Jayhawks went 9:26 without a field goal. They're lucky to only be down nine.
Self is trying everyone now. Quintrell Thomas, Tyrone Appleton and Kleinmann are all on the court at the same time.
Official Steve Welmer has walked off the gym floor, though it was tough to see from here what ailment he has. We're down to a two-man crew for the time being.
MSU 21/KU 12 — 7:30 left in 1st half
Collins walks off the court with a towel over his face to stop some blood. Collins isn't having his best game: three points, three turnovers, and he almost picked up his fourth turnover on the last possession with a sloppy pass.
Aldrich finally breaks a 6-minute, 15-second scoreless streak for KU, making one of two free throws at the 9:02 mark.
Collins is back in, and the Jayhawks have gone to a 2-3 zone. Lucas busts it immediately with a three.
Markieff Morris picks up his third foul on an illegal screen. Silly fouls for the freshman.
Travis Walton hits another three against the zone. KU can't stick with it much longer.
MSU 14/KU 11 — 11:20 left in 1st half
KU coach Bill Self tried to steal a minute without Aldrich in there, but it didn't work well. The Jayhawks offense is out of sync without him.
Durrell Summers puts in a one-hand slam off an alley-oop, and Self uses a quick timeout. It's an extended 8-0 run for MSU.
The Jayhawks need to do a better job of defensive rebounding or it will be a long game. Already, the Spartans have six offensive boards; they average 14.6 per game, which is a high number to begin with. The Spartans are on pace to reach 14.6 offensive rebounds by half.
KU 11/MSU 9 — 14:22 left in 1st half
KU started off well (much like the Arizona game), as Tyshawn Taylor put home a slam for KU's first two points. A Collins three gave KU an early 7-1 lead.
On MSU's first made field goal — a three from Lucas — the students simultaneously popped paper bags to make for a sudden, gunshot-like sound. Never seen that done before, but it made for a cool effect.
After starting, Markieff Morris picks up two fouls in 3:14. He has to learn how to play without fouling inside. He just gets to much contact on shot-block attempts.
MSU looks like it's not going to double-team Aldrich inside, so the Jayhawks need to recognize that. Aldrich has missed a couple of easy ones early, but he's getting good shots when his teammates get him touches.
12:03 p.m.
I thought it was interesting that, in the media room before the game, there were a few TV monitors showing the replay of Michigan State's 89-76 victory in the national title game against Florida. Were the Spartans trying to intimidate the media?
Starters for KU: Markieff Morris, Cole Aldrich, Sherron Collins, Tyshawn Taylor, Brady Morningstar.
11:55 a.m.
Some players you need to know for Michigan State:
• Raymar Morgan, 6-foot-8 junior. He is shooting 60.2 percent from the floor in averaging 15.2 points per game. Also averages 7 rebounds per game and is the reigning Big 10 player of the week.
• Kalin Lucas, 6-foot sophomore. Has 20 points in two of his last three games. He leads the nation in assist-to-turnover ratio, as he has 84 assists to just 17 turnovers.
• Goran Suton, 6-foot-10 senior. He's coming off a knee injury. He's averaging 9.6 points and 6.8 rebounds while shooting 64.6 percent from the field. He was the Big 10's leading rebounder last year.
11:50 a.m. CST
I just saw our shirtless buddies. Eight of them are spelling out "Death Roe" near midcourt, a tribute to MSU freshman Delvon Roe.
11:44 a.m. CST
I just talked to a couple members of the Izzone, and MSU has a much different way of dispersing its student tickets as compared to KU.
For one, camping is only one day per year — from 9:30 a.m. to 9:30 p.m. — and students that go are eligible for the Izzone section in the lower bowl (there are six rows at the top that are also the student section). However, lower bowl is only guaranteed to those students who camped the year before. Therefore, freshmen, for the most part, are stuck at the top of the gym.
When students come in, their ID cards are swiped. With that information, the ticket department keeps track of students — when they arrive and how many games they attend. The earlier you go to games and the more games you attend, the better chance you have to stay in the lower bowl. Students check a Web site each game to see if their ID number is on a list for tickets in the lower bowl. If extra seats are available in the lower bowl, they are raffled off before the game, a drawing in which freshmen can be included.
Season tickets are $175, and much like KU, seats are first-come, first-serve once students enter the gym.
11:25 a.m. CST
I have to say that I really like the setup of the Breslin Center.
Much like Duke's Cameron Indoor Stadium, the Breslin Center has nine rows of students that circle the court (aka the Izzone). They all have white T-shirts, and from the ones I've seen, they seem pumped for today's game.
We saw a couple of guys running toward the stadium this morning shirtless in the snowy and cold conditions (one of the few times I wished that I was in Kansas, weather-wise). The students also don't hesitate to boo anybody and everybody in red and blue. As I was first walking out, Chase Buford ran onto the court. A loud chorus of boos followed. Later, after the Jayhawks had left the court, the two KU trainers were heading to the locker room. They, too, received taunts and boos, just as loud as if they were Cole Aldrich themselves.
There was an interesting tradition before the game, as MSU players end their layup line with a dunk contest. The students chime in with "oohs" and "aahs," and afterwards, the players raise their arms to get the students pumped up. The white-shirted crazies then jump and scream while the players huddle up on the court and fire themselves up. All this 52 minutes before the game. Pretty cool if you ask me.
11:12 a.m. CST
Welcome back to the Newell Post Live, coming to you from the Breslin Center where the Kansas Jayhawks are getting set to take on the No. 8 Michigan State Spartans. We'll get more to analysis later, but first, I wanted to start with a quick story from this morning.
I'm starting to learn one thing on the job: people oftentimes are better than they appear on TV.
It happened again this morning. While waiting in the Marriott lobby, I saw a suitcase I figured belonged to our writer, Gary Bedore, so I plopped myself on the couch next to it.
A few seconds later, a man dressed in a suit and tie came by to retrieve his bag.
It wasn't Gary. It was Ed Hightower.
Let me come clean first. I do not like Ed Hightower. I don't like how he showboats and makes himself part of the game. I hate how he blows his whistle seven times to call one foul (I even took a subtle jab at him in my live blog against Tennessee). I received four text messages before the national championship game from friends last year who saw Hightower and immediately thought of me.
So I wasn't expecting much out of this chance encounter.
"How are you doing?" he said to me with a smile.
He then chatted a few minutes with me before picking up his banana and coffee to talk with a hotel employee near the door.
So, yes, Hightower is an official in today's game. And he's a nice guy to boot.
I have to say I never expected it.
Tom Keegan also chatted with Steve Welmer in the lobby a bit (another official for today's game) and he's also friendly. In the past, I haven't been enamored with his officiating, either.
Guess I've learned my lesson: Don't judge a book by its cover — or an official by his tendency to repeatedly blow the whistle on a foul call.
More like this story on KUsports.com