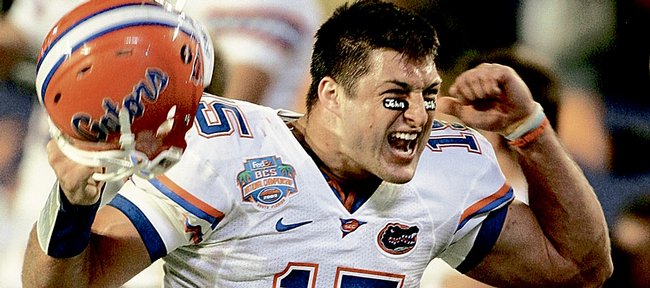 Miami — Tim Tebow gave Florida the jolt it needed to become a national champion.
But all his efforts in a sloppy, choppy BCS championship game likely did little to quiet fans of Utah, Southern California and Texas, all of whom already claimed the top spot.
"I'll tell you, we're going to enjoy a big win, we're going to enjoy the national championship," coach Urban Meyer said after the Gators beat No. 2 Oklahoma, 24-14, on Thursday night. "Let someone else worry about that. Gators are No. 1."
The high-scoring shootout between Heisman Trophy winners Sam Bradford and Tebow never materialized.
Tebow, however, shook off a career-high two interceptions to rescue the top-ranked Gators (13-1). He drove them to the clinching score — he took two hard steps toward the line, jumped and zipped a 4-yard touchdown pass to David Nelson with 3:07 left to make it 24-14.
Percy Harvin returned from an ankle injury and dashed for 122 yards on only nine carries for the Gators. His 52-yard gallop set up Jonathan Phillips' 27-yard field goal early in the fourth quarter for a 17-14 lead.
Tebow added to the title he helped the Gators win in 2006 with a rout of Ohio State and, one season after winning the Heisman, brought home another trophy.
"Tebow, just call him Superman," Harvin said.
National chomps, indeed!
The Gators finished far ahead of the Utes in the final Associated Press poll today, receiving 48 of 65 first-place votes.
Tebow was picked the game's most outstanding player, running for 109 yards. His passing wasn't so precise — 18-for-30 — yet it was his sheer will that kept the Gators going.
"I was already motivated for a national championship game. But you know, there was some trash talking going on, and it just gets me going during the game," Tebow said.
It was Florida's third national title overall, and the third straight for a team from the Southeastern Conference, and it was the Sooners' fifth straight loss in a BCS game. Oklahoma (12-2) set a modern record for scoring with 702 points this season and put up at least 60 points in its last five games, yet never found its rhythm.
"In the end, I'll be glad to try again next year," Sooners coach Bob Stoops said. "If that's the biggest burden I have to bear in my life, I'm a pretty lucky guy."
Bradford, who beat out Tebow for the Heisman, was a disappointing 26-for-41 with two interceptions. Like Tebow, he's going to explore his potential for the NFL draft — not exactly the performance he wanted.
"Obviously, they're a great defense. I think just a couple times we got ourselves in trouble," Bradford said.
These teams totaled an average of 99 points per game, but wound up with a scoreless first quarter. In the second quarter, Florida's defense made a pair of goal line stands that left it 7-all at halftime.
By then, college football fans around the country were certainly wondering whether these were indeed the two best teams. And it surely gave steam to the suggestion by President-elect Barack Obama and others that a playoff system is needed.
Cheered on by a flock of rooters who made the five-hour drive from The Swamp in Gainesville, the Gators became the second team in the 11-year history of the BCS to win two titles.
Nicknamed "Big Game Bob" for his early success, Stoops lost for the third time with a national championship on the line. This was the first time Florida and Oklahoma played — Stoops was the Gators' defensive coordinator when Steve Spurrier led them to the 1996 title.
Tebow struggled throughout the first half, his lone highlight a 20-yard touchdown pass to Louis Murphy for a 7-0 lead early in the second quarter. Bradford came right back with a swift 65-yard drive, capped by his 6-yard TD toss to Jermaine Gresham.
Florida's defense, rather than Tebow, Harvin and its speedsters on the other side of the ball, kept the Gators close.
Poised to break the tie midway through the second quarter, Oklahoma owned a first-and-goal at the 9. Chris Brown carried four straight times and the Gators stood up the 1,100-yard rusher, twice stuffing him from the 1.
Rarely turned back in the red zone this season, the Sooners let it happen to them again in the final minute before halftime.
There were 10 seconds left and Oklahoma was out of timeouts when Bradford dropped back from the 6. He tried to hit Manuel Johnson at the goal line, but the pass deflected off him and the Gators ran a perfect tip drill, with three defenders touching the ball before Major Wright had the interception.
The interceptions were bad picks, too — Tebow telegraphed a long, cross-field throw that Nic Harris easily grabbed and later made a short flip over the middle right to Gerald McCoy.
Were the Gators out of whack? Hard to tell, though offensive coordinator Dan Mullen certainly had a lot to think about. Hired recently by Mississippi State, he becomes the Bulldogs' full-time head coach Friday.
Both teams seemed to have trouble with the game officials. The crew kept interrupting play for various reasons, and the result was a sloppy, scoreless first quarter.
Stoops and Meyer took turns hollering at ACC referee Ron Cherry, as if to tell him "Let 'em play!"
Florida linebacker Brandon Spikes was equally vocal. A few days after calling Big 12 defenses "a joke," he got into a couple of early shouting and shoving skirmishes with the Sooners. It was even a bit edgy before the game — warming up in the end zone, an Oklahoma kicker rolled his eyes when two Gators leaned against the goal post right behind him.
More like this story on KUsports.com