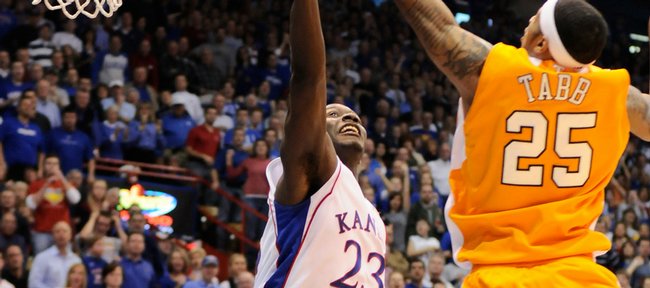 As of noon, Thursday, Mario Little needed to score about 20 tickets for Saturday's Kansas University-Michigan State basketball game in East Lansing, Mich.
"Everybody's been calling me. I've probably got 15 missed calls. My uncle ... he's called everybody. He can't keep his mouth closed," Little, KU's junior forward from Chicago, joked of O'Keefe Little, who planned a Little family reunion at MSU's Breslin Center.
"I'm going to have to let somebody down. He's going to have to let somebody down," Mario Little added.
Sadly, Mario learned Thursday night that his player allotment of four tickets may be enough to seat his personal cheering section.
Mario's grandmother, Hazel, on Thursday was admitted to Roseland Community Hospital on the South Side of Chicago because of internal bleeding.
So Mario's mom, uncles O'Keefe and Charles and cousins Evan and David, who'd planned on making the three-hour drive, may have to stay put in Chicago to make sure Hazel is OK.
Mario does have an aunt and some cousins in Pontiac, Mich., who still are planning on attending KU's final nonconference game of the 2008-09 season.
"Mario's grandmother turns 83 later this month. We want to get her healthy and home for her birthday. Her health is the most important thing," O'Keefe Little said.
"There's still a chance. You never say never. Mario's grandmother is stable tonight and says she's feeling strong. If she's feeling OK and some other relatives can be with her, nothing's going to stop us from getting in the car and driving to Michigan. I know he really wants us there."
There's as much uncertainty regarding Little's second-semester playing status as to how many relatives he'll have in the stands Saturday.
KU coach Bill Self, Little and uncle O'Keefe each on Thursday acknowledged a medical red-shirt is a possibility — not because of the broken bone in Mario's left hand, but because of his stress fracture in his left leg, which continues to cause discomfort.
"Mario aggravated it in the Tennessee game," O'Keefe said of his nephew's leg injury. "His hand is not bothering him at all.
"He wants to play. He said he doesn't want to throw in the towel on the season. I told him, 'You are not throwing in the towel. You may be hanging it on the line letting it dry out.'
"He is a fighter. I told him if even if he has to walk away like a lamb, he'll come back like a lion the next two years," O'Keefe added.
The plan is for Little to practice as hard as possible this week and to go all-out in Saturday's game, effectively testing the leg so an informed red-shirt decision can be made on Monday or Tuesday.
NCAA rules stipulate that a player cannot compete in the second half of the season and attain a medical hardship red-shirt. The Michigan State game completes KU's first half of the 2008-09 campaign.
"My personal opinion is if we (KU staff) thought he could be healthy the second half of the season, we need him," Self said.
"If we don't think he can be healthy, we'll sit him. If he can go, we want him to go. There's no reason for him to go 80 percent or 70 percent because he won't play enough to warrant playing second semester.
"By Feb. 1, he needs to be a key player on this team. If he was able to do that, I'd say, 'play.' If not, I'd say, 'shut him down.' What we want and what he wants is almost irrelevant as to what his health will allow him to do."
Mario wants to play.
"I came here to play," said last year's juco player of the year from Chipola (Fla.) Community College.
"Coach wants me to test it out. It felt better today. I'll go hard tomorrow and at Michigan State and see how it feels. If I can't help the team out, that's the only way I will red-shirt. If I can, I'm going to play."
Uncle O'Keefe said: "Mario wants to play, but the fracture ... he re-aggravated it against Tennessee. He may need more time off it.
"It was feeling better today, so it could be a game-day decision (Tuesday before Kansas State game). The decision is his."
Little — who played just five minutes Tuesday against Siena after logging 10 in Saturday's debut against Tennessee — was mighty frustrated after his three-point outing against the Saints.
"I expressed to coach Self how I felt I wasn't doing anything. He said, 'You haven't done anything in six months. Don't rush it. Don't try to get it back in one play. It'll take time,''' Little said.
Self preached patience in his conversation with the small forward.
"I said, 'You expected yourself to be great after four practices when you hadn't worked out in six months?' He said, 'Yeah,''' Self said. "I said, 'It's not going to work like that.'
"If he's getting frustrated, it's because his body won't do what the brain tells it to. I think he's getting better every day. It takes most juco guys a semester to get acclimated. His semester won't be over until February because he didn't get a chance to play first semester."
At any rate ... KU will be able to make an informed decision on Monday or Tuesday because Little isn't holding back.
"I think he wants to be out there so bad, one thing we are concerned about is whether or not he is leveling with us, telling us how he feels. To me he says he feels better than what he moves," Self said.
"The flip side of it, I don't want him to think, 'I can always red-shirt and get a hardship' then he won't give himself the best chance to test it. All I said to him was, 'Give it a chance. If it's still bothering you ... if you can't go you can't go. At least we'll know.'''
The bottom line?
"I'd love to play. I'd love to play here four years," Little said, realizing he has two full seasons left if he decides to red-shirt. "The team needs me out there. I want to play. I've just got to suck it up and try to help the team."
•
Kansan of the Year: KU coach Self will be honored as "Distinguished Kansan of the Year," at the 91st annual Native Sons and Daughters of Kansas banquet on Jan. 30 at Kansas Expocentre in Topeka. For tickets go to ksnativesonsanddaughters.org.
•
Frosh Ellis erupts: Wichita Heights freshman Perry Ellis scored 23 points and grabbed 14 rebounds in Heights' 84-52 victory over Wichita West on Tuesday night. The 6-foot-8, 195-pound Ellis hit eight of eight free throws in the fourth quarter. Rivals.com reported last week that KU has offered a scholarship to the highly touted Ellis, who also has Memphis, Arizona, North Carolina and others on his list.
More like this story on KUsports.com