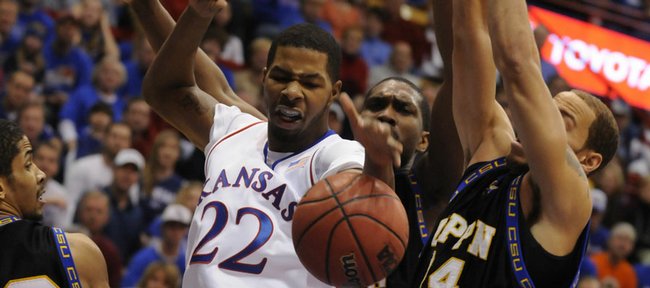 Kansas University basketball coach Bill Self says highly touted freshman forward Marcus Morris "probably had the best stretch since he's been here" in the early stages of Tuesday's 91-84 victory over Siena in Allen Fieldhouse.
Morris hit back-to-back jumpers to erase a 9-5 deficit and finished the first half with six points, three rebounds and three assists.
He pinpointed the reason for his productive play.
"I think I'm playing a lot more relaxed than when the season started," said the 6-foot-8, 225-pound Philadelphia native.
"I think I was more aggressive trying to get to the basket and trying to find the big men down low. Basically, it's me trying to create. It's what I wasn't doing at the beginning of the year. I'm trying to be more aggressive and get my teammates shots."
He finished with eight points off 4-of-8 shooting with six rebounds (four offensive), a steal and three assists in 17 minutes.
He was a bit more productive the first half than the second.
"Basically, I've been a first-half player," Morris said. "I need to step it up in the second half and not just be a one-half player."
Morris realizes that, like most freshmen, he has been inconsistent.
He hopes that will change with one game left in the nonconference campaign — Saturday's noon battle at Michigan State.
"The coaching staff always is encouraging me, telling me what I need to improve on. I need to be aggressive on the boards and find my teammates," said Morris, who is KU's fourth-leading scorer (8.4 points per game) and second-leading rebounder (5.8).
"Cole is a great rebounder. No matter what, he goes to the glass hard every game," Morris added of the 6-11 Aldrich, who leads the team with 9.9 rebounds per contest. "We all have to be like him and rebound the ball."
Morris, who has made 47 of 99 shots for 47.5 percent, hopes his new, relaxed frame of mind will help him run the court freely and wind up converting some easy hoops in league play.
"Our teams in the past have run a lot, and we (Morris twins) get some easy baskets. As far as in the past, Kansas has always been made for running. The more we get out on the break, the better things I think will happen," he said.
Morris remains a work in progress.
"I'm excited being a Jayhawk, being in the tradition," Morris said. "I've bonded with everybody on the team. We became family really quick. We all stick together. Rarely will you see anybody by themselves. It's a great team."
lPraise of Brady: Self during an 810-AM radio interview Wednesday was asked about the consistent play of sophomore wing Brady Morningstar, who averages 7.7 points, 2.9 assists and 2.7 rebounds a game.
"Kansas won a national championship with a guy named (Jeff) Gueldner. To me, Brady is a lot like Jeff ... makes shots when he's open, guards the other team's best perimeter player for most of the time," Self said.
"Last night, Brady guards their leading scorer (Edwin Ubiles), and with a minute-and-a-half left in the game, (Ubiles) has two points (finishing with eight). You look at the job he did on Budinger (Chase, 1-of-9 shooting, five points in Arizona game) and the job he's done on some other key players like Christmas (Dionte, 6-of-14 shooting, 21 points in Temple game). I'm real pleased with him."
Self wasn't finished praising the 6-3 Morningstar, who is fourth in the Big 12 in three-point field-goal percentage (.460) and second on KU's team in minutes played (28.0 per game).
"He doesn't look like Brandon (Rush) did playing that spot and never will because he's not as tall, his physique is not what Brandon's is as far as a strength standpoint," Self said. "From an efficiency standpoint, Brady is having a heck of a year. He's not our problem defensively. We've got to get other guys playing to Brady's level."
lNext up: No. 8-ranked Michigan State is off to a 12-2 start entering Saturday's against KU (noon Central Time, East Lansing, Mich.) The Spartans, a popular choice to make the Final Four, are 3-0 in the Big Ten following Tuesday's 67-58 home victory over Ohio State.
— Assistant sports editor Gary Bedore can be reached at 832-7186.