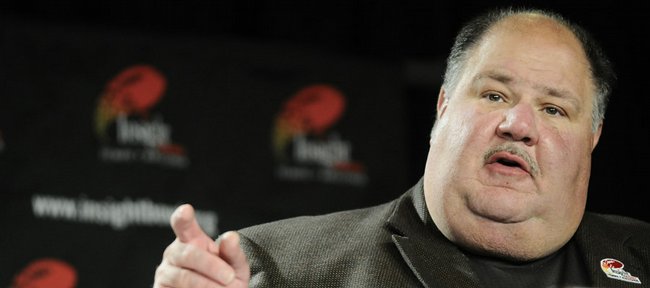 Quietly, football coach Mark Mangino and his fleet of hard-working assistants are assembling a recruiting class that could enable Kansas University to shrink the talent disadvantage against the trio of Big 12 South teams Mangino hasn't yet beaten.
Skeptical? Need some hard evidence? OK, a quick check with Jon Kirby of Rivals.com led to a startling piece of information. Three of the Rivals.com/Dallas Morning News Top 20 players in the Dallas area have made nonbinding oral commitments to Kansas, a figure that matches Texas, Oklahoma and Texas Tech.
As far as elite recruits are concerned, Kansas finally has become one of the pretty girls in the room. Recruits are checking out Kansas and liking what they see.
Prinz Kande, a safety from Euless ranked No. 35 in the state of Texas by Rivals.com and recruited by Clint Bowen, turned down a scholarship offer from Wisconsin to say yes to Kansas. Toben Opurum, a 225-pound running back from Plano ranked No. 45 in the state, had offers from Florida, Nebraska, Notre Dame, Purdue and Texas Tech and said yes to David Beaty, KU's receivers coach and a former high school football coach from Texas who's having a terrific recruiting season. Dexter Linton, a safety from Arlington ranked No. 48 in Texas, said yes to Beaty, which meant he had to say no to Nebraska, Oklahoma State, Purdue, Texas Tech and Wisconsin, among others.
Bowen scored an athletic defensive end, maybe as good a speed rusher as KU has had since Charlton Keith. Quintin Woods, who signed with Michigan out of high school before enrolling in Bakersfield Community College, is a 6-foot-6, 245-pound quarterback-chaser.
To hear Kirby tell it, Kansas isn't done landing heavyweights. (Signing day is Feb. 4).
"In the past, it always seemed like Kansas rounded out its class with some sleepers," said Kirby, who has been tracking Kansas football recruiting for 10 years. "I'm not saying they weren't solid. They were. Now, they started strong, the middle's been strong, and the guys still on the board that they have a chance with are as strong or stronger than what they started with."
Two exciting names still in play for Kansas: 1. Ronnie Wingo, a 6-foot-3, 212-pound running back from St. Louis, expected a visit Wednesday night from KU offensive coordinator Ed Warinner, according to Rivals.com. Wingo is the nation's No. 74 prospect; 2. DeQuin Evans, a 6-foot-2, 275-pound defensive end from Los Angeles Harbor Community College.
Kirby said recruits consistently marvel at the new football facilities, built thanks to the fundraising skills of John Hadl of the Williams Fund and athletic director Lew Perkins, and the generosity of KU alumni Tom Kivisto, Dana Anderson and others.
"There's no doubt there is a big difference in the perception of the program," Kirby said. "A few things play into that. No. 1, stability. Mangino's the defending National Coach of the Year. They've won three bowl games in the past four years. The increased attendance. And the facilities. It's a whole different ballgame than it was even three, four years ago. They're getting a different kind of athlete."
Once they get here, Mangino and his staff will make them improve at a faster rate than most staffs.
More like this story on KUsports.com