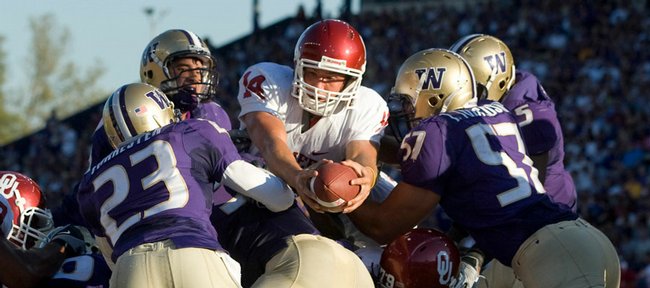 Fort Lauderdale, Fla. — It must be getting close to big-time game time.
Wednesday, the J.W. Marriott Jr. sat in the front row in a ballroom of one of his luxury hotels to hear Florida coach Urban Meyer discuss the possibility of becoming the first coach to win two Bowl Championship Series titles.
(Connection: Marriott graduated from Utah, the school Meyer led to an undefeated season in 2004).
As for his place in history, Meyer joked: "I just worry about third down and six and make sure our punting (team) is ready to go."
After the news conference, four security guards escorted Meyer to the restroom and stood guard outside.
No. 1 or No. 2?
That's the question tonight when top-ranked Oklahoma (12-1) takes on second-ranked Florida (12-1) at Dolphin Stadium, although most pundits give Florida the edge.
The hotel sports book here has the Gators favored by 12 Marriott points.
The outcome of this game will in no way, shape or form tie up all the loose ends of the season, but that's college football.
Whether tonight's game is even a true national championship also can be debated.
Three other schools, Texas, USC and Utah, all have positioned themselves for protest.
The winner of the BCS game will win the BCS championship. It's a shiny crystal trophy presented by the American Football Coaches Association, and it must go to the winner, by contract, no matter what any voting coach says or thinks.
The Associated Press, which has put out a poll since 1936 but is no longer a part of the BCS standings, independently crowns a champion.
If Florida wins, the argument's probably over, as the Gators enter the BCS game as the AP's No. 1 team.
If No. 2 Oklahoma wins, though, in a poorly played game, there could be an opening for AP voters to crown a different No. 1.
Texas would scream loudest as the only team that beat Oklahoma, the Longhorns being denied a probable BCS title berth because of the Big 12 Conference's tiebreaker rule.
Texas didn't help its split-title cause with a last-minute win over an Ohio State team that didn't even win a Big Ten Conference that finished 1-6 in the bowls.
Another problem: Utah and USC also won their bowl games, and they could siphon off enough votes to assure the BCS winner also wins the AP.
USC is No. 5 in the AP, and two teams ahead of the Trojans will have lost — No. 4 Alabama to Utah in the Sugar Bowl and the BCS loser — while No. 6 Penn State's Rose Bowl defeat assures No. 7 Utah will move up at least three spots in the final poll.
Meyer has experience in poll campaigning, having led Utah to a 12-0 finish in 2004 only to finish No. 4 in the final AP poll. That was the year USC and Auburn finished 13-0.
This year, Utah is the only undefeated team, after dominating an Alabama team that led Florida, 20-17, entering the fourth quarter of last month's Southeastern Conference title game.
Two years ago, Florida won the national title in Meyer's second year, but only after beating out Michigan for the No. 2 BCS spot by a sliver.
Some accused Meyer that year of shamelessly lobbying for his team.
"I love that term," he said Wednesday.
Meyer's point being: Which team was he supposed to lobby for?
"I simply said that we belonged in the game," Meyer said. "I'm an employee of the University of Florida."
Out West, Pete Carroll claimed after a Rose Bowl dissection of Penn State that his Trojans were the nation's best team.
Meyer said the coaches of Texas, USC and Utah had every right to champion their schools' title claims.
"Of course they should do that," Meyer said.
Meyer senses the sport may be closer to thinking about a playoff, but he's not carrying the rallying torch.
"It's not my job to figure it out," Meyer said. "I think it would be hard. I don't know how you do it."
Any residual controversy should not overshadow Oklahoma vs. Florida as a tremendous matchup.
Sooners coach Bob Stoops is also trying to become the first coach to win two BCS crowns.
You may have forgotten because he won his first in 2000. That earned him the nickname "Big Game Bob," but four straight BCS losses have put a dent in his reputation.
"I'm not here seeking the approval of whoever," Stoops said this week. "We've won our share."
The game also features the last two Heisman winners, quarterbacks Tim Tebow of Florida and Oklahoma's Sam Bradford, who led record-shattering offenses this season.
Florida's speed has received most of the attention this week, but the offense with the most "hurry-up" is Oklahoma's. The no-huddle attack has produced pinball numbers — a school-record 97 touchdowns, 702 points and five straight games of 60 or more points.
"We're going to give up points," Florida defensive coordinator Charlie Strong conceded. "We can't give up 60 ... unless our offense scores 61."
More like this story on KUsports.com