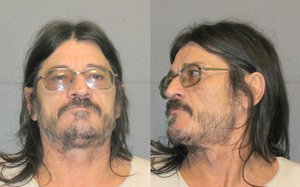 Billy Self was booked Tuesday into Douglas County Jail.
No, no; this is not Kansas University men's basketball coach Bill Self.
The inmate does seem to be infamous to prosecutors across Kansas and in the basketball coach's home state of Oklahoma.
Billy Eugene Self, 52, was transferred to Douglas County from Greenwood County Jail. He faces a misdemeanor drug charge in district court and has multiple warrants out for his arrest in Topeka, Derby, Sedgwick County and Oklahoma.
He'll most likely make the rounds, as prosecutors take their turns with him in court.
The man also has a criminal history in Kansas; he was convicted of attempted robbery and driving under the influence.
While Billy Self's story isn't quite parallel to Bill Self's, Lawrence will be home to both for now.