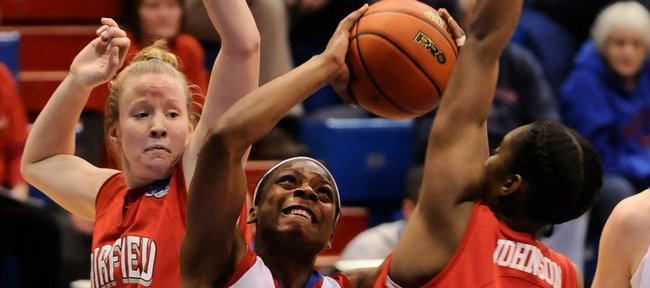 Audio clips
2009 KU-Fairfield women
Ellareese Murray hasn't missed too many of daughter Danielle McCray's points over the years.
She witnessed a great deal of the 1,234 McCray pieced together as a prep standout at Olathe East. Same goes for the hundreds more accounted for at Kansas University, where McCray is a junior forward for the women's basketball team and currently tied for second — with Colorado's Brittany Spears, behind Oklahoma State's Andrea Riley — in Big 12 Conference scoring.
Murray even managed to catch McCray's first career field goal, spur-of-the-moment as it was.
"Her first points were in the house with a (crumpled) piece of paper and the trash can," said Murray, proudly recounting the exploits of her then-toddler daughter.
It was appropriate, then, that Murray was in attendance for KU's 80-60 victory over Fairfield on Wednesday, when McCray became the 20th player in KU women's history to score 1,000 career points.
With 4:51 remaining in the first half, McCray connected on a mid-range jumper to eclipse the 1,000-point mark, and then proceeded to amass a bunch more, finishing with a game-high 16 and helping the Jayhawks finish their nonconference schedule 11-2 for the second straight season.
"I was really relieved to get it out of the way," said McCray, who knew going in that she was closing in on the milestone. "It's a great honor and a great accomplishment, and ... I'm glad I did it before conference play, so I wouldn't be jittered up about it."
There was no need for jitters Wednesday.
With the exception of a slight slip early in the second half — a 41-25 KU halftime advantage shrunk to a 44-35 lead with 15 minutes remaining — the Jayhawks controlled the tempo and the game, using a significant size advantage to outscore the Stags, 42-26, in the paint.
Kansas shot 59.4 percent from the field in the first half, thanks largely to the play of McCray and center Krysten Boogaard, who finished the half with 10 points on 5-of-7 shooting.
"I thought out of the locker room in the first half our kids did a good job," Kansas coach Bonnie Henrickson said. "Our defensive intensity was good, rotation was good. But give Fairfield credit. They came out and did a nice job and shot 50 percent in the second half."
The Stags opened the second half on a 10-3 run, taking advantage of an 0-for-8 shooting performance out of the gate from the Jayhawks and pulled within nine points five minutes into the second half.
But a McCray three-pointer with 14:41 remaining pushed the lead back to double digits, and back-to-back baskets by Sade Morris and Nicollette Smith helped the Jayhawks pull away for good.
Now, though, things figure to get a little more difficult for Kansas.
Beginning Saturday, when they travel to Manhattan for a meeting with 13-0 Kansas State, the Jayhawks open a Big 12 season that figures to be as grueling as any in recent memory. Six conference teams are ranked in the top 20 nationally, and two — Texas A&M; and Kansas State — are unbeaten after eight weeks.
"It's an opportunity for a signature win right away," Henrickson said of this weekend's game. "The Big 12 gives you that most nights. So we've got to seize that moment and do what we've got to do. The little things. Make less mistakes than they do, and do all the things you do to find a way to win."
More like this story on KUsports.com