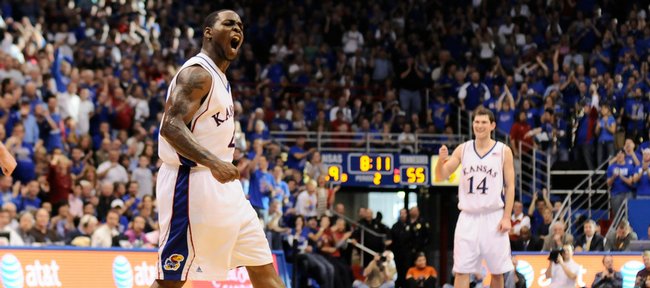 Sherron Collins has won his own, personal Battle of the Bulge.
Kansas University's 5-foot-11 junior point guard from Chicago, reported Monday that he weighs an even 200 pounds, his lowest weight since becoming a Jayhawk.
"I think I've got it (conquered). The coaches know I've got it. I don't get any hassles from them anymore," said Collins.
He indicated he used to be put on the scale daily and sometimes received cell phone calls from concerned staff members "asking me what I was eating.
"I know if I'm overweight it can stop my progress. It can stop me from getting better. I don't even have to think about it anymore."
That's because Collins — who on Monday was tapped Big 12 Player of the Week for the second time in his KU career — in coach Bill Self's words "has the best body composition since he's been here. I certainly can't say one negative word about his conditioning, how he's taking care of himself. His conditioning is fabulous."
Collins, who is coming off a career-high 26-point outing against Tennessee entering today's 7 p.m. home game against Siena, has effectively rebuilt his body since reporting out of shape in August.
It's never been revealed exactly how heavy Collins was at the start of first semester. Fifteen pounds over playing weight might be a ballpark figure.
"It wasn't as much a weight issue as a conditioning issue," Self said. "Whenever you have a rough offseason like he had because of health (arthroscopic knee surgery in late April), when you are released you have to take full advantage of it.
"That was the thing that disappointed me the most. I don't think he took full advantage of it. Since school started he's certainly worked very hard to get where he is. I'm very proud of him."
Collins' reporting out of shape today classifies as "old news." The person who torched Tennessee for driving, spinning layup after driving, spinning layup last Saturday is stealing headlines in Big 12 country today.
"I have to give it to my teammates. I couldn't do it without them," Collins said Monday, referring to winning the league's top player award.
Collins — not his teammates — deserves all the credit for his weight loss. He's the one who ultimately decides what to put in his body.
"I think it was late-night eating (that was the problem)," said Collins' uncle, Walt Harris, who spent some time with Sherron last summer in Chicago.
He said his nephew has a weakness for chicken wings, but has substituted that urge with "baked chicken."
"When he came home (over Christmas) he watched his diet," Harris added of a three-day holiday trip to the Windy City. "I'm proud of him. He's finally getting it. He knows he has to be at a certain weight level to be one of the best."
Instead of chowing on chips and salsa late at night, Collins turns to a more healthy staple.
"I eat a lot of fruit. I eat celery. I grew up eating celery. That's my thing," Collins said.
"Celery and I think he likes a little peanut butter on there. It's good he likes celery," Walt added with a laugh.
Collins' roommate, Brady Morningstar, said the subject of his buddy's weight no longer is even a topic of discussion.
"He can eat everything we eat, just not real big portions," Morningstar said. "He's done a good job this year of not stuffing his face and eating. With his upper body ... he puts on more weight than a normal person does.
"Keeping the weight off is as important as anything to him. It helps his quickness and speed and that's the No. 1 aspect of his game."
Collins believes he's at an ideal weight.
Uncle Walt would actually like to see five additional pounds shed.
"Lose five more and he's unstoppable. At 195 he'd be amazing," Walt said. "You'd see him flying around and dunking like high school. He'd arguably be quicker than anybody in the country."
Tennessee might today rate Collins the quickest guard in the U.S.
"He controlled the game on defense and offense," KU freshman guard Tyshawn Taylor said of Collins' nine-assist, five-rebound effort.
"He is awesome. He plays hard every possession. Coach gets on me for taking plays off. Sherron doesn't do that. If I can follow his intensity, that'd be good."
Collins — who applied some "Icy Hot" to his back before Monday's practice to help loosen up tight back muscles — is hoping to remain injury free the rest of the season.
Any thoughts he may have had of testing the NBA Draft after KU's national title season disappeared once surgery was prescribed for his aching left knee.
"I didn't have a chance to think about it because I had to get surgery and all that," said Collins, who said he won't entertain any thoughts of the NBA until after this season.
"I haven't thought about it, really," he said. "At times it gets a little bit frustrating with all the young guys. I am only thinking about helping the young guys get better, to get better as a team. Yes, I can envision a situation I do come back. Right now, as far as I can tell, I'm coming back for my senior year. There's no thought about the NBA right now."
Soph Cole Aldrich also has said he won't think about possibly entering the draft until after the season.
Self said that's good because, "that was last year's talk (in media) with our guys. There's none of that this year. Every game shouldn't be a deal, 'well (now) one is going to leave.'''
Self does believe a player under 6-foot can play for a long time in the league.
"Sure," Self said. "Muggsy Bogues excelled at 5-3. Sherron could post him up. Spud Webb was 5-7. I do think you've got to be a pitbull to do it. You've got to be tough and be able to make other guys better around you and really shoot the ball, put pressure on the other team. When he's playing well he does that as well as anybody."
Asked if Self was "writing it off" that Collins was a lock to turn pro after three seasons, Self exclaimed: "No. It was one game. I'm not writing anything off. We played one game. But he did play great in that game.
"The player of the week in any league does not mean you are an NBA player. (But) if I was an NBA guy, I'd be very impressed by the way Sherron performed last weekend."
If KU is to contend for Big 12 title this season, Collins likely will be a winner of that award again.
"Sherron is great. He knows everything coach wants. He's our leader," frosh Taylor exclaimed.