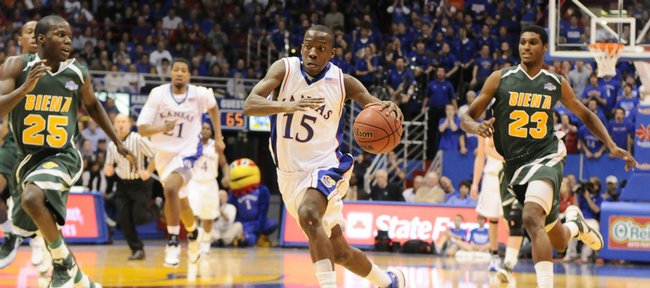 Reader poll
Markieff Morris

7%

8 votes

Tyshawn Taylor

33%

36 votes

Marcus Morris

28%

31 votes

Travis Releford

30%

33 votes
108 total votes.
Reader poll
Marcus Morris

52%

71 votes

Julian Wright

47%

63 votes
134 total votes.
Reader poll
Travis Releford

47%

40 votes

Mike Lee

52%

45 votes
85 total votes.
Reader poll
Quintrell Thomas

47%

32 votes

Darnell Jackson

52%

35 votes
67 total votes.
Reader poll
Wayne Simien

82%

51 votes

Markieff Morris

17%

11 votes
62 total votes.
Reader poll
Sherron Collins

62%

43 votes

Mario Chalmers

37%

26 votes
69 total votes.
Reader poll
Keith Langford

71%

48 votes

Tyshawn Taylor

28%

19 votes
67 total votes.
Reader poll
Cole Aldrich

87%

71 votes

C.J. Giles

12%

10 votes
81 total votes.
11:25 p.m.
Some final notes:
• KU's 51 first-half points were the most scored since the Jayhawks had 51 first-half points against Texas Tech on March 3, 2008.
• Siena's 38 first-half points were the most scored by a KU opponent in the first half all season.
• Cole Aldrich's 24 points were a career-high. Aldrich also had 13 rebounds, which gave him his eighth double-double of the year.
• Tyrel Reed's 14 points set a new career best. He had 12 points in three other games this season.
• Reed went 6-for-6 from the free-throw line and is 20-for-21 (95 percent) from the stripe this year.
• KU had only 12 turnovers — the third-lowest total for the team this season.
• Bill Self coached in his 500th collegiate game. His record is now 360-140 overall.
KU scoring
Aldrich 24 (9-for-13 shooting), Collins 18, Reed 14, Taylor 8, Marcus Morris 8, Morningstar 7, Releford 5, Markieff Morris 4, Little 3.
KU was 29-for-61 from the floor (47.5 percent), 7-for-19 from three-point range (36.8 percent) and 26-for-32 from the free-throw line (81.3 percent).
FINAL: KU defeats Siena, 91-84
Ubiles gets a two and a foul, but misses the free throw. Downey bear-hugs Reed, then can't believe he's whistled for a foul. Reed makes both free throws.
The refs are keeping Siena in this one. That's two straight phantom whistles on KU, as Morningstar is called for breathing on Rossiter. The big man completes the three-point play with a free throw to cut KU's lead to five.
Collins gets a pair of free throws, and the Jayhawks finally get the defensive stop they need to clinch the game. Collins hits two more freebies, and Siena backs off, conceding KU's 91-84 victory.
KU 84/Siena 77 — 1:06 left in game
Morningstar hits a big pair of free throws, but Franklin follows with a jumper. It's been hard for KU to build any sort of a lead with its inconsistent defense.
Two more free throws by Reed (KU is 18-for-22 tonight), but Ubiles follows with an easy two in the lane. KU just can't get a stop.
The Jayhawks execute well against Siena's trapping defense, and after running 33 seconds off the clock, Collins passes to Aldrich, who's fouled in the lane. Aldrich makes one of two.
Moore follows with another tough 16-footer, and Siena won't go away.
KU 79/Siena 71 — 3:24 left in game
Collins hits a big three, then swings his fist in celebration.
The crowd is going crazy. So much for the fans being quiet after an emotional win against Tennessee. They've brought their strong voices tonight.
Collins misses a three, but Aldrich gets the board and puts it back in. The noise level goes even higher.
Taylor misses a finger-roll that could have put KU up 12, and Moore comes back in transition with a jumper. That could have been a big turning point for the Jayhawks. Siena calls timeout, and Collins spikes the ball to the floor in frustration.
Collins rolls in a jumper with 30 seconds still left on the shot clock. That's one of those shots that's only good if you make it.
KU 69/Siena 63 — 7:58 left in game
Another three from Moore. Siena trims the lead to six.
KU 67/Siena 60 — 9:13 left in game
Josh Duell is helped off the court after hurting his leg. The Saints are forced to go to an even smaller lineup.
The one time KU plays some good defense, it gets burned for a three. Ronald Moore jacks up a long three over the outstretched arm of Taylor, and Taylor can only roll his eyes in disgust as it swishes through.
It's amazing to see Siena burying so many threes. Coming in, the Saints were one of the worst three-point shooting teams in the nation, making only 29.9 percent of their long-range tries. With Kyle Downey's trey, Siena is 9-for-15 (60 percent) from deep tonight.
KU 65/Siena 54 — 11:48 left in game
KU's defense has been pretty lethargic. Morningstar, on two straight trips, gives Clarence Jackson open looks from three (he makes one). Aldrich gets a dunk, but then gets beat down the floor as Rossiter puts in a layup.
Self makes his message clear: he substitutes five new players into the lineup. The Jayhawks are scoring nearly at will, but Siena is pulling closer just because it is keeping up on the other end.
KU 55/Siena 43 — 15:36 left in game
KU, as we might have guessed, has made more of an effort to get to get the ball into Aldrich in the second half. A nice pass in by Markieff gets rewarded, as Aldrich rattles in a short shot.
After a sloppy pass by Taylor, Self puts both hands behind his head in frustration. Honestly, I don't believe he's been pleased at all with his team's effort tonight.
Halftime thoughts
Knowing coach Self, he is an angry guy right now. He will always be a defensive-minded coach, and the Jayhawks (at least statistically) played one of their worst defensive halves of the year. He's already jumped on a couple of his players and burned two timeouts after being frustrated with his team's effort.
Still, KU has more than made up for its defensive miscues with offensive execution. From my vantage point, it looks like tonight, more than any other game, each Jayhawk looks like he knows exactly where he's supposed to be on the floor at all times. Add good ball movement and unselfish play, and KU earned a 51-point first half. No one has been able to stop Aldrich inside, and Siena's zone late in the half looked to slow down KU just a bit. I would expect the Saints to start with that for half two.
And, now the moment you've all been waiting for.
Quiz answers
Player A: Marcus Morris; Player B: Julian Wright; Player C: Travis Releford; Player D: Mike Lee; Player E: Quintrell Thomas; Player F: Darnell Jackson; Player G: Wayne Simien; Player H: Markieff Morris; Player I: Sherron Collins; Player J: Mario Chalmers; Player K: Keith Langford; Player L: Tyshawn Taylor; Player M: Cole Aldrich; Player N: C.J. Giles.
KU 51/Siena 38 — Halftime
Marcus Morris makes another great decision on the break, as instead of forcing up a shot and risking a charge, he quickly snaps a pass back out to Reed for a three-pointer. Three assists now for Marcus, which is tied for the team lead.
KU survives a sloppy last couple minutes without surrendering much of its lead. The Saints score the half's final four points, but the Jayhawks still enter halftime with a comfortable 13-point advantage.
KU 44/Siena 31 — 3:53 left in 1st half
Hasbrouck puts in a jumper, and Self fires off the bench to use his second timeout. He's furious with Taylor's defense, and he meets the freshman guard before he can make it over to the bench.
Wow, Collins is quick. He just made a move to the basket when he didn't have an angle to the rim, as Rossiter was lurking inside. Collins still beat him to the spot, then spun up a layup before Rossiter could even attempt a block.
Nice stretch for Tyrel Reed. He banks in a 14-footer from the side, then fires in an open three off a pass from Collins. Reed's a better shooter than we've seen so far this year.
The twins work with each other again, as Markieff lobs a nice pass into brother, Marcus, for an easy two. From a few feet away, it looked like Marcus was fouled, too.
KU 32/Siena 18 — 7:57 left in 1st half
Another nice pass from Marcus Morris, who feeds Aldrich for a dunk. This team looks like it's beginning to figure out how to utilize Aldrich better on the offensive end.
Releford drains a rainbow three from the wing. He's now 3-for-4 from deep this year.
A three from Taylor gives KU an 18-0 run.
Collins misses a three, but the offensive rebound is gathered easily by Aldrich inside. No one on Siena can come close to matching up with him.
Mario Little will have a chance for his first points as a Jayhawk, as he will get a pair of free throws after the media timeout.
KU 18/Siena 10 — 11:54 left in 1st half
Two jumpers by Marcus Morris, followed by a three from Morningstar, and KU has a quick 7-0 run.
The Morris twins, to me, have been better when they've been on the court together. That's been the case so far tonight. Markieff adds a nice block off the backboard on a shot by Alex Franklin.
Collins makes something out of nothing, forcing up a three with the shot clock expiring. It rattles home to give KU a 15-10 edge.
Great court awareness by Marcus Morris. While getting hounded by a double-team, he was alert enough to find a cutting Travis Releford on the baseline for an easy layup. KU has recovered nicely from a slow start.
Siena 9/KU 5 — 15:58 left in 1st half
Cole Aldrich gets a quick offensive rebound and stickback for two, drawing a foul. This is his game to take over with Siena's lack of tall players.
Right after I type that, Aldrich picks up his first foul. He needs to avoid his second at all costs.
KU's giving Siena too many second chances right now. Siena has been out-rebounded by 1.2 rebounds per game so far this year, but in the early going, the Saints have six rebounds to KU's three.
7:03 p.m.
Starters: Markieff Morris, Brady Morningstar, Cole Aldrich, Sherron Collins, Tyshawn Taylor.
6:59 p.m.
Might have some empties for this one. Looks like the top corners have about 5-10 unoccupied rows with just a few minutes left before the game.
6:33 p.m.
Here are some things to look for from Siena, which comes in with a 10-4 record.
• The Saints have won eight of their last nine games, with the only loss in that stretch coming to this week's No. 1-ranked Pittsburgh (79-66).
• Siena has made only 30 percent of its three-point attempts this year. However, the Saints have made 51 percent of their two-point field-goal attempts.
• Edwin Ubiles, a 6-foot-7 forward, leads Siena, averaging 14.5 points per game. Six-foot-five forward Alex Franklin is second on the team with a 13.8-point-per-game average. Both players were named preseason first-team all-conference.
• Kenny Hasbrouck, the MAAC preseason player of the year, is averaging 11.9 points per game. He has started to heat up as of late, though, as he is averaging 16.7 points in his last three games. In those contests, he has combined to make 19 of his 39 field-goal attempts (49 percent).
• Siena's tallest player is Ryan Rossiter at 6-9.
• Rossiter and 6-7 forward Josh Duell both missed Sunday's game against St. Peter's with the flu. Siena coach Fran McCaffery said only four players on his team have been able to avoid the flu in the last week.
• McCaffery on Allen Fieldhouse: "In terms of an environment that can intimidate you, it's probably the most intimidating place in the country because of how loud it is."
6 p.m.
How well do you remember the freshmen years of KU's recent basketball players?
Before we get to analysis of KU's game tonight against Siena, let's start with a quick quiz to test your KU knowledge.
I thought it would be interesting to examine how this year's freshmen, through 13 games, stack up against some other former Jayhawks.
The rules here are simple: I'll give you two Jayhawks and their statistics through the first 13 games of their freshman seasons (I only counted the first 13 games they actually stepped on the court; if a player was injured/benched for a whole game, I did not count that as one of their first 13 games).
Your job is to figure out which Jayhawk is which. You can vote for your choice on the left. I'll give the answers out at halftime.
Oh, and this'll go much better if everyone doesn't cheat and then blurt out the answers in the comments section. If you must look up each player's statistics, please keep the answers to yourself.
Good luck.
Your two choices are Marcus Morris and Julian Wright
Player A: 8.4 points, 5.8 rebounds, 1.2 assists, 19.9 minutes, 43-91 field goals (47.3 percent).
Player B: 8.1 points, 4.3 rebounds, 1.8 assists, 17.4 minutes, 45-84 field goals (53.5 percent).
Your two choices are Mike Lee and Travis Releford
Player C: 3.5 points, 1.8 rebounds, 0.2 assists, 7.6 minutes, 19-35 field goals (54.3 percent), 66.7 percent three-point percentage.
Player D: 2.0 points, 0.5 rebounds, 0.3 assists, 4.2 minutes, 11-23 field goals (47.8 percent), 44.4 percent three-point percentage.
Your two choices are Darnell Jackson and Quintrell Thomas
Player E: 2.4 points, 2.8 rebounds, 7.5 minutes, 8-18 field goals (44.4 percent).
Player F: 2.5 points, 2.0 rebounds, 7.9 minutes, 13-21 field goals (61.9 percent).
Your two choices are Wayne Simien and Markieff Morris
Player G: 9.3 points, 5.3 rebounds, 14.5 minutes, 43-76 field goals (56.6 percent).
Player H: 5.5 points, 4.7 rebounds, 17.5 minutes, 24-47 field goals (51.1 percent)
Your two choices are Sherron Collins and Mario Chalmers
Player I: 7.1 points, 2.0 assists, 2.2 rebounds, 17.8 minutes, 33-71 field goals (46.5 percent), 16-38 three-pointers (42 percent).
Player J: 6.8 points, 3.1 assists, 1.2 rebounds, 19.0 minutes, 30-80 field goals (37.5 percent), 8-36 three-pointers (22.2 percent).
Your two choices are Tyshawn Taylor and Keith Langford
Player K: 8.2 points, 3.0 rebounds, 38-78 field goals (48.7 percent).
Player L: 10.2 points, 2.1 rebounds, 49-101 field goals (48.5 percent).
Your two choices are Cole Aldrich and C.J. Giles (this one is tough)
Player M: 3.6 points, 3.4 rebounds, 9.5 minutes, 19-30 field goals (63.3 percent).
Player N: 3.8 points, 3.2 rebounds, 10.2 minutes, 21-39 field goals (53.8 percent).