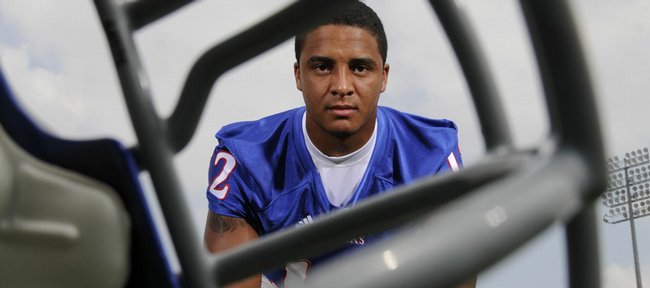 If there's one position that has stood out more than any other during Mark Mangino's time as the head football coach at Kansas University, it's linebacker.
Mangino's defenses have featured a group of linebackers known for grit, tenacity and intelligence.
That certainly was the case when Kevin Kane, Banks Floodman and Nick Reid — the Big 12 defensive player of the year in 2005 — patrolled the middle of the field for the Jayhawks. About that same time, names like James Holt, Mike Rivera and Joe Mortensen were waiting in the wings.
Since taking over after the departure of their mentors, Holt, Rivera and Mortensen, all seniors, have taken the position — along with the program — to new heights. Their tenure finished on a high note at Wednesday's 42-21 Insight Bowl victory against Minnesota, when Holt led the defensive charge with three sacks and four tackles for loss and Rivera and Mortensen each tied career-highs in tackles with 14 and 13, respectively.
So now what? Who takes the reins from KU's latest linebacking success story?
Not to worry, says the terrorizing trio, replacements are ready. Among those competing for jobs this spring will be Justin Springer, Dakota Lewis and Arist Wright, all of whom played linebacker during the season. Jake Schermer, Steven Johnson and Drew Dudley all are candidates for playing time as well, but Springer, Lewis and Wright seemed to develop a special connection to the three senior linebackers.
"We're happy to have them around. We're kind of like big brothers to them, and they come up and ask us questions, and we're glad to help them out," Holt said of KU's next generation of linebackers. "We want to continue the tradition of having great linebackers here at KU, and we'll do anything we can to help them out."
Although Springer suffered a season-ending injury in the Kansas State victory, all three reserves received valuable time on the field during 2008. As the season progressed, each of the backups gravitated toward one of the upperclassmen as a main mentor.
Springer's navigation was the easiest, as he found a home under the tattooed wing of Mortensen. Like Mortensen, Springer already shaves his head and is a devoted follower of the religion that delivers its sermons in the weight room.
Wright wound up connecting with Rivera, partly because of his propensity to fly under the radar and also because of his love of big hits.
That left Lewis and Holt to team up.
"It's kind of nice having my Oklahoma buddy with me," Altus, Okla.'s, Holt said of Lewis, who hails from Sulphur, Okla.
Regardless of who sides with whom, or which younger guys have picked up the tendencies of which older guys, one fact remains.
"All three of those guys can play," Rivera said. "They know what it takes. They've seen how hard you have to work, and, hopefully, we've taught them a lot."
Holt agreed and said the trio's rough edge is what puts them in position to replace this year's departing linebacker corps.
"They have great mentality," Holt said. "They love to play the game also, and I'm sure that they can fill our shoes."
The biggest question mark with this group is likely to be leadership. But with safety Darrell Stuckey expected to return to the defense, Springer, Lewis and Wright simply might be asked to make tackles and solidify the pass defense.
In addition to the three underclassmen who received playing time at linebacker alongside their senior counterparts this season, the Jayhawks have a handful of others on their roster who could fill the role next season. One intriguing possibility is junior running back Angus Quigley, who took reps at linebacker during the developmental practices that led up to the Insight Bowl. His size and the way Quigley hit on special teams make him a good candidate to move to the position full-time in 2009.
Incoming freshmen and potential junior-college transfers also could earn playing time. The opportunity to start right away might be reason enough to sign with the Jayhawks.
More like this story on KUsports.com