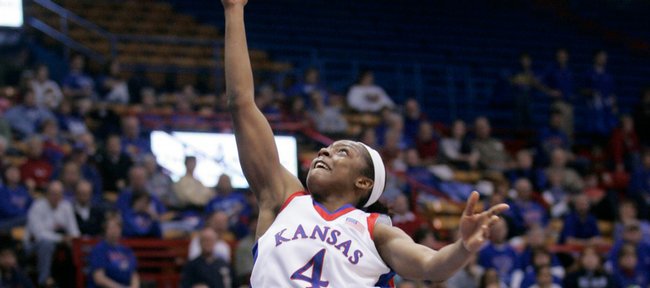 Question: Name the tri-captains of Kansas University's women's basketball team.
Answer: Ivana Catic, Danielle McCray and er, um, uh … what's-her-name.
It's Katie Smith. No, not starting forward Nicollette Smith. Katie Smith, no relation.
A 5-foot-10 senior, Smith has played so little during her KU career that she posted career highs in points (6) and rebounds (5) during the Jayhawks' 91-49 flogging of New Mexico State on Sunday afternoon in Allen Fieldhouse.
Obviously, Smith must be doing something right if she has been on the team for four years and has rarely played.
"She's a great teammate and a great person," junior guard LaChelda Jacobs said. "She pushes everybody to be better."
Jacobs, in fact, remains in awe of Smith's perpetual-motion approach to life.
"It would be hard for me to come with that kind of energy every day," Jacobs said. "That's what we love about her."
Smith came to KU as a walk-on out of Omaha, Neb., Skutt High, eschewing the opportunity to play at a lower level in large part because she isn't an only child.
"My older sister Jessica went to KU, and I fell in love with the school," Smith said. "And I wanted to get out of Nebraska and be on my own."
She had to love sitting on the bench, too, because that's what she did, playing in just 10 games over the last three seasons.
Did she consider transferring?
"Absolutely not," Smith said. "We all have our roles, and I try to be a motivator for the team."
After two years of paying her own way, Smith was awarded a scholarship prior to last season, and, she said, "I'm very grateful."
Meanwhile, it's clear coach Bonnie Henrickson is grateful to have what amounts to a player-coach.
"She's a great energy kid," Henrickson said. "Everybody on the team wants to get her a shot when she's in because they respect her so much."
On Sunday, everybody really was everybody because Henrickson cleared the bench against the overmatched Aggies (4-10), who left town with a six-game losing streak.
Kansas (10-2) settled the issue during the last nine minutes of the first half when it outscored the Aggies, 20-2, to post a 44-16 halftime bulge. N.M. State's only points during that span were a couple of free throws.
"We scored as many points against them as anyone has all year," Henrickson said. "We'll take it."
Said Aggies coach Darin Spence: "We knew coming in here it was going to be a learning experience. We are a very young team."
Despite missing 10 of 14 shots, Danielle McCray led the Jayhawks with 17 points and 12 rebounds, her fourth double-double of the season. Krysten Boogaard, a surprise non-starter, chipped in with 14 points and six boards.
Asked why the 6-5 Boogaard opened on the bench, Henrickson was vague, saying: "Work hard and be coachable. We have to be able to do that. …She responded."
Another surprise was an early-first-half appearance by Aishah Sutherland, the only healthy freshman on the roster. Sutherland had logged only 32 minutes in the first 11 games, but played 16 minutes Sunday, contributing six points and four boards.
"She's the best combination of skill and athleticism we have," Henrickson said of the 6-2 forward from Perris, Calif. "I need four, five, six minutes at that position, and if she can turn the corner, she might be an option there."
Kansas will conclude the nonconference portion of its schedule Wednesday night against Fairfield. The Big 12 opener will be Saturday at Kansas State.
More like this story on KUsports.com