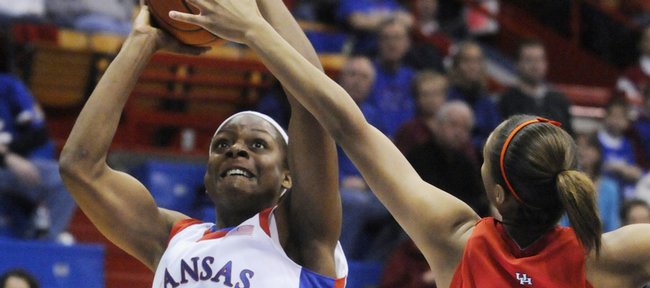 Bonnie Henrickson grinned the other day when a reporter mentioned he had noticed that Kansas University was leading the Big 12 Conference in three-point shooting percentage.
"Did you think you were delirious?" Henrickson quipped.
During her first four seasons as KU's women's basketball coach, Henrickson's teams were hardly known for their three-point accuracy. Her fifth team has been much better in that regard, however … at least at this stage of the season.
The Jayhawks (9-2) are shooting 41.5 percent from beyond the arc going into today's game against New Mexico State, and no other Big 12 team is above the .400 plateau.
Tipoff will be at 2 p.m. in Allen Fieldhouse.
Sunflower Broadband 6 will carry a live telecast.
Last year's KU team shot 31.8 percent from distance, so essentially this year's club has been 10 percent better.
"We have four kids shooting pretty well from out there," Henrickson said, "and I think we should be able to shoot like that."
Starters Danielle McCray, Sade Morris and Nicollette Smith and reserve Kelly Kohn have combined to take 159 of the Jayhawks' 171 three-pointers, with Smith owning the best percentage at .426. Kohn is next at 41.9, followed by Morris (40.0) and McCray (39.3).
Three others — Ivana Catic, Rebecca Feickert and Katie Smith — have attempted a combined dozen three-point shots and made half of them.
Quite likely, the Jayhawks' three-point shooting won't remain at such a lofty level during the rugged 16-game Big 12 schedule that will begin Saturday at Kansas State.
First, however, KU will meet New Mexico State today, then conclude its nonconference schedule Wednesday night against Fairfield, also at home.
New Mexico State is struggling. The Aggies (4-9) have lost five in a row, including an 83-63 thumping from Illinois-Chicago on Tuesday at a tournament in San Diego.
Fairfield has a 6-6 record, so the Jayhawks conceivably could go into the conference race with the same 11-2 record they had when they opened league play last season.
More like this story on KUsports.com