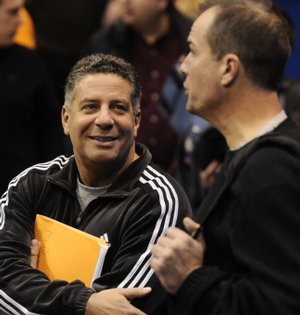 Bruce Pearl most likely will be decked out in a dapper black suit and orange tie for today's Kansas-Tennessee nonconference basketball clash in Allen Fieldhouse.
Known as a guy who'll dress for the occasion ... this is the same man who shed his shirt, painted his face and body orange — and wore a black UT headband and shorts — while cheering wildly in the Vols' student section for a Tennessee-Duke women's contest in February of 2007.
"I like him a lot. Bruce is one of those guys that will certainly generate interest wherever he is. He adds some personality. I think that is good," KU coach Bill Self said of fourth-year Tennessee coach Pearl, who brings his No. 14-ranked Vols (9-2) to Allen Fieldhouse for today's 1 p.m. tip against KU (9-3).
Like Self, the Jayhawk players have taken notice of the energetic, 48-year-old ball-of-fire.
"I think coach Pearl is good for the game," KU junior Sherron Collins said. "It's good to see both the coaches at Tennessee — both the women's coach and men's coach — do something for each other at each other's games. It's good they support each other like that," added Collins.
He was referring to women's coach Pat Summitt wearing a cheerleading outfit and singing "Rocky Top Tennessee" at the UT-Florida men's game in March of '07.
"He's a serious coach, though. He knows how to get their guys ready. He's very emotional. You can see that on the sidelines when he's coaching. It'll be a tough game," Collins said.
Pearl appreciates the kind words of Self and his point guard.
"I love what I do. I love trying to make a difference in young people's lives," Pearl said before running a light practice Friday night in Allen Fieldhouse.
"I do show a little intensity and passion and so forth. That's a great compliment. Bill knows how I feel about him, too, because when you prepare against a great coach you are damned if you do, damned if you don't.
"You say, 'If we do this, then they'll just do that.' They (Jayhawks) are one of the toughest preparations you'll have. Not because they are so complicated. If you take one thing away they are going to hurt you with something else."
Pearl — he's directed UT to back-to-back NCAA Sweet 16 appearances and last year led the school to its first-ever No. 1 ranking in the AP poll — is 0-1 lifetime versus the Jayhawks.
Back in December of 2004, his Wisconsin-Milwaukee squad fell to Self's Jayhawks, 73-62, in Kemper Arena in Kansas City, Mo.
"I remember some of it was good, most of it bad," Pearl said, noting today "will be the first time I'll have the pleasure of coaching here."
The Vols' who have won 37 straight games in Thompson-Boling Assembly Center in Knoxville, today will try to stop KU's 31-game Allen win streak.
"I hope it is," Pearl said of it being a classic nonconference game between Big 12 and SEC schools. "I know they obviously play great here. Like us, they've got a lot of new pieces to the puzzle. I think with that you'll have ups and downs. At times game to game, even possession to possession we look great. At times, it's, 'oh gosh.' You see that with them a little bit as well."
Pearl has welcomed back just two starters from last year's 31-5 team.
Tyler Smith, a 6-7 junior from Pulaski, Tenn., averages 16.9 points and 5.6 rebounds per game. Wayne Chism, a 6-9 junior from Jackson, Tenn., contributes 11.8 points and 8.5 boards. The team's third double-digit scorer is J.P. Prince, a 6-7 junior from Memphis, who averages 10.9 ppg.
Bobby Maze, a 6-2 transfer from the University of Oklahoma, contributes 9.5 points and 4.5 assists a game. Renaldo Woolridge, a 6-8 freshman (6.6 ppg), is the half brother of future KU player Royce Woolridge, who is a junior at Sunnyslope High in Phoenix.
"Last year they were amazing and obviously played great down the stretch," Pearl said of the national champion Jayhawks. "I don't think Bill and his staff were surprised at how well they played. I think they felt they had that kind of team, that kind of personnel, that kind of experience, that chemistry.
"This is a team that is very talented. Does it have five NBA players like last year's team? Maybe. Does mine? We're probably a more talented team this year than last year. We're not a better team right now."
Still, he admits on paper KU-Tennessee makes for a great January matchup on ESPN.
"It's (top) conference versus conference, for us a road opportunity. Those are the things that separate you. For Kansas it's a ranked opponent right now. It's definitely going to be an important game come tournament time," Pearl said.
And it'll be fun for the Jayhawks to see zany Pearl up close and personal.
"A colorful guy like him, I think it's pretty cool he goes to a women's game, sits in the student section and paints his whole chest. I think people enjoy seeing stuff like that," KU soph Brady Morningstar said. "It's all about winning still, but it's fun to see him having fun and being a normal guy."