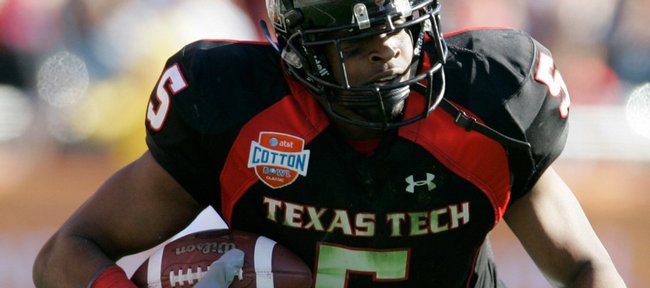 Dallas — There were backflips across midfield, 50-yard dashes carrying oversized flags and a team-wide sprint to the student section. Ole Miss waited five years to feel this good and the Rebels were going to enjoy every second of it.
A season of revival that already included an upset at the Swamp culminated Friday with a 47-34 victory over No. 8 Texas Tech in the Cotton Bowl, sending No. 20 Mississippi into the offseason with a six-game winning streak and the anticipation of how coach Houston Nutt will build on his terrific debut year.
"I wish we could keep this team and bring it back," Nutt said. Then, turning to some seniors next to him, he barked, "You can't leave!"
Seconds later, he was so giddy that he told Cotton Bowl officials, "We'll make the announcement we'll come back next year, right now. Let's go!"
To understand the excitement, appreciate how far this program has come: from 3-8 last season, winless in the SEC and bowl-less since 2003 (back when Eli Manning was a senior) to 9-4 and likely to grab a season-ending ranking in the teens.
It's also worth noting those four losses were by a combined 19 points.
Better still, the surge to this warm-fuzzy finish began when the Rebels were 3-4 and smarting from consecutive losses after their road upset of then-No. 4 Florida.
"It's ... togetherness. That's something we haven't had in the past couple of years," said Dexter McCluster, a 5-foot-8 bundle of moves and speed who ran 14 times for 97 yards and a touchdown, and caught six passes for 83 yards. "Coach Nutt came in ... and got us on the right track and got us to believe. 'One heartbeat' has been something we've been stressing all year. We never gave up on that."
Texas Tech quarterback Graham Harrell was 36-of-58 for a Cotton Bowl-record 364 yards and four touchdowns, and became both the NCAA career leader in touchdown passes (134) and the first player with multiple 5,000-yard seasons.
Although two All-American linemen and a big-play receiver are headed for the NFL, the program seems to be in good hands. The stars of this game — McCluster, quarterback Jevan Snead, and cornerback-punt returner Marshay Green — are all coming back.
In the final Cotton Bowl played in the stadium of the same name, the Red Raiders (11-2) converted a pair of early turnovers into a 14-0 lead. A team that stumbled on its way to the Big 12 and national championship games, then got left out of the BCS entirely, appeared to be channeling the disappointment against the SEC's fourth-best team, according to the polls.
But Snead led the Rebels to touchdowns on their next three drives. A field goal on the following series put Ole Miss ahead for the first time, just before halftime. Once Green returned an interception 65 yards for a touchdown and a 10-point lead early in the third quarter, the Rebels wouldn't be denied. By game's end, fans were chanting "S-E-C! S-E-C!" a message that came across loud and clear as schools from these leagues — No. 1 Florida and No. 2 Oklahoma — meet next week for the national title.
Even with time running out, Tech remained hopeful because of huge comebacks in its last two bowls. But every time the Red Raiders started to rise, they fell — failing on a fourth-down try after the Rebels missed a field goal, Harrell getting thrown for a safety following a recovered fumble, then blowing a 2-point conversion and failing to recover an onside kick attempt after their final touchdown.