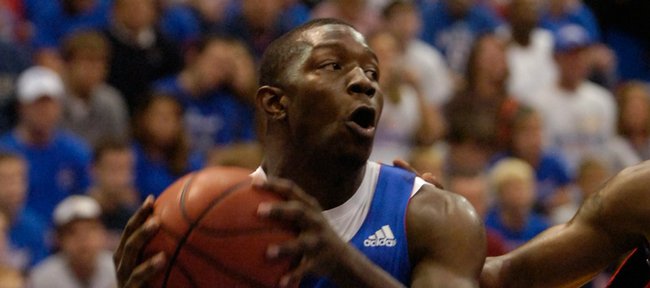 Mario Little does not want to red-shirt this season.
"I came here to play," said Little, last year's top-ranked junior college player out of Chipola (Fla.) College.
The 6-foot-5 guard, who has been kept off the court by a stress fracture in his left leg and most recently a broken bone in his left hand, is hoping to make his major-college debut today against No. 14-ranked Tennessee.
Tipoff is 1 p.m. in Allen Fieldhouse.
"Of course I want to play. It's up to coach (Bill) Self and our trainers," Little said Friday.
Little, who has practiced with contact the past two days, is a game-day decision, Self said Friday.
"I don't know. It's not coach-speak. I'd like to play him if we could," Self said. "It depends on practice and how he feels tomorrow (before game). I'd say right now there's more chance 'no' than 'yes.'''
Self knows Little wants to start contributing in games sooner rather than later.
"I think Mario, when his juices get flowing, there's a chance he can play," Self said, "even though it's hard to play a guy when he's had one full day of practice going against the 14th-ranked team in the country in a speed game when he's not played at that speed in six months. That's a little bit different. We'll see what happens with him."
If Little does play, he'll be wearing a protective glove on his left hand.
"Not like a snowball glove, like a little stretch baseball, football glove (with padding)," Little said.
As far as his immediate future ... "if I can play and help the team I'll play. If not I'll red-shirt," Little said, noting the topic "has been a big deal. A lot of people I know are suggesting I red-shirt. A lot want to see what I can do."
More like this story on KUsports.com