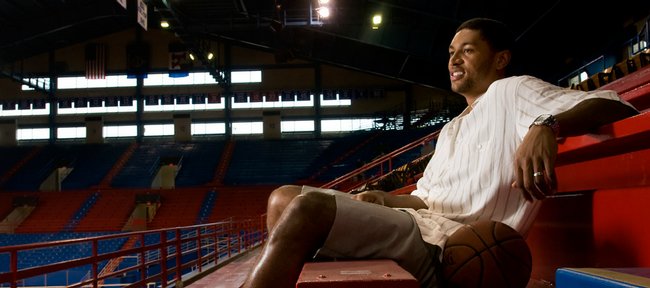 It's challenging, but not impossible, for Wayne Simien to follow the day-to-day fortunes of Kansas University's basketball team while living in Caceres, Spain.
"The toughest part has been having to wake up at 3 a.m., to check up on KU football and basketball and my Chiefs on the ESPN live ticker," said Simien, the former KU All-America power forward.
Since late October, Simien has been playing power forward and center for Cáceres Ciudad de Baloncesto in Spain's top pro hoops league.
"I keep up with everything Jayhawk by getting on KUSports.com daily and follow the game stats live on ESPN.com," added Simien, whose clock ticks seven hours ahead of the ones in Lawrence.
"It's tough to get a read on the team with only seeing highlight clips and reading articles, but I do know coach (Bill) Self and his staff will bring the best out of that young team."
Simien — he's averaging 16.2 points and 8.1 rebounds a game through 10 games — is pleased to report he's faring well during his comeback season of sorts overseas.
Remember, the 25-year-old Simien, who played for the Miami Heat two years, missed all of last season as he battled back from left knee surgery.
"My body is feeling good, and my knee has not been giving me any problems, which is very encouraging. We play one game a week and usually practice twice a day," said Simien, who has hit 60 percent of his floor shots and 76 percent of his free throws while logging 32 minutes a game.
"I'm still learning the 'Euro' style of playing. It's more of a halfcourt game, with not as much running, but the ball still bounces, and the hoop is still 10-feet high. I was surprised how different it is, and the traveling calls have been the hardest to figure out. I've had to almost erase some offensive moves from my arsenal, but am still able to be effective. The style of play is really physical in the paint. I can't believe I ever argued a call in the Big 12," he joked.
The 6-foot-9, 250-pound Simien is impressed at the popularity of the game in Spain.
"The fans are a lot like college fans, but I never would compare them to the Jayhawk Nation," Simien said.
He said he, his wife, Katie, and daughters Selah and Rael have adjusted well and are in no hurry for their European adventure to end this May, when they return to the U.S.
"We are really enjoying the city we live in. It's actually a lot like Lawrence, about 80,000 people with a good-sized university and lots of young people," Simien said of Caceres. "Thanks to having a good high school and college Spanish teacher, I have been able to communicate just fine with neighbors and teammates and am learning the language quickly.
"We have made some really good friends here in the city, and thanks to the Internet we can see and talk to our friends and family in the States nearly every day," added Simien, recently reunited with his parents, who traveled from Leavenworth overseas for Christmas.
"My family is enjoying this, and I wouldn't have been able to do this without them. My wife used to live in Spain, so a lot is familiar. It's one thing to visit another country, but to live there and immerse yourself in its culture is an amazing experience," added Simien, who also speaks regularly with former Jayhawk Aaron Miles, who plays for a team in Greece.
Of course, he's not the only former U.S. college star competing in Europe.
"I've run into some familiar faces that came through the fieldhouse when I was there. Taylor Coppenrath from Vermont and Pat Carrol from St. Joseph's and K-State's Jeremiah Massey is playing up the road in Madrid," Simien said. "There's still some talk of Richard Scott in these parts, which is cool because he is one of my all-time favorite Jayhawks."
Simien is counting his blessings as 2009 begins.
"I am happy I decided to come and play here in Europe. I feel very fortunate to be able to make a good living doing something I love and see the world," he said. "I will finish this season in Spain and make an effort to get back into the NBA this summer as well as run our second Called to Greatness camp (in Lawrence, information to be coming on his Website iamctg.org)."
His New Year's resolution?
"The Simien family New Year's resolution this year is to increase our charitable giving. The state of the U.S. economy has a lot of people worried and has led people to save for themselves and not give both of their time and finances," he said.
"Instead of raising our standard of living, we want to raise our standard of giving. It is better to give then receive: Acts 20:35," he added. "We would encourage people to consider the same."
• Big game Saturday: KU's basketball team (9-3) is slated to practice in Allen Fieldhouse this afternoon. Tennessee's squad (9-2) will practice tonight in preparation for Saturday's 1 p.m. game. Both practices are closed to the public.
"They're defending national champions, and they have a 31-game home win streak. They don't want to give it up," UT junior guard J.P. Price said in an interview with the Knoxville News Sentinel. "It'll probably be the toughest environment we've been in since we went to Memphis last year."
Tennessee defeated NCAA runner-up Memphis, 66-62, last Feb. 23 on the Tigers' home court.
• Historical perspective: KU and UT have yet to meet in men's basketball. The Vols are 2-0 all-time versus the Jayhawks in women's hoops. UT is also 2-0 versus KU all-time in football and 2-1 versus KU in baseball.
More like this story on KUsports.com