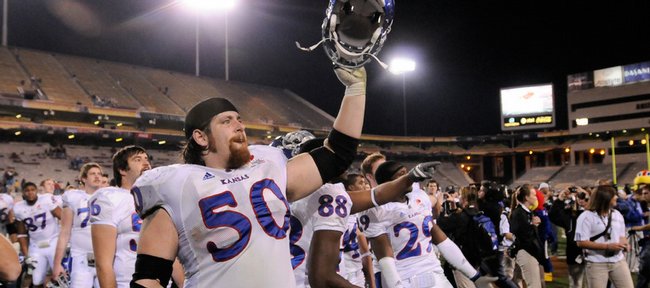 The Kansas University football team barely had completed its historic 42-21 Insight Bowl victory over Minnesota — the ink had barely dried on the box score, and players and coaches and cameramen still cluttered the field — and already players couldn't help but turn their attention to the projected promise of the 2009 season.
"I hope (fans) are excited, because I'm excited," said receiver Kerry Meier, as KU coach Mark Mangino accepted the school's sixth bowl trophy on a nearby stage. " ... We're going to enjoy this one tonight and enjoy this one until school starts, but we got a lot of talent coming back that's going to keep us hungry and keep us excited."
This is what happens when a team fresh off its second straight bowl victory and riding a wave of momentum like none the program ever has known, returns nearly every skill player it has, including a pair of future NFL receivers and a quarterback who, on a weekly basis, does things that defy conventional logic.
Of the seven Kansas players that ran, caught or threw the ball in Wednesday's victory, only one — senior receiver Dexton Fields — won't return next season. Offensive tackles Jeremiah Hatch and Jeff Spikes, who took their lumps this season as red-shirt freshmen, will be a year older, and it's hard to imagine standouts Todd Reesing, Dezmon Briscoe and Meier regressing too much heading into '09.
The biggest hole, of course, will be left by the departure of senior linebackers James Holt, Joe Mortensen and Mike Rivera, who played what Mangino called their best collective game of the season against Minnesota and long have been the anchors of the team's defense.
"We have some areas to improve in," Mangino said. "We may even need some immediate help in recruiting at an area or two, and we have to see how that plays out. ... But I can say with a great deal of confidence that, stay healthy and stay on track, we have a chance to be a very good football team next year."
Meanwhile, the Jayhawks' main competition in the Big 12 North figures to enter '09 in varying stages of the rebuilding process.
Nebraska, fresh off a 26-21 victory over Clemson in Thursday's Gator Bowl, will lose quarterback Joe Ganz to graduation and be forced to travel to Lawrence this time around.
There's Missouri, which will be breaking in a new quarterback, too, and potentially could lose both of its top two receivers in Jeremy Maclin and Chase Coffman.
And the prospects of the dark horse Kansas State Wildcats took a blow, as well, when it was leaked Thursday that quarterback Josh Freeman plans to enter this spring's NFL Draft.
Predictably, Mangino was in no hurry on Wednesday night to turn his attention to next season. Having seen up close what the burden of expectations can do to a team — just three hours down the road, a hyped Missouri team struggled to an underwhelming 10-4 record this season — Mangino seemed content to enjoy the moment and bask in the final game of a season that, despite its struggles (Texas Tech, Texas), had its share of high points, as well (Missouri, Minnesota).
"Gee whiz, I'm not really thinking about that right now," said the coach, who improved to 3-1 in bowl games at Kansas and has led the Jayhawks to 20 victories in the past two seasons. "We always have high expectations, and next year will be no different."
At least one player, however, couldn't help himself.
Before disappearing into a sea of white jerseys following Wednesday night's historic victory, Mortensen — having calculated what the Jayhawks return next season, and having seen the way the offensive ran all over the Gophers — has arrived at the conclusion that, indeed, the Jayhawks will be hoisting their first outright Big 12 North trophy in school history next fall.
"Definitely," said Mortensen, who, after playing his final game for the Jayhawks on Wednesday, will be forced to keep tabs on KU from afar next fall. "After beating Missouri, hell yeah."
More like this story on KUsports.com