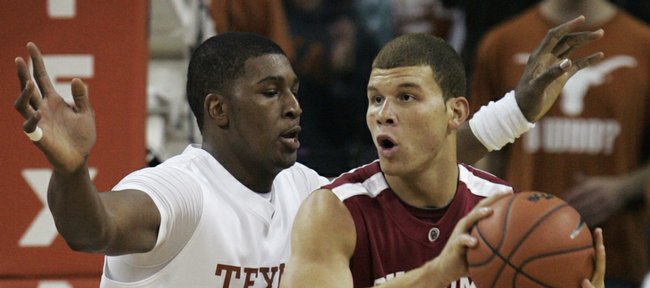 No. 3 Oklahoma's star forward Blake Griffin won't play in tonight's 8 p.m. match-up against No. 15 Kansas, according to a report by the Daily Oklahoman in Oklahoma City.
The decision was made after consulting with the OU medical staff, which suggested Griffin needed more time to heal after sustaining a concussion in Saturday's 73-68 loss to Texas.
OU coach Jeff Capel gave no timetable for how many games Griffin would miss. He mentioned earlier today on the Big 12 coaches teleconference that the Sooners would take no chances on rushing Griffin back for tonight's game at the Lloyd Noble Center in Norman, Okla.
"He won't have any (say)," Capel said of Griffin. "It's the medical staff when it's a situation like this. Blake would play. He wanted to come back in the second half (Saturday) and at least give it another try. But you dont mess around with something like this."
Coincidentally, the Jayhawks didn't see much of Griffin last year either. Griffin played only five minutes in KU's 85-55 rout of Oklahoma in Allen Fieldhouse before injuring his knee. He didn't score and was 0-for-2 from the field.
Griffin leads the country with 13.8 rebounds per game and leads the Big 12 with 22 points per game. He has 22 double-doubles this season, which is tops in the nation.
In Griffin's absence, look for Oklahoma to start Juan Pattillo or UCLA transfer Ryan Wright. On Saturday, Wright started the second half against Texas after Griffin suffered the injury. Pattillo averages 14 minutes a game, 6.3 points and 3.1 rebounds, while Wright averages 8.7 minutes per game, 2.2 points and 2.2 rebounds.
The winner of tonight's game will take sole possession of first place in the Big 12. Kansas enters at 22-5 overall and 11-1 in the conference. Oklahoma is 25-2 and 11-1.