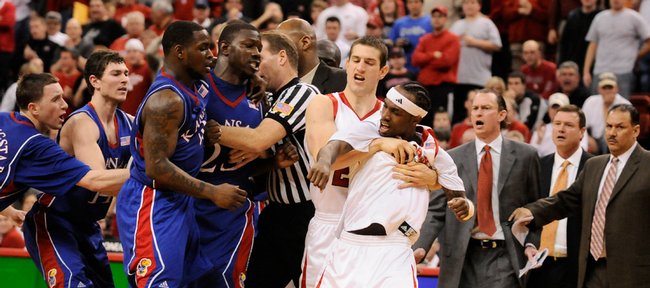 Cookie Miller expects to hear some boos and jeers in Allen Fieldhouse today.
"I know it's going to be something. I'm just looking forward to it. It doesn't matter what it is," Nebraska's 5-foot-7 sophomore point guard said of the reception he'll receive from Kansas University fans during today's 3 p.m. battle between the Jayhawks (21-5 overall, 10-1 Big 12) and Cornhuskers (16-8, 6-5).
"When I go wherever on the road, I always hear, 'The Cookie's gonna crumble,' or something funny toward me. I look forward to that," he added in a Friday interview with the Lincoln Journal-Star.
Miller and KU's Mario Little dove on the floor for possession of the basketball during what became a heated moment in KU's 68-62 victory over NU on Jan. 28 at Devaney Center in Lincoln.
Little had possession of the ball when Miller dove on top of him, reached around and tried to rip the ball free. Little wouldn't let go of the ball, so Miller kept tugging and tugging and finally wrestled it loose.
The refs went to the monitor and deemed no foul was committed. They also decided there was no reason to tag Miller with a technical foul.
"I was just trying to get the team hyped," Miller said Friday. "We weren't really getting anything done. I was just trying to get some emotion out of the team, get the team fired up."
Miller's animated behavior on the play did not go unnoticed by ESPN analyst Doug Gottlieb, who at the time said Miller "was acting like a punk."
Gottlieb was taken to task in the media by NU coach Doc Sadler, who said the announcer should apologize to Miller.
Gottlieb has issued no such apology.
"If you look at the replay," Gottlieb said in an Omaha radio interview, "there are 10 guys on the floor, and nine of them just standing up, dusting themselves off, getting ready for the next play, and Cookie Miller's trying to rip the basketball out of Mario Little's hands. ... He wasn't throwing any punches, and he didn't deserve to be thrown out of the game, but he was acting like a little punk."
The rematch is today, and Little exclaimed "no," when asked if there were any hard feelings toward Miller, who averages 7.3 points and 3.7 assists a game and outscored Little eight to four in the initial meeting.
"I don't know him as a person. I haven't thought about that at all," Little said. "I don't know him. He doesn't know me. No hard feelings."
Little, in fact, said he has spent no time thinking about the play in ensuing games.
KU is 5-1 since that first meeting, NU 4-1.
"I don't stay mad at anybody," Little said, acknowledging Miller likely will be booed.
"Yes, probably their whole team. He might get more boos than the rest of the team," Little added.
The first meeting, coincidentally, is the game in which center Cole Aldrich took an accidental shot to the nose from NU's Ryan Anderson and was later diagnosed with a broken schnoz.
"I didn't even know his nose was broken until he came back into the game with stuff in his nose. I went back and watched the film and was like, Oh, that was me,''' Anderson told the Journal-Star.
"I didn't mean to do it, man. If he's listening, I'm sorry. I'm sorry. Freak accident," Anderson added.
KU coach Bill Self said Aldrich busting his nose is simply something that can happen in the course of an intense league battle. He doesn't expect KU's fans to boo the Huskers because of that.
"That didn't have anything to do with anything," Self said of Aldrich getting hit in the face. "He got hit ... wrong place wrong time.. There was no dirty play at all with that.
"I hope the crowd is excited because they get a chance to see their team play, not because they are juiced for any other reason," Self added.
Aldrich — who was doubled team by NU's undersized players — scored just eight points with eight rebounds in Lincoln.
"It's tough going against a team like that, small, scrappy, run and gun, get out and pressure you all over the place," Aldrich said. "It's definitely a little difficult for myself to do well against those teams. Hopefully we'll be up to the challenge. We know they've got a good team this year."
Aldrich, who has been wearing a mask the past six games to protect his broken nose and a boot the last week to protect a lower left leg injury, left the fieldhouse early Friday evening with his left front tooth missing.
"Smile for the guys, Cole," KU coach Self said, grinning at Aldrich, who was headed to the dentist for some repair work.
The tooth that was knocked out Friday was a temporary tooth. He had his front tooth initially knocked out in the first of two meetings with Kansas State. Little had a lower front tooth knocked out in the rematch with the Wildcats.
"I don't think it got hit or anything. He bit into an apple or something," Self joked of Aldrich's losing the temporary tooth before practice Friday.
More like this story on KUsports.com