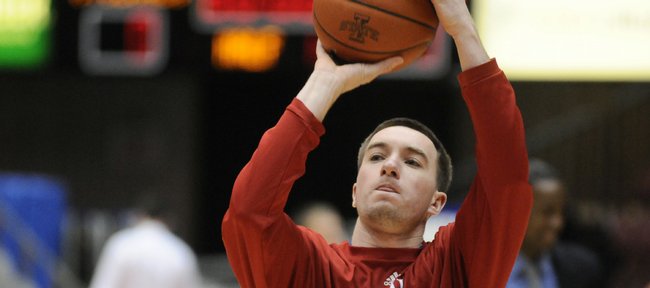 Kansas University guard/forward Brady Morningstar, who red-shirted last season, averages an Ironman-like 30.6 minutes per game through 26 games his red-shirt sophomore campaign.
Only junior point guard Sherron Collins (34.7) has logged more minutes on a KU team that will take a 21-5 record — 10-1 in Big 12 Conference play — into Saturday's 3 p.m. home contest against Nebraska (16-8, 6-5).
"I'm not in incredible shape. Lance Armstrong is in incredible shape. I'm in good shape, though," Morningstar said.
He's averaged 34.2 minutes per game in 11 conference contests, compared to his roommate Collins' team-leading 35.5 mpg mark.
"The minutes have not gotten me tired," Morningstar said. He played 33 minutes in Wednesday's 72-55 home victory over Iowa State. "I love playing out there and being out there. I'll be out there as long as coach needs me on the court."
Morningstar — he's played 30 or more minutes in 11 consecutive games — said he's made a conscious effort to take care of his body.
"Personally I've got to prepare myself to play, be hydrated, eat right, sleep right," Morningstar said.
He insists he never discusses minutes with coach Bill Self.
"No, he never says how much you are going to play," Morningstar said. "I never ask him or tell him I'm tired because I never want to come out of the game unless I'm injured and can't help the team."
Morningstar the last week or so has been wearing a boot on his left foot in response to a minor lower leg injury.
"I don't know how to explain it. It's like a bruise. A lot of guys get nicked up this time of year, on other teams as well. You've got to learn to play through it. Everything will be fine," Morningstar said.
KU coach Bill Self paid Morningstar a great compliment recently in explaining why he relies on him so much.
"Kansas won a national championship with a guy named (Jeff) Gueldner," Self said of the versatile guard who played a key role on KU's 1988 national title squad.
"Brady to me is a lot like Jeff. He makes shots when he's open. He guards the other team's best perimeter player for most of the game. He doesn't take many chances. He's very efficient."
Morningstar, who hit two of four three-point tries against Iowa State, has made 42 of 89 threes for a Big 12-best 47.2 percent mark.
Overall, he's made 63 of 138 shots for 45.7 percent en route to averaging 7.3 points per game (with 70 assists against 38 turnovers).
"Brady has worked at it. We always thought he could be a good shooter. His shot was inconsistent," Self said. "He was well-drilled in high school and worked on his shot a lot in prep school, but one thing we kept talking to him about is it's something he had to improve. He's put himself in position where he knows he can score."
Morningstar has put in the work to become a reliable deep shooting threat.
"Shooting every day is the main thing," Morningstar said. "If you want to have a good jump shot you need to get in the gym every day and have repetition, repetition, repetition. It's how shooters get better."
• Recruiting: Lance Stephenson, Rivals.com's No. 9-rated high school senior basketball player, will make an official recruiting trip to KU this weekend. Stephenson, a 6-foot-5 shooting guard from Lincoln High in Brooklyn, N.Y., has a final list of KU, St. John's, Maryland, Wake Forest and UCLA.
"I can see myself fitting in their program," Stephenson told Zagsblog.net, referring to the KU program. "They play as a team and they're just willing to win, so I'm just going to see what they're about and see how I can fit into the program."
More like this story on KUsports.com