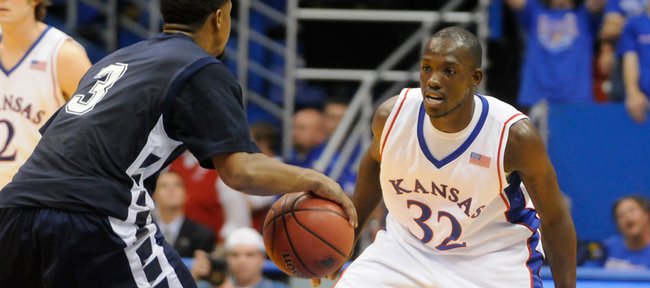 Kansas University junior guard Tyrone Appleton, who had played just 30 minutes all season, wasn't surprised when Bill Self turned to him during the first half of Saturday's KU-Kansas State game in Bramlage Coliseum.
"Like coach says, you never know when you are going to be called on, so be ready. He says at any time you can be in the game. It's your responsibility to be ready," Appleton said.
The 6-foot-2, 203 pounder out of Midland (Texas) College provided a much-needed surge of energy while guarding Denis Clemente during a four-minute first-half stint in KU's 85-74, come-from-behind victory. Appleton also worked one minute the second half.
His five-minute outing was his longest since a five-minute stint against Coppin State way back on Nov. 28.
Did coach Self go with Appleton for defense?
"Yes," Self said, "also to get another ballhandler in the game."
Appleton, who says his struggles shooting the ball have hampered his bid for minutes, averaged 13.2 points off 46 percent shooting and 5.2 assists as a starter his sophomore season at Midland.
"At first, I was (frustrated with playing time here), then I knew what my problem was. I knew the reason I wasn't playing. I got in the gym more to shoot the ball," Appleton said.
"We're winning, how can you be upset? Coach knows what he's doing. He feels everything is working out well.
"As long as we're winning, I'm happy. That's always been my motto: If we win, I could have two points or no points. If we win, we win. That's all that matters to me."
The Gary, Ind., native said he's committed to finishing his career at KU.
"I love KU. KU is a fun place," said Appleton, who was willing to respond to whispers that he might want to transfer in search of more playing time.
"I go to the Internet. I read stuff," he said. "I read a lot of things, but I'm going to stay here. I mean, it's home now. I am a junior in college. I've got one year left. There's no reason for me to leave."
Known as a good defender, Appleton is committed to improving his work on the offensive end.
"Yes, I'm always first to practice to work on my shot. The coaches have noticed it, too," Appleton said. "Before practice, after practice ... my shot is getting better, too."
As one of KU's elder statesmen, the 22-year-old Appleton tries to set a good example, cheering for those ahead of him in the rotation. He was thrilled by KU's comeback victory Saturday, which upped KU's record to 20-5 overall and 9-1 in the Big 12.
"I thought a lot of guys showed toughness. A lot of freshmen showed a lot of maturity, like they are growing up real fast," Appleton said. "A lot of teams would have quit (after falling behind 30-14 on road). We kept fighting and came up with the victory."
22-point comeback was bigger
It was announced after the game that KU's come-from-behind win was the biggest in the Self era and tied for the second largest comeback in a victory since KU specialty records were kept in 1988-89.
KU, however, did erase a 22-point deficit in an 88-84 overtime victory over Texas in the 2007 Big 12 tournament title game in Oklahoma City. That's the biggest comeback in KU history as well as the Self era.
Earlier that season, KU erased a 15-point deficit to beat the Longhorns in Lawrence. KU overcame a 19-point deficit to down UCLA, 85-70, on Jan. 2, 1995. KU dug out of a 16-point hole to top Texas Tech, 86-77, on Jan. 29, 1997 in Lubbock.
Chalmers back in town
Former KU guard Mario Chalmers, a first-year member of the Miami Heat, attended the KU-Oklahoma women's game on Saturday night in Allen Fieldhouse.
"It's my first time back (since season started). It's good to come back and show support for the girls team. Our boys got a victory earlier," Chalmers said.
Why didn't he make the trip to Manhattan to watch KU beat K-State?
"I waited too long to ask coach Self for tickets. That was my fault," Chalmers said with a laugh.
The second-round NBA Draft pick has thoroughly enjoyed his first season with the Heat.
"We're trying to make a race for the playoffs, get a higher seed and go as far as we can," Chalmers said.
"It's a lot of fun playing at the next level, learning the game and playing with players like Dwyane Wade," Chalmers said. "He (Wade) is a cool guy. He shows me the game. I can learn from him. He's one of my good friends now."
Of KU's men's team, Chalmers said: "They are pretty good. It's like the team was my freshman year."
Home sweet home
KU will meet Iowa State at 7 p.m. Wednesday in Allen Fieldhouse. After that, Nebraska invades for a 3 p.m. tipoff on Saturday. After this week, KU will have just two remaining home games — March 1 versus Missouri and March 7 against Texas.
More like this story on KUsports.com