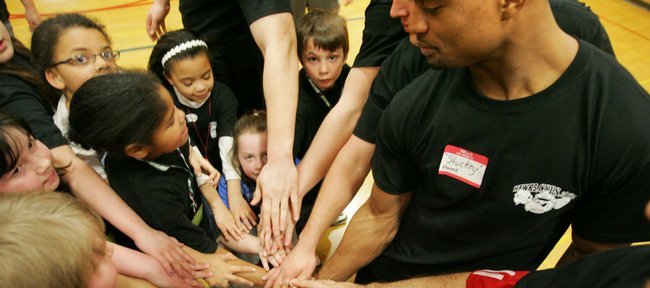 For 11-year-old Devon Spoonhunter and her 10-year-old friend Shaye White, the coolest thing about Saturday's Hawks, Cops & Kids event was watching the water vibrate as members of Kansas University's drum line played at the Robinson Center indoor pool.
The funniest moment was Big Jay's antics on the diving board. But the best part was meeting new people, Spoonhunter said. For White, it was playing ultimate football, a combination of football and ultimate Frisbee, with members of KU's football team. There also were games of volleyball, soccer, freeze tag and even telephone.
"I wish we could have this every day, or at least once a week," White said. "It was really fun."
Saturday's annual event — sponsored by KU Public Safety, Kansas Athletics and Big Brothers Big Sisters of Douglas County — drew more than 100 children from the region.
It wasn't all games as the children listened to important messages from local law enforcement agencies and student athletes about safety, drugs, fitness and nutrition.
KU police captain Schuyler Bailey said part of the goal of Saturday's event was for children to build positive connections with public safety officers.
"Yes, we drive police cars, we are in uniform, we carry lots of stuff on us. At any time, today or in the future, whenever you see a law enforcement officer, and you have a question, you have a need, you have a concern, don't be afraid to approach us," Bailey said.
Along with getting to meet some Jayhawks, the children enjoyed checking out the police cars — sirens and all — and eating lunch on the bleachers in the pool area.
And it wasn't just school children who were having fun.
"I'm out here sweating harder than most of the little kids," KU junior cornerback Justin Thornton said. "It is a great time."