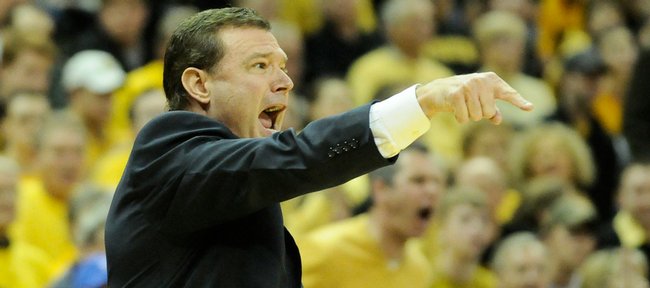 Manhattan — Perhaps for old time's sake, the media resurrected talk of "The Streak" this week.
You remember: Kansas University's 24-game men's basketball win streak over Kansas State on the Wildcats' homecourt, a streak that finally ended when the Michael Beasley-led Wildcats slapped KU, 84-75, Jan. 30, 2008, at Bramlage Coliseum.
"I wish the streak was still intact. That means we would have won over there last year," KU coach Bill Self said.
His KU teams are 4-1 overall in Manhattan entering today's 2:30 p.m. battle against the Wildcats.
"There never was any pressure on us to win because of the streak," Self said. "The only time I felt like there was pressure on us to win was my first year here. They'd won over there 18 times in a row or whatever (20 in a row) before I got here.
"I don't feel any pressure to win because of the streak or pressure to get the streak back. The pressure to win is because it's a rival, and we want to do our best in the league and have a chance to win it. That's where the pressure is, if there is pressure," Self added.
KU (19-5, 8-1), which is a game and a half behind Oklahoma in the league race, has dominated rival KSU (17-7, 6-4) of late, winning 37 of the past 39 meetings, including an 87-71 victory on Jan. 13 in Allen Fieldhouse.
The Wildcats' most recent victory over KU is one the Jayhawks find difficult to erase from their memories.
"It was tough. There are few words to describe what that feeling is," KU sophomore Cole Aldrich said of the sight of 1,000 or so KSU students rushing the court after last year's streak-busting game at Bramlage.
"I would say to our fans it was, definitely," Aldrich added, asked if the rare loss to the 'Cats was devastating.
"Our fans really embraced it. As a team, we take every game as it is, whether it's a 2,000-game streak or we haven't beaten them in 10 years."
One significant streak is on the line today — KSU's six-game winning streak in Big 12 Conference play. It's a streak that followed an 0-4 start and has Wildcat fans dreaming of another big victory over KU today.
"They have to," Kansas State junior guard Denis Clemente said, asked if the fans would rush the court again if KSU prevailed.
"Write it down. Denis said it's mandatory," sophomore guard Jacob Pullen said.
Pullen, who had 20 points and four assists in last year's KSU victory over KU, scored 13 points off 5-of-15 shooting with two assists in this year's loss in Lawrence.
Clemente, a transfer from the University of Miami (Fla.), scored nine points off 3-of-13 shooting in Lawrence — a game in which the Wildcats fell behind, 18-0, early before rallying within three points the second half.
"They beat us earlier this year. We have to understand that by us beating them last year, we created interest in this game again," K-State coach Frank Martin said. "But this year has nothing to do with last year. The last game has nothing to do with this game. It's the next game on the schedule.
"The one thing I did say to our team in the locker room about Kansas (after loss in Lawrence) is that I don't mind getting beat if I know I've got another opportunity to beat them. That's what we have (today). We've got a chance to make up for a team that beat us earlier this year. But as far as all that stuff, we're going to be consistent with our approach, regardless of who is on the other side."
Of course, KSU fans may be thinking otherwise — that this is a must-win for state pride.
"The town is so excited about it. It's our biggest rival," senior forward Darren Kent said. "(On campus) it's always, 'You've got to beat KU. You've got to beat KU.' It's fun to have all the students and everybody really excited about the game and know they're rooting for you.
"We're playing well right now, so if we can get a win against those guys it really boosts our strength of schedule to get into the NCAA Tournament, so it's an important game for us."
It's also an important game for the Jayhawks, who lost to another rival — Missouri —on Monday night in Columbia, Mo. MU fans, of course, stormed the court after that game.
"The atmosphere in Bramlage last year was unbelievable," said Self, who is 12-2 all-time versus KSU, 11-2 as KU coach. "It was terrific, and it'll be that good this year and should be."
He grinned when asked to describe the intense atmosphere in the stands at both Mizzou and KSU.
"I didn't know either one of them disliked us," Self said. "I always thought the Missouri game was more hatred and the Kansas State game was more 'respected rivalry' maybe is a better word."
KSU coach Martin definitely respects his rival to the east.
"I've got so much respect for what Bill does and how hard his teams play," Martin said. "We'll get their best shot. We're going to line up and deal with a team that's kind of wounded right now, and we have to make sure we match that and understand that.
"I'd like to play KU after they've won four or five in a row and they're kind of a little fat. Last time we played them, they'd lost to Michigan State by 15, 16, and it was their (Big 12) home opener and, we kind of walked into a buzzsaw. Now they're coming off a loss."
Self realizes KU is to face a team brimming with confidence.
"They are playing at a high level right now, really high," Self said. "To me, the biggest thing is, they are good. They are a team with no doubts right now."
That's what a streak — a six-game win streak in tough league play — will do for a squad.
More like this story on KUsports.com