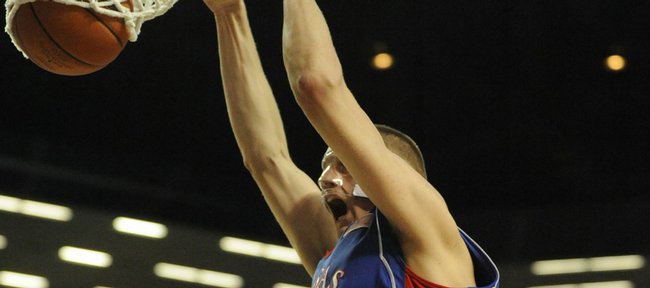 Audio clips
2009 KU-KSU Feb. 14
Reader poll
Brady Morningstar

7%

44 votes

Sherron Collins

2%

13 votes

Cole Aldrich

39%

249 votes

Other

0%

3 votes

Marcus Morris

50%

318 votes
627 total votes.
Reader poll
Brady Morningstar

26%

64 votes

Marcus Morris

58%

142 votes

Sherron Collins

2%

5 votes

Cole Aldrich

13%

32 votes

Other

0%

1 vote
244 total votes.
Reader poll
Get Cole Aldrich the ball

59%

44 votes

Get Sherron Collins going

28%

21 votes

Limit Denis Clemente on defense

8%

6 votes

Limit Jacob Pullen on defense

4%

3 votes
74 total votes.
FINAL: KU defeats KSU, 85-74
Collins hits one free throw to seal it, and KU comes away with the 11-point victory. Collins tosses the ball in the air at the buzzer before smiling and waving his arms at some of the KSU fans. They respond by throwing some paper and trash on the floor.
KU scoring
Aldrich 21, Collins 19, Marcus Morris 15, Morningstar 12, Reed 7, Releford 4, Taylor 4, Markieff Morris 2, Thomas 1.
KU was 25-for-44 from the floor (56.2 percent), 8-for-12 from three (66.7 percent) and 27-for-35 from the free-throw line (77.4 percent).
KSU was 25-for-59 from the floor (42.2 percent), 8-for-19 from three (42.4 percent) and 16-for-26 from the free-throw line (61.4 percent).
KSU out-rebounded KU, 29-27. KU had 16 turnovers to KSU's 12.
KU 84/KSU 74 — 11.6 seconds left in game
Kent gets a turn-around to cut the lead to two, but Aldrich answers with a lay-in of his own.
Morningstar fouls out with 2:07 left. He was sixth in the conference in least fouls per game, averaging just 2.06 whistles per 40 minutes.
Pullen gets two free throws, but KU attacks the press well. Aldrich misses a short shot, but Marcus Morris follows with the rebound and stickback.
Taylor fouls out at the 1:46 mark. The officials are calling all the hand-checks now. How will KU respond without two if its best ball-handlers in there?
Travis Releford is in there instead of Little, and he clanks two free throws. Releford was just 11-for-23 from the line before those shots.
Clemente misses a floater, and Reed rips down the rebound before getting hacked. He makes both free throws.
KSU travels on the other end, and time is running out on the Wildcats' hopes of a comeback. Marcus Morris makes two free throws, and the lead is back up to 10.
Releford stays in, and after getting fouled, he makes his next two free throws.
KU 72/KSU 68 — 3:59 left in game
Marcus Morris gets a steal, but Reed turns it over on the other end trying a behind-the-back dribble. The Jayhawks are being attacked instead of attacking.
Collins gets double-teamed and immediately tucks the ball. Two KSU players reach in for a jump ball. KU has to stop playing scared.
Pullen hits a three and gets fouled by Morningstar, and just like that, KU's big lead has evaporated. Timeout Jayhawks, who have had their lead cut to two.
KU once again has found Aldrich. Twice KU lobs it inside, and Aldrich gets two free throws and also a three-point play out of it. The center is pumped, too, chest-bumping Collins afterwards.
KU 65/KSU 59 — 6:51 left in game
Self had Tyrone Appleton sitting at the scorer's table waiting to check in for Taylor, but the officials didn't see him. Seconds later, Taylor picked up his fourth foul, and Self was irate that Appleton wasn't able to check in to save Taylor's fourth foul.
This is the point in the MU game where KU stopped attacking offensively. The Jayhawks can't afford to do that here. A layup by Kent, and KSU has trimmed the lead down to six.
Morningstar gets a turnover, but up eight, Collins jacks up a quick three. Self pushes his temples with both hands. Bad shot by KU's leader.
KU 61/KSU 51 — 11:37 left in game
Crucial mistake by Clemente, who picks up a technical foul. KSU loses possession, and Collins hits two free throws. Reed follows with a three after the foul shots, and KU gets a free five points courtesy of the K-State guard.
Collins follows with a deep three, and KU takes a 10-point lead at 61-51. The technical has swung the momentum towards the Jayhawks.
KU 53/KSU 49 — 14:06 left in game
Morningstar buries another big three for KU. He's 4-for-4 from deep, and KU's tied it again at 49.
The Jayhawks go back to the Triangle-and-2, and KSU looks a little confused on how to attack it, finally forcing up a bad shot.
A strong drive from Marcus Morris nets him two free throws, and he hits both.
The next possession, Aldrich throws down an alley-oop, and the Jayhawks have a 9-0 run.
KSU 49/KU 46 — 15:53 left in game
It seems like this happens every second half, but KU immediately feeds Aldrich in the post, and he hits a turn-around to give KU a one-point lead.
Clemente burns Taylor on a drive to cap a 6-0 KSU run, but KU dumps it back inside to Aldrich to get two of its own.
The game is starting to resemble a sloppy bar fight. Both teams are scrapping for loose balls, and the fans are getting fired up at every non-call.
KU scoring
Collins 9, Morningstar 9, Marcus Morris 9, Aldrich 8, Markieff Morris 2, Taylor 2, Releford 2, Thomas 1.
KU was 16-for-28 from the floor (57.1 percent), 5-for-8 from three (62.5 percent) and 5-for-10 from the free-throw line (50 percent).
KSU was 14-for-31 from the floor (45.2 percent), 7-for-10 from three (70 percent) and 8-for-10 from the free-throw line (80 percent).
Quick halftime thoughts
• What an unexpected boost by Marcus Morris. Nine points, three assists, one steal and no turnovers in nine minutes. If KU wins, it will be because of his final four minutes of the first half.
• Clemente looked great in the first half. Confident and fast, KU tried a ton of different defenses to stop him, and not much worked. We'll see how the Jayhawks line up against him in the second half.
• Let's not forget about Morningstar's contributions, either. Nine points, 3-for-3 from three with a steal and turnover in 17 minutes.
KSU 43/KU 42 — Halftime
Marcus Morris has picked the Jayhawks up and is carrying them. He gets two consecutive steals, slapping the ball away from KSU's guards. The steals lead to fast-break layups for Tyshawn Taylor and Sherron Collins.
Marcus Morris cleans up the next defensive rebound, and Aldrich hits a pair of free throws to make it a three-point game.
After another KSU miss, Marcus doesn't hesitate with a three-pointer from the top, and he drains it. The big man is playing with some confidence now. Quick 11-0 run for KU, and the game is suddenly tied at 38.
Pullen breaks the KSU drought, hitting a huge three. The Wildcats are shooting 77.8 percent from three (7-for-9).
Collins drives on KU's last possession, finding Morningstar in the corner for a three just before the buzzer.
And after all that, the Jayhawks are down just one at the break.
KSU 38/KU 29 — 3:32 left in 1st half
Marcus Morris checks back in, and instead of fading away, he makes a move toward the basket and scores. That was the best (and strongest) move he's had today.
Another nice play by Marcus, who used a shake-and-bake move on the baseline to draw two defenders before dishing to Aldrich for a slam.
Clemente hits another three (KSU is 6-for-8 from three) but Collins answers with a trey of his own.
KU looks to be settling down offensively. The passes are better, and KSU's defense seems to have let up just a little bit with a big lead.
Marcus Morris comes through again, rebounding a Morningstar three and putting it back in. KU has trimmed the lead to 34-26, and KSU coach Frank Martin calls timeout.
It looks like KU has gone to a Triangle-and-2 defense. Clemente still drives around it, banking one off the glass for two. Clemente has 16 points on 6-for-9 shooting.
KSU 30/KU 17 — 7:42 left in 1st half
Travis Releford breaks KU's scoreless streak with a layup, but Clemente follows with a three. KSU is 4-for-5 from three-point range.
Clemente curls around another screen and hits a three. It seems like he's shooting it before even looking up at the basket. He's 3-for-5 from deep, and now the Wildcats are 5-for-7. Self uses his third timeout.
More turnovers for KU. Collins loses it, and Pullen turns it into a layup. Releford's pass is swatted away, and the Jayhawks are up to five turnovers.
Quintrell Thomas is in, and he makes one of two free throws after getting fouled.
Tyrone Appleton checks in for Collins. This is reminiscent of the Michigan State game where Self is trying everything and everyone.
With a weak offensive lineup on the court, Brady Morningstar curls around a screen and hits a three. He seems to know just when KU needs him to score.
KSU 20/KU 11 — 11:52 left in 1st half
Both teams settle down defensively. Markieff Morris misses a pair of free throws for KU, and after getting a nice feed inside, he gets blocked from behind by Jamar Samuels. Markieff needed to try to dunk that one in traffic, but his timidness costs the Jayhawks.
Denis Clemente hits a three on the other end, and Self gets a timeout.
A layup by Fred Brown followed by a lay-in and foul by Dominique Sutton, and Self is forced to use another timeout. That's a 10-0 run for KSU, and the Jayhawks haven't scored in the last 4:16.
KU 11/KSU 10 — 15:34 left in 1st half
Sherron Collins starts strong, driving in before banking a shot off the glass and in.
Jacob Pullen responds, though, knocking in a pair of deep three-point attempts. He had 20 points last year against KU in Bramlage, and he's off to a good shooting start so far.
Not much defense early on from either team. KSU has done a good job of recognizing the mismatch of Mario Little guarding Darren Kent. Kent has been able to easily back down Little toward the basket in the earlygoing.
2:28 p.m.
Bill Walker is here. No sign of Michael Beasley that I've seen.
2:10 p.m.
One thing to keep an eye on in this game will be the how the game is called from an officiating standpoint.
The more closely the game is called, the better chance KU has of winning.
KSU is known for its pressure defense, which forces teams into turnovers and also out of their offensive sets. Obviously, a high number of hand-checks would limit how hard KSU could pressure the ball.
Also, though the Wildcats have played much better defense lately, they still have been unable to keep opposing teams off the free-throw line.
In fact, the following are the number of free throws opponents have shot against KSU in conference play:
Oklahoma — 21
Kansas — 37
Nebraska — 18
Baylor — 18
Colorado — 30
Missouri — 21
Texas — 39
Iowa State — 14
Texas A&M; — 30
Texas Tech — 27
In Big 12 play, KSU's opponents have averaged 25.5 free throws per game. For comparison purposes, KU has been a relatively foul-prone team as well, but in conference play, the Jayhawks have only allowed 20.7 opponent free throws per game.
So how can KU exploit this? The best way would be to get the ball in the hands of its playmakers. Statistically, Sherron Collins (4.9 fouls drawn/40 minutes) and Cole Aldrich (4.8 fouls drawn/40 minutes) are two of the Jayhawks' top three foul-drawers.
Marcus Morris is tops on the team (5.5 fouls drawn/40 minutes).
Anyways, I'm thinking if you're a KU fan, you should be cheering for both the Jayhawks and also for a lot of whistles.
1:20 p.m.
A few minutes ago, KSU coach Frank Martin came onto the court to talk to the students. After saying, "We have the best student fans in the country," he said that the fans needed to do two things today:
• "Show the whole country who has the best home-court advantage in the United States of America."
• "Let's join hands and get a win."
KU is shooting around in front of me, which has brought out the chants.
One of the loud ones was "El-e-va-tor!" directed at Sherron Collins, who laughed it off.
The next one was "Sex of-fend-er!" once again directed at Collins.
1 p.m.
Welcome back to the Newell Post Live, coming to you from Bramlage Coliseum in Manhattan where the 16th-ranked Kansas Jayhawks are getting set to take on the Kansas State Wildcats.
I was going to start this blog with a statistical analysis, but that was before Gary Bedore, 6Sports' Andrew Baker and I pulled up to Bramlage in our "6News Lawrence" Jeep.
We passed hundreds and hundreds of KSU students, lined up waiting to get into the building.
When we parked about 200 feet away, we figured we were safe.
We were wrong.
I took one step out of the vehicle when I heard a chorus of boos from the students far away. They must be mad about something, I thought.
I looked up to see where their anger was directed at.
Turned out it was me.
Seeing "Lawrence" on the Jeep was all the students needed. Soon, 200-300 students were booing us and heckling us as we made our way toward Bramlage Coliseum (If I'm getting this right, Me=Lawrence=KU=Bad. Did I do my math correctly?) That included the line of the day: "Nice khakis, D-Bag!"
"I think he's talking to you," Andrew said with a smirk.
I've never been to Bramlage for a KU-KSU basketball game. At the same time, I went to KU, so I know kind of how these rivalries have gone.
I will say this: MU is KU's biggest rival. Both teams have a mutual dislike for each other that goes back more than a century.
I also will say this, though: Anyone expecting it to be easier for KU to play at Bramlage today than it was to play at Mizzou Arena on Monday is very, very wrong.
From being here 10 minutes, I will tell you that this crowd will be better, louder and more desperate to win than MU's.
If the fans here see a KU trainer walking on the court, they all boo. If they see one student wearing red in the student section, they all boo. If they see a media member leaving a vehicle with the word "Lawrence" on it, they all boo.
Through 20 minutes, I would say the hatred here for KU surpasses the hatred I saw in Columbia, Mo.
That surprised me.
Get used to it, KU fans. As long as KSU has a competitive basketball team and the fans are interested like they are today, the Jayhawks have a new toughest place to play each year, and that's Bramlage Coliseum.
More like this story on KUsports.com