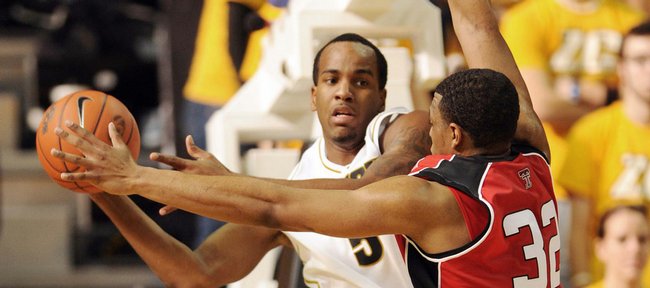 Columbia, Mo. — Mizzou Arena will be rocking tonight.
"Oh my gosh," University of Missouri senior forward Leo Lyons told the Columbia Tribune, when asked how loud it'll be in the 15,061-seat facility for an 8 p.m. Border War battle between Kansas University (19-4, 8-0) and MU (20-4, 7-2).
"People thought they'd seen something when Baylor was there (for MU's 89-72 victory on Jan. 31). I just know this means more to them (fans) than a national championship does. I know it's going to be packed."
The Tigers — who have won 15 consecutive home games and outscored the opposition 90.5 ppg to 62.0 in that span — have lost two straight games to KU in Mizzou Arena.
Overall, KU has won five consecutive games, nine of 11 and 14 of 17 versus the Tigers, who believe they are on equal footing with the Jayhawks entering this game.
"Just knowing the confidence I've had, I've always thought we were better (team) going into the game," said Lyons. He enters with a 14.6 scoring, 5.7 rebound average. "That's the type of confidence you have to have. But this year on paper it says it (is even). We're going to go in with that mentality and try to get a win."
Senior forward DeMarre Carroll, who scored 31 points in Saturday's 82-68 victory at Iowa State and averages a team-leading 17.3 points per game, said there's "no danger" of MU being overconfident tonight.
"We're going to prepare just like we prepare for Iowa State, Baylor, Texas. I'm going to try my best to keep these guys level-headed and see if my leadership skills can work out. It's going to be sold out, and it's going to be real loud," he said.
KU coach Bill Self, who is 12-2 overall against Missouri — 9-2 at KU — hopes his squad can continue its success on the road, where the Jayhawks are 4-0 in Big 12 games.
"We've had good games there," Self said of Mizzou Arena, where KU is 2-2. "It's a great atmosphere. I bet they (MU fans) are as excited about their team as they have been in a long time. I bet the place will be jumping."
Self has been impressed with Carroll.
"To me, Carroll is first-team all-league no matter how you slice it," Self said. "Everything runs through him. He makes plays for other people. He keeps balls alive.
"Mike (Anderson, MU coach) really has them guarding and playing well," Self added. "It seems to me it's a fun team to coach. They are sharing it. They have interchangeable parts."
Anderson is equally complimentary of KU.
"They continue to play unselfish basketball. They're an attack team," Anderson said. "They're the national champs until someone else dethrones them. So they're playing with a swagger, I think, and he (Sherron Collins) has done a tremendous job of taking the leadership role on that basketball team and knowing that he's going to be the focal point of their team. He and (Cole) Aldrich, and the young guys are following their lead."
Notes:
Used to winning: MU's last victory over KU was an 89-86 overtime decision on Jan. 16, 2006 in Columbia.
"Not too many guys on the team have lost to Missouri," Aldrich said. He is 2-0, Collins 4-0 versus MU.
"It's a whole new team, a bunch of new guys. It doesn't matter if we don't have anybody ... if they don't have anybody. It's always a good game."
KU freshman Tyshawn Taylor on whether KU can handle MU's fullcourt pressure defense: "Tennessee pressed us the whole game, and we handled that well. I think we can handle the press well."
On the KU-MU series: "I only know what people have told me. It goes back a long time, way before any of us were around. We don't like each other, I know that. I don't like them. They don't like me I guess."
On whether there's anything like KU-MU back in his home state of New Jersey: "Probably Rutgers-Seton Hall, the only two in-state colleges, but that's nowhere as big as this is."
MU guard J.T. Tiller on KU: "Just like us, they have very good depth, and their young guys are stepping up just like our young guys. It should make for a very good matchup."
Pump N Run represented: KU's Travis Releford and MU's Marcus Denmon are graduates of the summer KC Pump N Run program.
"Denmon can shoot it real well. I played with him in the summer. He's a good all-around player," Releford said. "We played summer ball, never really hung out. He's a good guy and good player."
K.C. native Releford was asked if he "hated" Missouri growing up.
"No, not until I got here. It's a must. You have to hate Missouri," Releford said.
Stats, facts: KU is shooting for its 20th consecutive 20-victory season. ... KU leads the series with Missouri, 166-93, including a 63-52 record in Columbia. KU has won five straight, nine of the last 11 and 14 of the past 17 matchups with MU. .... MU is 2-0 vs. ranked teams. MU beat USC in Puerto Rico and Texas in Austin. ... MU averages 90.5 points a game at home and has a 28.5 ppg average margin of victory.
Goering services set: A funeral service for former Topeka Capital-Journal sports writer and editor Pete Goering will be held at 10 a.m. Wednesday at Christ the King Catholic Church in Topeka. Visitation will be from 5 p.m. to 7:30 p.m. Tuesday at Christ the King. Goering covered KU sports for many years. He died on Saturday at the age of 60 following a two-year battle with cancer.
More like this story on KUsports.com