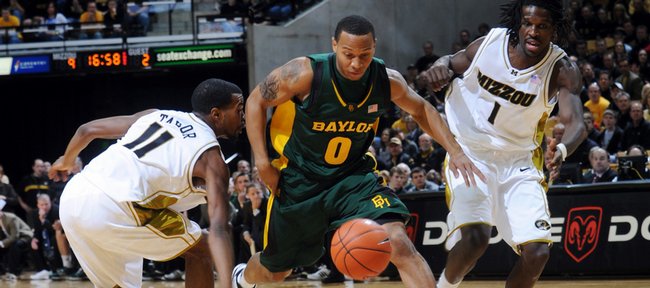 Baylor University basketball fans will be decked out in Bears' T-shirts as part of a "white-out" promotion for tonight's BU-Kansas game at 10,347-seat Ferrell Center.
Whether former White House residents George W. Bush and his wife, Laura — who own a ranch in nearby Crawford — are part of the 8 p.m. proceedings is anybody's guess.
The two attended Wednesday's Baylor-Oklahoma women's game in Waco and are big sports fans of the many Texas universities.
"If President Bush shows up Monday, that'd be crazy. It was great meeting him at the White House and all that," said KU sophomore guard Tyrel Reed. He and the rest of the 2008 NCAA-champion Jayhawks met Bush in a Rose Garden ceremony last June 3.
"That would be so cool having a former president at the game. It'd be an honor for him to watch us play ball."
Word in Waco is that Bush has expressed interest to sixth-year Bears coach Scott Drew about attending a men's game this season.
Locals, for what it's worth, do not believe that night is tonight.
It could be just as well for the young Jayhawks (17-4, 6-0), who will need to focus all eyes on the court — and not in the stands — in trying to conquer a veteran Bears (15-6, 3-4) team looking for its second victory against KU in school history.
The Bears, who have lost seven straight to the Jayhawks since an 85-77 victory in 2001 in Waco — and are 1-13 all-time versus KU — start three seniors, one junior and one freshman.
"Someone commented to me and said, 'You have a voice (this year),''' BU coach Drew said. "The good thing when you have five seniors (three juniors) and great leadership, you don't have to talk as much in practice. They do a great job setting the tone and getting across what needs to be passed on to our younger players."
Senior guard Curtis Jerrells leads the Bears in scoring at 16.8 points per game.
He's followed by sophomore guard LaceDarius Dunn (68 of 165 threes), who has come off the bench to hit for 16.5 ppg. He has just 11 assists in 575 minutes played.
Senior forward Kevin Rogers, senior guard Henry Dugat and junior guard Tweety Carter average 12.6, 12.3 and 10.6 ppg, respectively.
"For us, it's something new from the standpoint that most of these guys — when we started to build our program — all played major minutes as freshmen and as sophomores and juniors and are now seniors," Drew said.
"I think that's what's helped with the parity in college basketball. Teams that are junior- and senior-laden and have that experience tend to fare better than some teams that have one- or two-and-done players where it takes time to build chemistry."
The experienced Bears, who advanced to the NCAA Tournament last March for the first time since 1987-88 (losing to Purdue in the first round to complete a 21-11 year), have struggled of late after getting off to a 12-1 start.
BU has lost three in a row and five of eight heading into tonight's contest.
"Where are we now ... focused, ready," Drew said last week, shrugging off talk the team was sputtering. "We have enough returning players. They know the grind of the Big 12, the emotions. It's like a roller coaster. You are up on top and on the bottom in the same week. You are only as good as your last game. Our guys know that."
The Bears in the league have beaten Texas Tech and Oklahoma State at home and won at Kansas State. BU has lost at home to Texas and dropped road contests at Oklahoma, Texas A&M; and Mizzou. In the nonconference season, BU beat Providence, Arizona State and Washington State and fell to Wake Forest and South Carolina.
"All our losses are to good teams," Drew said.
KU beat Baylor, 100-90, last Feb. 9 in an Allen Fieldhouse shootout. KU outscored the Bears, 64-57, the second half.
Jerrells, a 6-foot-1 guard from Austin, Texas, had 30 points off 11-of-21 shooting. Dunn, a 6-4 sophomore from Monroe, La., contributed 23 off the bench. He hit five of 10 threes on a day BU hit 12 of 29 to KU's zero of nine.
Darrell Arthur scored 23 points, Russell Robinson 22 and Sherron Collins 17 off the bench for KU.
"It's going to be fun. It's going to be a fast-paced game," KU junior Collins said. "Everybody's going to be running. They've got good guards, good players. It's Big Monday. We'll be ready for it."
Self is also wary of talented frontcourt players (6-9) Rogers (8.0 rebounds a game), 6-7 freshman Quincy Acy (7.0 ppg, 4.7 rpg) and 7-1 Mamadou Diene (13 blocks in 18 games).
"They have more size, but are not starting more size," Self said. "They are going smaller now with Quincy, who is a fabulous athlete. They have a lot of ability running the floor. They've got more depth and balance this year inside and out. Last year they were primarily a perimeter team. They still are, but can score inside a little better."
After tonight, the Jayhawks are off until Saturday. KU will meet Oklahoma State in a 2:30 p.m. tipoff in Allen.