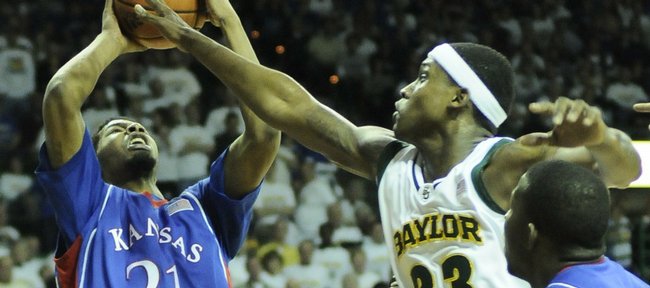 Audio clips
2009 KU-BU Feb. 2
Reader poll
Sherron Collins

23%

3 votes

Cole Aldrich

30%

4 votes

Brady Morningstar

38%

5 votes

Marcus Morris

7%

1 vote

Other

0%

0 votes
13 total votes.
Reader poll
Russell Robinson

41%

30 votes

Aaron Miles

6%

5 votes

Mario Chalmers

52%

38 votes
73 total votes.
KU scoring
Collins 17, Marcus Morris 13, Little 12, Markieff Morris 9, Aldrich 9, Morningstar 6, Taylor 6, Reed 3.
KU was 28-for-57 from the floor (49.1 percent), 3-for-8 from three (37.5 percent) and 16-for-20 from the free-throw line (80 percent).
BU was 18-for-51 from the field (35.3 percent), 8-for-22 from three (36.4 percent) and 21-for-27 from the free-throw line (77.8 percent).
FINAL: Morris twins shine in 75-65 victory over Baylor
Collins' free-throw streak ends at 35, as a free throw rattles out. A minute later, while waiting on an inbounds pass, he turned to our own Tom Keegan and said, "I missed one" with a smile.
KU comes away with an impressive, 10-point victory.
KU 74/BU 61 — 1:26 left in game
KU looks to be embracing the challenge that comes with playing on the road. The Jayhawks are playing focused and also smart. After an offensive rebound, Reed pulls it out. With numbers, Little throws a nice lob to Markieff for an easy two.
KU is in control of this one, and not just on the scoreboard.
Collins makes two free throws and has the school record at 35 straight. The "Rock Chalk" chant starts from the rafters.
KU 66/BU 55 — 3:31 left in game
What a move by Collins. He went baseline and looked for the pass before, in mid-stride, deciding to throw it off the glass for a reverse lay-in.
More fouls are hurting KU. Markieff Morris gets whistled for touching Rogers, and Jerrells later is fouled on a drive to the rim. Three easy points for the Bears.
Two free throws for Collins after he received the benefit of the doubt on a continuation foul call. He rolled both in giving him 31 in a row.
The whistles are turning. Collins forces a questionable blocking call on Baylor, then swishes No. 32 and No. 33.
In a scrum under the basket, Markieff picks up a loose ball and dishes to Little for a layup. Self goes wild with excitement on the sideline. He punches both fists in the air like a boxer, obviously pleased with his team's grittiness on the play.
KU 56/BU 52 — 7:56 left in game
The calls are going against KU right now. With Baylor making it to the bonus, those ticky-tack calls are magnified. The Jayhawks have to earn their two points, while the Bears get them at the free-throw line. KU's leading in team fouls this half, 10-5.
The Jayhawks are getting sped up on offense. Collins takes control on one possession, though, coming around a pick and scooping to Little for a lay-in.
Aldrich fouls Jerrells on a drive, and that's his fourth whistle. Jerrells sinks a free throw at the 8:16 mark for his first point.
Play is stopped when a Baylor fan throws something on the court after disagreeing with a charge call on the Bears. Baylor fans get a failing grade for their performance tonight.
KU 50/BU 47 — 11:54 left in game
Curtis Jerrells has 0 points for BU. He led the team with 16.8 points per game coming in.
It might have been a foul on Markieff Morris, but I hate when players pump-fake on the three-point line then jump into a player, begging for a foul. It works for Dugat, though, who makes all three free throws.
Tweety Carter follows with a three in transition, and KU's lead is down to four.
Somehow, KU leaves Carter open again in the corner, and he drains another three. That's a 9-0 run for Baylor.
Reed answers with a jumper. Another big-time shot for him.
KU 43/BU 35 — 15:46 left in game
Marcus Morris must have drank some special Gatorade at halftime. On KU's first possession, he pivots in the lane and, without hesitation, sinks the short jumper.
He follows with a layup and tip-in before Taylor lobs him a pass that he finishes at the rim. Marcus has KU's first eight points of the second half. He's only a point off his career-high (14).
Collins spins in the lane and softly lays one off the glass. KU has found rhythm offensively.
Markieff Morris swishes a wide-open three from the top, and brother Marcus waves a towel in celebration. Timeout Baylor, as the Jayhawks are on a 7-0 run and have their biggest lead at 43-33.
KU scoring
Aldrich 7 (3-for-4 shooting), Collins 6, Morningstar 6, Marcus Morris 5, Taylor 4, Markieff Morris 2.
KU was 12-for-29 from the floor (41.4 percent), 2-for-6 from three (33.3 percent) and 4-for-5 from the free-throw line (80 percent).
BU was 10-for-25 from the floor (40 percent), 4-for-9 from three (44.4 percent) and 4-for-4 from the free-throw line (100 percent).
KU out-rebounded Baylor, 17-15. KU had seven turnovers to BU's nine.
Halftime thoughts
• The crowd here is a non-factor. Even when it's loud, it's not loud. I thought the noise would play a major role before the game, but it won't. It's hard to believe the apathy from the fans here in Waco.
• A nice stat for Marcus Morris: All four of his rebounds were defensive rebounds.
• This is a low-scoring game from what I was expecting. Look for both teams to perform better offensively in the second half.
• Truth be told, this is a game KU should win. The Jayhawks overcame a poor start and still managed to take a lead into half. They won't be overwhelmed by this underwhelming crowd, so if they manage to keep the mistakes (and especially turnovers) down, they should have a great shot at winning this game.
KU 30/BU 28 — Halftime
Marcus Morris finally gets a shot to go down, banking in a baseline shot with a foul. His free throw ties the game at 26.
This game seems like the Nebraska game all over again. KU isn't playing well, but the score somehow remains close.
Collins drains a pull-up, and KU has its first lead. Self claps his hands, urging his team to play defense on the final possession.
Taylor fouls Dugat just before the Jayhawks can force a charge. Dugat makes both free throws.
Collins goes one-on-one with 5 seconds left, floating in a 10-footer just before the buzzer. KU gets some momentum heading into the locker room.
BU 26/KU 21 — 3:19 left in 1st half
Collins gets his first shot to go in — a tough floater in the lane. With as stagnant as KU's offense has been, he might have to start being more aggressive.
Henry Dugat is left wide, wide open for a three, and he drains it. That's inexcusable from the Jayhawks' standpoint.
Self has had much more patience with the twins tonight and left them in even after they've messed up. Maybe he's figured that he has to for them to learn.
After an offensive rebound, Dugat is once again left wide open. Swish. Another defensive breakdown for KU.
BU 18/KU 15 — 7:41 left in 1st half
At this point, Morningstar is 2-for-2. The rest of the team is 1-for-11.
Collins bricks another three. Is his sore elbow affecting his shot?
Marcus Morris has an easy shot inside, but he shies away from the contact and misses it. He needs to take the shot through the defender, not away from him.
Taylor finally gets a lob to Aldrich, and he finishes with an easy two. Taylor turns it over on the next possession, though, trying to be too fancy with a pass to Markieff Morris inside.
BU 11/KU 9 — 11:26 left in 1st half
Mario Little drives all the way to the basket but doinks an uncontested dunk. KU needs the points, too.
Right after, Little commits two quick fouls to return to the bench.
The Jayhawks look out of sync offensively. No one seems to be getting open off set plays. Collins and Aldrich look hesitant with the basketball.
Morningstar with another huge three from the corner. He seems to know just when the team needs him to turn up his offense.
BU 6/KU 3 — 15:22 left in 1st half
KU struggles with turnovers to start. Marcus Morris has two in a row, the second on a bad entry pass to Cole Aldrich.
The Jayhawks start 0-for-3 before Brady Morningstar's three from the top at the 17:09 mark.
Another turnover on a forced pass by Tyshawn Taylor. KU's leading in turnovers, 3-1.
Kevin Rogers puts in a 6-footer over Mario Little. That's not a good defensive matchup for KU.
8:07 p.m.
It's safe to say now: This is not a sell-out, and really it's not close to one. It looks like there are a couple thousand empties. I was expecting a better Baylor crowd for sure.
8:05 p.m.
A minute until gametime. I'll go ahead and throw in my prediction since my last one wasn't too far off.
Prediction: Baylor 72, Kansas 70.
7:54 p.m.
Baylor has some interesting court-side seats. The chairs are court-side, but there is a table in front of the fans. Why not take away the tables? Many Big 12 schools have done it, and I think that makes more clear that the people are fans and not media members.
A lot of the upper deck is empty, but I said that at this point before the Nebraska game before it filled in. A few hundred KU fans are tucked up in one corner on the side across from the KU bench.
7:20 p.m.
Here are some random notes about Waco/Baylor.
• I like the Ferrell Center, and that's surprising to me. On TV, it doesn't look like a great atmosphere, but when you're on the court, the arena seems to tower around you. Because of that, the court seemed extremely small when I was standing on it about an hour ago. The facility reminds me a lot of Wichita State's Koch Arena, another venue I like quite a bit.
• Baylor fans have it made. Not only was there a white T-shirt on every seat (making it ridiculously easy for every fan to participate in tonight's White-Out), the staff also had newspapers waiting for the students, which most likely will be used for the starting lineups.
• Do not miss Rudy's Bar-BQ in Waco. Best briscuit I've had in at least a year.
• As we were pulling into the parking lot before the game, Baylor coach Scott Drew was pulling out in his SUV. He nodded like he knew us, then gave us the point-the-finger-like-a-gun-and-shoot-at-you-like-I-know-you gesture. Maybe we looked familiar to him. Maybe he knew he didn't know us. Either way, he's moved up on my list of favorite Big 12 coaches.
• I turned in especially to KXXV last night to check out the "Boom Goes the Dynamite Guy". Alas, I was too late. There's still hope for tonight.
• Dr Pepper does not and never has contained prune juice. The Dr Pepper Hall of Fame made this clear in several locations.
6:39 p.m.
Welcome back to the Newell Post Live, coming to you from the Ferrell Center in Waco, Texas, where the No. 21 Kansas Jayhawks are getting set to take on the Baylor Bears.
The last three games have made me realize how fortunate KU fans were to have seen Aaron Miles, Russell Robinson and Mario Chalmers on the defensive end.
All three, in their own ways, were great defensively. All came to KU with the ability to take the ball away and get transition points on the other end.
The Jayhawks would love to have one of them right now. Take a look at the opponents' turnover count for the last three games:
Iowa State: 9 turnovers
Nebraska: 8 turnovers
Colorado (a turnover-prone team): 7 turnovers
In the same three games, KU has averaged 15 turnovers per game (11, 21 and 13, respectively).
Last year, KU's opponents averaged 15.6 turnovers per game. It might not be a completely fair comparison, but it does illustrate that it will be tough for the Jayhawks to keep winning if they don't force more turnovers.
In particular, KU isn't stealing the ball much. The stats support that.
Check out the steal percentage* for KU's defense the last four years, courtesy of Kenpom.com.
*Steal percentage=Steals/defensive possessions
2005-06: 14.0 percent (ninth in nation)
2006-07: 13.1 percent (15th)
2007-08: 13.0 percent (16th)
2008-09: 10.7 percent (110th)
So who has the best potential to get steals for KU? I would think it would be Taylor, who has quickness and length but seems to not have the same defensive instincts as Miles/Robinson/Chalmers. He looks to be focusing most on staying in front of his man instead of looking for the steal.
It'll be tough for KU to get steals again tonight: Baylor has the ball stolen on only 7.9 percent of its possessions, which is 20th-best in the nation.
If the Jayhawks aren't able to score points off turnovers, they'll have to keep their own turnovers down and execute well in the half-court to improve their chances against the Bears tonight.
More like this story on KUsports.com