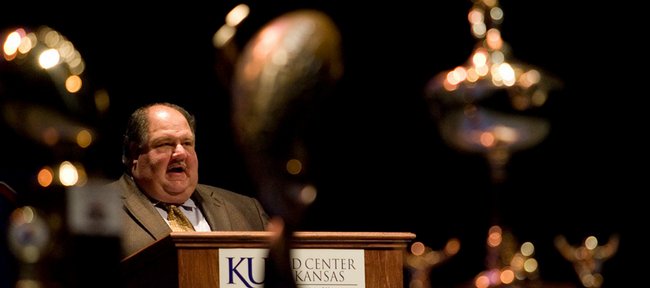 KU football team awards
Although the point of Saturday's Kansas University football awards ceremony was to honor the past — namely, the Jayhawks' 8-5, Insight Bowl-championship season — there was a good deal of focus paid to the future, too.
For a program coming off arguably its most successful two-season stretch in school history, the message from everyone from the head coach to the athletic director was clear: We can't stop now.
"We've got a lot of goals ahead of us," athletic director Lew Perkins said before the start of Saturday's program. "We've got a lot of things that we have to do. We've added a great facility now, things are falling into place, and we've just got to capitalize on that and keep going."
Quarterback Todd Reesing and linebacker James Holt were the night's top honorees. The two were named offensive and defensive players of the year, respectively.
Reesing finished his junior season with a school-record 3,888 yards passing, while Holt, a senior, led the Jayhawks in tackles, tackles for loss and sacks.
Junior receiver Kerry Meier also shared a pair of awards, the Gale Sayers Most Courageous Player award (along with junior running back Jake Sharp), and the most improved offensive player (along with sophomore receiver Dezmon Briscoe).
By the end of the night, however, the most decorated player was also the one who received the loudest ovation. Junior safety Darrell Stuckey earned the Bruce Kallmeyer special teams player of the year honors and the Iron Hawk Award for outstanding performance in the weight room and was a co-winner of the Nolan Cromwell Leadership Award following a season in which he anchored a young and inexperienced secondary.
During coach Mark Mangino's brief speech, delivered after the last of the player awards had been handed out, he thanked the team's 18 seniors for their four years of service.
"Twenty wins in two years, back-to-back bowl wins — they've left their mark," he said. "I want to wish those guys the best as they take on life's challenges.
"Even though I'm their toughest critic," he added, "I'm their biggest ally. I told them, the guys that hung around and worked hard would win a lot of games and do great things, and those kids have done that."
Of course, keeping with the night's theme, he also issued a mandate to the returning members of the team, who'll attempt to capture KU's first outright Big 12 North title in school history in 2009.
"For the underclassmen, we have much work to do," he said. "But I'm excited about it. I'm looking forward to it. I'm looking forward to winning a championship."
— Sports reporter Dugan Arnett can be reached at 832-7152.
More like this story on KUsports.com