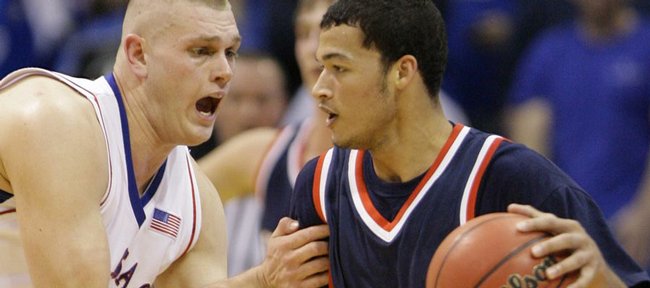 KU scoring — Marcus Morris 14, Aldrich 11, Collins 9, X. Henry 8, C.J. Henry 8, Taylor 7, Johnson 7, Robinson 5, Reed 5, Morningstar 3, Withey 2, Markieff Morris 2.
KU was 32-for-57 from the floor (56.1 percent), 6-for-17 from three (35.3 percent) and 11-for-21 from the free-throw line (52.4 percent).
Belmont was 20-for-65 from the floor (30.8 percent), 8-for-27 from three (29.6 percent) and 3-for-8 from the free-throw line (37.5 percent).
Belmont had 23 turnovers to KU's 15. KU out-rebounded Belmont, 40-39.
FINAL: KU defeats Belmont, 81-51
Aldrich gets a left-handed layup to go down to give him a double-double with 11 points and 14 rebounds. Self immediately summons Withey from the bench after Aldrich hits the milestone.
Withey gets his first points as a Jayhawks, slamming home a dunk with 46 seconds left on a feed from Johnson.
C.J. Henry adds a steal and layup before cashing another three.
KU finishes off an 81-51 victory.
KU 72/Belmont 44 — 3:19 left in game
Johnson continues to impress in his limited minutes, as he puts in another layup high off the glass.
C.J. Henry pulls up for an open three. He's had a mixed bag of a night with a rebound and two steals but also a turnover.
KU gets one more transition basket with its starters, as Xavier lofts a lob for Johnson. The freshman elevates way above the rim to slam it home.
KU 62/Belmont 39 — 6:55 left in game
Reed with a nice play in transition, moving quickly back to the ball to gather a pass from Marcus Morris that was deflected. Reed wasted no time in transition, taking it straight at the defender and to the basket for a tough layup off the glass.
Withey isn't having the best go of it in there right now. He commits two fouls — including one on an and-one — and also allows an offensive rebound that turns into two points for Belmont. He also bricks the front end of a one-and-one.
Aldrich with another steal, and he throws a long outlet pass that eventually opens up Elijah Johnson for a layup.
Johnson with another nice read inside, throwing a lob to a cutting Xavier Henry for an alley-oop slam.
KU 52/Belmont 30 — 11:57 left in game
Nice decision by Xavier Henry, who's having a much better second half. He faked a pass to the outside to bait a defender, then drove to the lane before shoveling to Marcus Morris for a layup inside. Xavier's done a better job of looking to his teammates since his first-half benching.
Keaton Belcher gets Belmont's first points of the second half at the 14:50 mark, dropping in a lay-in after grabbing an offensive rebound.
Marcus Morris answers a few seconds later, putting in a long jumpshot.
Tyrel Reed has a lazy pass stolen, but he stands strong on the defensive end, forcing a layup miss and clearing away the rebound.
It leads to numbers for KU, and Taylor scoops to a cutting Robinson for a layup with a foul. Robinson misses the free throw, though.
Jeff Withey checks in to a standing ovation at the 12:02 mark. It takes him five seconds to grab his first defensive rebound.
KU 44/Belmont 26 — 15:45 left in game
Xavier Henry's defender falls down, and the freshman takes advantage, taking a few dribbles into the lane before knocking down a short jumper. The Jayhawks extend their run to 8-0 to start this half.
KU 42/Belmont 26 — 16:37 left in game
Taylor draws two players before dishing to Aldrich, who finishes with a hard slam.
Taylor pushes a pass intended for Collins out of bounds, but he makes up for it on the next possession, pulling up and draining a 17-footer.
Belmont calls timeout following a 6-0 KU run to start the half.
KU scoring — Aldrich 7 (2-for-2 shooting, nine rebounds, five blocks), Marcus Morris 6 (3-for-4 shooting), Collins 5, Taylor 4, X. Henry 3 (1-for-6 shooting), Morningstar 3, Robinson 3, Reed 3, Markieff Morris 2.
KU was 13-for-28 from the floor (46.4 percent), 4-for-10 from three (40 percent) and 6-for-9 from the free-throw line (66.7 percent).
Belmont was 10-for-33 from the floor (30.3 percent), 5-for-12 from three (41.7 percent), and 1-for-3 from the free-throw line (33.3 percent).
Belmont had 20 rebounds to KU's 19. Belmont had 11 turnovers to KU's seven.
KU had eight first-half blocks, while Belmont had one.
Here's an interesting stat: Xavier Henry, Markieff Morris and Brady Morningstar combined to go 3-for-15 in the first half. The rest of the team combined to go 10-for-13.
KU 36/Belmont 26 — Halftime
Robinson gets beat inside, and Jordan Campbell puts in a two while drawing a foul.
On the other end, Markieff Morris once again finds the soft spot in the zone, but he hurls a wild, 18-foot shot that only hits the backboard.
Xavier Henry drives to find a teammate, pitching to Tyrel Reed for an open three that swishes. That's the best play of the night so far for KU's talented freshman.
Aldrich with another defensive rebound, and it leads to a fast break for KU. Marcus Morris corrals a long pass from Collins, then lays it off the glass for two.
Collins misses a stepback three before the buzzer, and KU takes a 10-point lead into the break.
KU 29/Belmont 21 — 3:42 left in 1st half
Tyshawn Taylor just earned himself some bench time.
Out of the timeout, KU had just four players on the court. Collins, while getting double-teamed, motioned toward the KU bench to Taylor, who immediately sprinted off the bench and into the game. Taylor managed a nice pass inside to Aldrich (who was fouled) before getting the call back to the sideline.
Hedgepeth drains a three over Aldrich, and that's a tough matchup for KU's big man on the perimeter. Hedgepeth was just 0-for-1 from three coming into this game.
Collins drives before finding Morningstar on the perimeter for an open three that falls through.
Morningstar gets caught up on a screen, and that's something you don't see often. Ian Clark hits the open three, and KU's lead is down to four.
Markieff Morris fights for good position on the post, and he puts in a layup. The next possession, Markieff finds a soft spot in Belmont's zone, then feeds Robinson underneath the basket for a slam.
KU 21/Belmont 15 — 7:50 left in 1st half
Marcus Morris gets beat on a backdoor cut, and Keaton Belcher throws in a two-handed slam. The crowd — which has been pretty dead tonight — tries to make some noise to get the Jayhawks going.
Aldrich checks in and immediately makes his presence felt, gathering an offensive rebound before getting fouled on the way back up. He makes both freebies.
Collins fails to fight through a screen defensively, and Ian Clark knocks down a wide-, wide-open three from the corner.
Another three, another miss for Xavier. He's on pace for 20 shots but only five makes.
A turnover for Xavier, and Jordan Campbell turns it into a three in transition. Timeout Self, as Belmont has turned an 11-0 deficit into a 15-14 lead.
KU goes back to what works, as Aldrich drops in a short shot in the lane. The big man also swats away another block on the defensive end.
The Jayhawks run in transition, and Morningstar draws attention on a drive before pitching out to Collins for an open three that swishes through.
Aldrich could be on the verge of another triple-double tonight. He has four points, seven rebounds and five blocks right now, and we still have nearly eight minutes to go in the half.
KU 12/Belmont 7 — 11:43 left in 1st half
Thomas Robinson checks in, and he gets fouled after gathering in an offensive rebound. He makes one of two free-throw attempts, which actually helps his season average (42.9 percent coming in).
After getting double-teamed, Robinson drops a nice bounce pass to a cutting Markieff Morris, but the big man can't get the layup to go down.
KU goes to a small lineup with Tyrel Reed and Brady Morningstar on the floor at the same time, but the two guards don't take care of their rebounding responsibilities. Jon House gets a weakside rebound and puts in a layup, and a furious Self motions for timeout.
Xavier Henry checks in, but he's been out of it offensively. He's hoisting up three-pointers every time he sees the rim, and this guarded trey comes up well short. Xavier is just 1-for-4 to start this game.
KU 11/Belmont 3 — 14:30 left in 1st half
KU tries an alley-oop on its first possession, but a pass from Sherron Collins goes through the hands of Tyshawn Taylor. Collins shoots it himself on the next possession, canning a three.
Already, Cole Aldrich is causing problems for Belmont inside. Aldrich steps up to stop penetration, and his presence in the lane forces a Belmont player to make his pass a bit quicker. The throw ends up sailing out of bounds. The next possession, Aldrich registers a block, and he also pulls down two consecutive defensive rebounds.
Belmont tries a sagging 2-3 zone, and Xavier Henry shoots over the top of it, draining a three from the left side.
Already, the mismatch in this game has been exposed. Aldrich comes down for a vicious block on Mick Hedgepeth, and that's not the only time, as he adds two more swats inside. In the Cram Session on the left, I predicted five blocks for Aldrich. In the first five minutes of this one, he already has four.
Marcus Morris wiggles free for a layup, then on the next possession drives for a slam, and Belmont calls timeout immediately in an 11-0 hole.
Drew Hanlen finally hits a three from the corner to break the Bruins' drought. They had started the game 0-for-9.
8:07 p.m.
Tyshawn Taylor was introduced in the starting lineup as from Hoboken, N.J. instead of Jersey City, N.J. Not sure why his hometown changed in the starting lineup, but I'm sure we might hear why after the game.
7:48 p.m.
Here are some notes about Belmont, which enters today's game with a 7-4 record.
• Six-foot-9 center Mick Hedgepeth leads Belmont in scoring (13.0 points per game) and rebounding (5.5 rebounds per game). Interestingly, he averages 13 points despite averaging fewer than seven field-goal attempts per game. He's also shooting an unheard-of 66 percent from the field this season.
• Three of Belmont's top scorers are 6-foot-9 or taller.
• The Bruins are a good shooting team. They have made 35 percent of their three-pointers and an impressive 56 percent of their two-pointers this season.
• Keep an ear out for the whistles, as Belmont usually gets to the free-throw line often. The Bruins average more than 25 free-throw attempts per game.
• Belmont averages 16.3 turnovers per game. Because of the high turnover total (and because of less-than-stellar rebounding), the Bruins have averaged seven fewer field-goal attempts than their opponents in games this year.
6:22 p.m.
Welcome back to the Newell Post Live, coming to you from Allen Fieldhouse where the Kansas Jayhawks are getting set to take on the Belmont Bruins.
One impressive statistic that not many people are talking about with this year's KU basketball team is its decreased turnovers.
So far this season, KU's turnover percentage (percentage of possessions in which it commits turnovers) is 17.6 percent. Not only is that 34th nationally according to KenPom.com, that's by far the lowest percentage put up by a Bill Self-coached KU squad.
Let's take a look. With help from Excel, I made up a line graph on the left side of this page showing KU's turnover percentages (in blue) from the Self era. Just for fun, I included KU's opponents' turnover percentages each year (in red).
See a larger version of the line graph
After looking at the graph, one thing stood out most to me.
If you look, KU has only had two seasons under Self when it has kept its turnover percentage under 20 percent. One of those instances is this year.
The other is 2007-08 — which also was the national championship season.
Of course, KU's schedule will get more difficult this season, and the turnover percentage is sure to rise a bit as the Jayhawks face tougher defenses.
Still, it can't be a bad sign for KU fans to see that this year's team is following the same route to offensive success as the national title team two years ago.
Be sure to vote in our poll on the left and to use #kubball with your tweets to get them to appear on the left side of this blog.
And http://justin.tv/sremlahc10, password: phog is the answer a few of you are desiring.