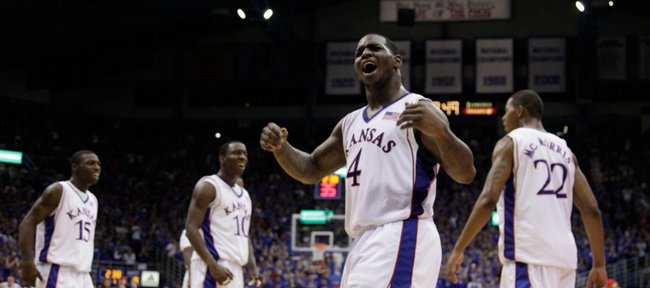 Cole Aldrich has played in 45 games in Allen Fieldhouse during his three-year college basketball career. He's won 'em all.
"We go into every game knowing it's going to be a tough one whether we are playing this team or that team," said Aldrich, Kansas University's 6-foot-11, 245-pound junior pivot from Bloomington, Minn.
Healthy respect for the opponent, Aldrich maintains, is one of the main reasons KU takes a monumental 49-game homecourt winning streak into today's 8 p.m., nonconference clash against Belmont.
"I think it'd be really cool," Aldrich said of No. 1-ranked KU (11-0) stopping the Bruins (7-4) and claiming half-a-hundred consecutive victories at home.
"Not only for the guys on this team to have been part of it," Aldrich added, "but for everybody else that has been part of the tradition here.
"There's so much more to Kansas basketball than just the current guys. We've got guys like Kirk (Hinrich) and Nick (Collison) and some others who come back to games. They sit in the stands behind the bench cheering us just as loud as we will when we come back to watch games (in the future)."
To continue a push toward the school-record homecourt win streak of 62 games (Feb. 26, 1993-Dec. 8, 1998), KU tonight must defeat a Belmont squad that in recent seasons has downed Missouri, Cincinnati and Alabama in the regular season and lost to UCLA (78-44), Georgetown (80-55) and Duke (71-70) in the first-round of the NCAAs (2006-08).
"Belmont is good. They average 77 points a game. We know they can score. They can obviously shoot (47.6 percent)," said KU coach Bill Self, indicating the Bruins run a hard-to-guard motion offense.
The Bruins of the Atlantic Sun Conference — who have beaten Portland State, Alabama State, Eastern Illinois, Tennessee State, Kennesaw State, Mercer and Middle Tennessee State and lost to Washington, Wright State, Saint Louis and Eastern Illinois — are led by 6-foot-9 sophomore Mike Hedgepeth, who averages 13.0 points per game.
Fifth-year senior Keaton Belcher and 6-3 freshman Ian Clark both contribute 12.5 ppg. Drew Hanlen, a 5-11 sophomore point guard, has 46 assists against 16 turnovers.
The 6-9 Belcher is the only current Bruin who has been part of Belmont's three NCAA Tourney appearances, including the one-point loss to Duke on March 20, 2008, in Washington, D.C.
Those postseason appearance have made Belmont a smash hit in the school's hometown of Nashville, Tenn.
"We're seeing the fruits of the three NCAA Tournament appearances. We go recruiting now and we can talk about that with guys," Belmont coach Rick Byrd told midmajority.com. "They (recruits) have seen us on TV and they saw the Duke game. It seems everybody in the world did."
Making his case: KU freshman power forward Thomas Robinson hopes to make a case for more playing time before the start of second semester classes on Jan. 14. He's made that clear to his coach.
"He hasn't said, 'Why am I not playing?' He has said, 'I want to play more,''' Self said, indicating he likes that type of competitive attitude from the 6-9, 230-pounder, who has logged 11.6 minutes per contest.
"I guess you get the same answer to both: 'Well, Thomas, you've got to get where you get what we are doing as much from a defensive standpoint as anything.'
"He's coming fast. He's still a little bit away. It's hard for freshmen to come in and impact a team, especially when you return your top nine scorers. Our freshmen are doing great. It's just we have some other good guys," Self added.
Robinson averages 4.8 points and 4.5 rebounds a game. He's made 47.5 percent of his shots. His goals for the coming weeks?
"To improve my defense and continue working on my 15-foot jump shot," Robinson said. "Just (improve) my all-around game, being a better player and maturing as a basketball player."
KU soph Marcus Morris said Robinson can improve dramatically before second-semester classes begin.
"There's a lot to gain being around Danny Man(ning)," Morris said of KU's assistant coach in charge of the big men. "This is the best time to be around 'D. Man.' He can break down certain moves for you. He is great at teaching moves. Something I'm going to work on the next couple weeks is get into a go-to move, more a move he (Manning) knows I can do and master."
Stats, facts: KU's last home loss was to Texas A&M; on Feb. 3, 2007. ... Belmont was an NAIA power before switching to NCAA Div. I in 1996-97 ... KU athletic director Lew Perkins and Belmont AD Mike Strickland worked together at Wichita State from 1983-87. ... Belmont coach Byrd and Vanderbilt coach Kevin Stallings are close friends. Stallings worked as an assistant at KU from 1989-93. ... Belmont's music and music business programs have produced contributors to the Nashville music scene, including Lee Ann Womack, Trisha Yearwood, Brad Paisley, Stephen Curtis Chapman and Josh Turner. ... Coach Byrd is a good friend of country singer Vince Gill and Gill's wife, Amy Grant. Gill attends most every Belmont home game. KU coach Self joked on Monday's Hawk Talk that "it'd be awesome if they came here and could sing the national anthem before the game."
More like this story on KUsports.com